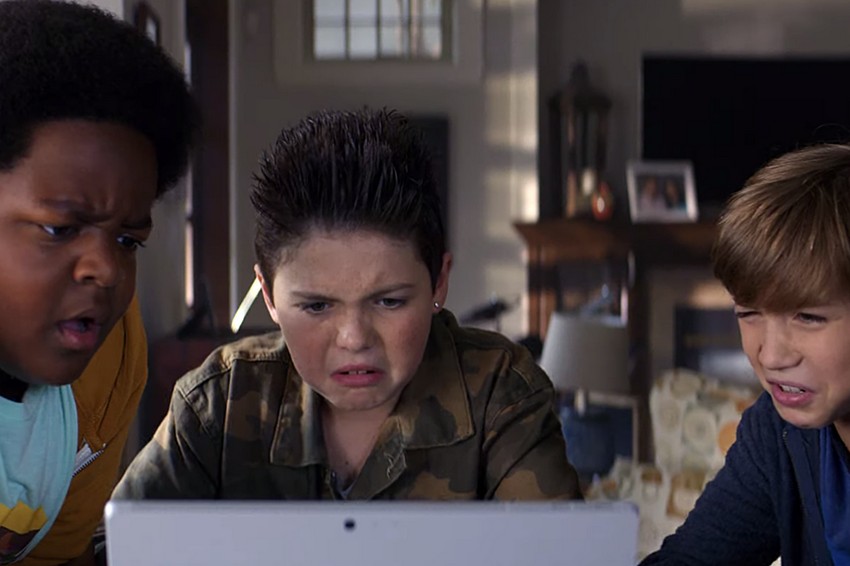 Back in 2007, Seth Rogen and Evan Goldberg took us into the foul-mouthed horny minds of high school kids in the hilarious Superbad. The R-rated teen stoner comedy – based on Rogen and Goldberg's own high school experiences – would launch the careers of Jonah Hill and Emma Stone and become a firm fan favourite. Now Rogen and Goldberg are back with another NSFW tale of lovable losers, but this time they're aiming even younger. So young, in fact, that the kids who star in this movie can't even watch it!
That's the hilarious hook in the first red band trailer for Good Boys. The upcoming comedy is produced by Rogen and Goldberg, but this time it's Lee Eisenberg and Gene Stupnitsky, longtime producers/writers on the US version of The Office, who both write and direct as they spin up a yarn based on their experiences as sixth graders. Experiences involving first kisses, sex toys, a drone, stolen drugs and a whole lot of f–king swearing!
The Room's Jacob Tremblay leads the trio of kids, which is rounded out by Brady Noon and Keith L. Williams. Tremblay already has several awards nominations under his belt despite being just 13-years old, but based on the first red band trailer, his co-stars are also fully up to the foul-mouthed task! Check it out below.
Just how bad can one day get? The creative minds behind Superbad, Pineapple Express and Sausage Party take on sixth grade hard in the outrageous comedy, Good Boys.

After being invited to his first kissing party, 12-year-old Max (Room's Jacob Tremblay) is panicking because he doesn't know how to kiss. Eager for some pointers, Max and his best friends Thor (Brady Noon, HBO's Boardwalk Empire) and Lucas (Keith L. Williams, Fox's The Last Man On Earth) decide to use Max's dad's drone – which Max is forbidden to touch – to spy (they think) on a teenage couple making out next door.

But when things go ridiculously wrong, the drone is destroyed. Desperate to replace it before Max's dad (Will Forte, The Last Man on Earth) gets home, the boys skip school and set off on an odyssey of epically bad decisions involving some accidentally stolen drugs, frat-house paintball, and running from both the cops and terrifying teenage girls (Life of the Party's Molly Gordon and Ocean's Eight's Midori Francis).
Good Boys also stars Molly Gordon, Lil Rel Howery, and Will Forte, and is scheduled for release on 16 August.
Last Updated: March 12, 2019