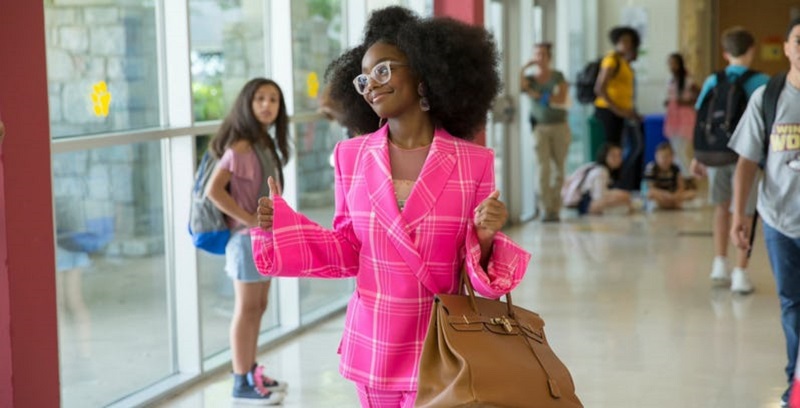 We've seen many movies where young teenagers are all of a sudden thrust into the bodies of an adult where they are taught the lesson that being an adult is not always so fun. Very few movies (outside of the 2009 comedy 17 Again) which reverse the trend the other way. In a movie that reverses Tom Hanks' 1988 classic Big, Little sees Regina Hall's bossy and arrogant Jordan Sanders, who returns to her 13 year old self (played by Marsai Martin) to be taught a lesson on how to treat people properly. Mostly involving her treatment of her assistance April, played by Issa Rae.
Unlike Hank's Big or 17 Again, which both featured a strong dramatic message to go along with their comedy, Little goes the all-out comedy route which sees many awkward and wild situations come to the fore, as you can witness in the trailer below:
It's a nice premise with some great comedy, but not sure this one is for me. While I think there are some clever themes hidden in this movie, particularly in how it views the treatment of black women, or the role of parents and kids, the overall humour on display is far too slap-stick, over the top and unoriginal for me. Still, Hall and Martin at least appear to be quite entertaining which might still make this worth it.
Little is produced by Hall and Black-ish creator Kenya Barris, with Tina Gordon (Peeples) directing from a script she co-wrote with Tracy Oliver (Girls Trip). The film is scheduled for release on April 12th and should appeal to the kind of audiences that love Tyler Perry and Kevin Hart movies. Which is quite a large group- which mans this raucous comedy could make a splash at the box office for those people not interest in Shazam! or Hellboy.
Last Updated: January 16, 2019