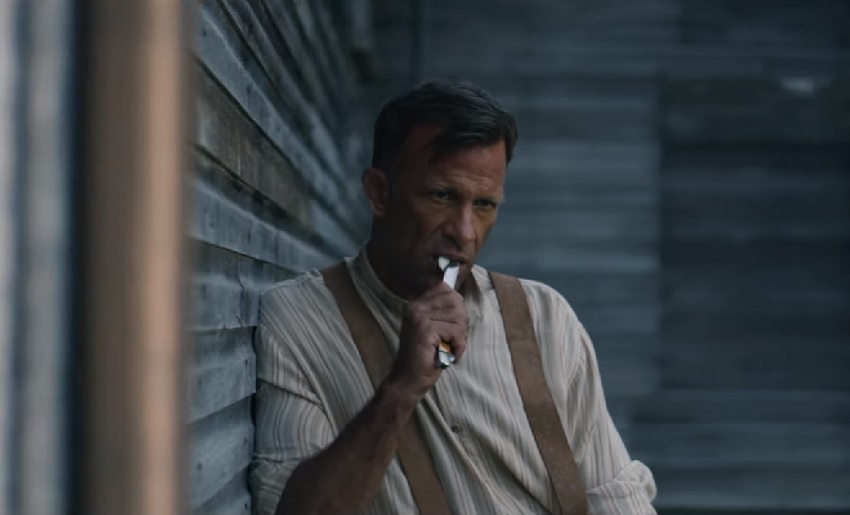 Stephen King is, in the words of the great and wise Mugatu, so hot right now and it's a good thing for those who enjoy striking while the anvil is hot that the man pumps out stories faster than Nick runs from sunlight and holy water.
So far this year we've seen movie adaptions based on The Dark Tower (and wished we hadn't) and It (which is great), as well as TV series based on The Mist and Mr. Mercedes – and with even more currently in development.  Thanks to Netflix you can also add 1922, a novella that was originally published in 2010 as part of the 'Full Dark, No Stars' collection, to the list of 2017 movie releases based on the prolific horror author's work.
Thomas Jane (who's starred in previous King adaptions of The Mist and Dreamcatcher) stars as Wilfred James, a bitter, struggling farmer living in Nebraska with his wife and young son. When his wife threatens to sell her portion of their farm and leave him to move to the city, which would destroy his way of life, he conspires with his son to murder her. However, this is only the beginning of the story as, in typical King fashion, James and his son find themselves haunted by their crime.
The official plot synopsis is as follows:
1922 is based on Stephen King's 131-page story telling of a man's confession of his wife's murder. The tale is told from the perspective of Wilfred James [Thomas Jane], the story's unreliable narrator who admits to killing his wife, Arlette [Molly Parker], with his son in Nebraska. But after he buries her body, he finds himself terrorized by rats and, as his life begins to unravel, becomes convinced his wife is haunting him.
Let's take a look:
While I'm not 100% sold on Jane's thick accent, there's no denying this is a very intense seeming movie. The interesting thing here is that while there's no question James is a haunted man, is he actually haunted by his wife's ghost or by his own guilt which drives him to madness?
What do you think?
1922 is due for release on Netflix on 20 October. Directed by Zak Hilditch (These Final Hours, Transmission), who also penned the adaption, it stars Thomas Jane, Molly Parker, Dylan Schmid, Kaitlyn Bernard, Brian d'Arcy James and Neal McDonough.
Last Updated: September 26, 2017