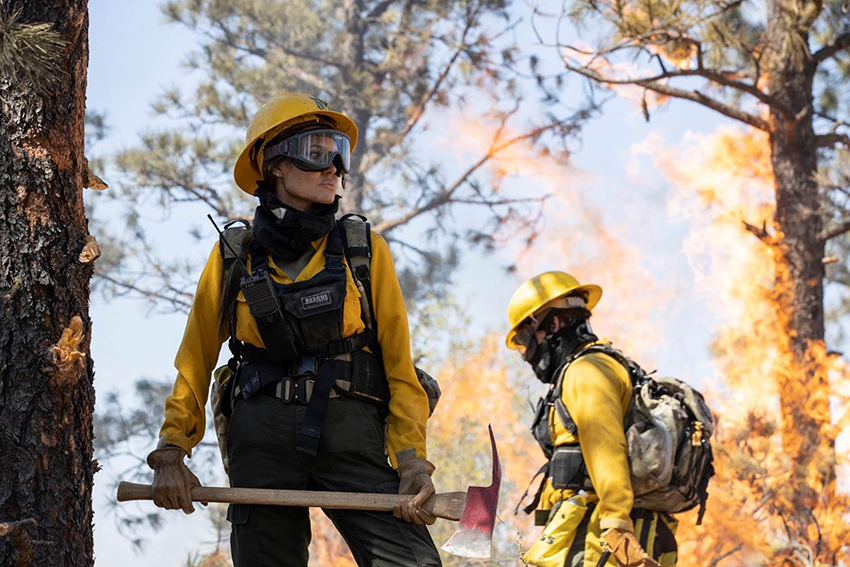 "Taylor Sheridan". Right there, that's all you need to say to get me excited about a movie. Sheridan first popped up on my radar when he wrote the brilliant Sicario. To paraphrase Django Unchained, while Sheridan had my interest then though, he soon got my attention with the screenplay for Hell or High Water, a damn good neo-western thriller that got nominated by just about every major awards body. And just to prove that he could do more than just write gritty characters in desolate landscapes faced with grim situations that delve deep into the frontier history of America, Sheridan also directed them when he stepped behind the camera for Wind River, another fantastic neo-western thriller. He's since penned two more scripts for the Sicario sequel as well as the upcoming Tom Clancy adaptation Without Remorse, but it's his next writer/director double duty that has me fanboy squeeing here: Those Who Want Me Dead.
Billed as another neo-western thriller (SQUEEEEEE!), the upcoming film sees Angelina Jolie starring as Hannah, a smoke jumper/survival expert still reeling from the experience of failing to save three lives before. As Hannah is still busy picking up the pieces though, she runs into a traumatized, blood-splattered young boy (Finn Little) who is seemingly being hunted by a couple of relentless hitmen played by Nicholas Hoult and Aiden Gillen for reasons unknown. The film is adapted from a novel by Michael Kortya who co-wrote the script with Sheridan and Charles Leavitt (Blood Diamond). But while those are triple the names I expect on a Sheridan production, this very much still looks like a Sheridan production and I am totally there for it. Check out the first trailer below!
Ok, throwing in a Johnny Cash song with this trailer is just cheating now. It's like the folks at Warner Bros. know exactly which of my buttons to push to get me hyped. And yes, this doesn't look like the most complex story or characters, but if you've seen Sheridan's earlier work, then you know that he can spin one hell of a gripping yarn from a very simple premise.
Those Who Wish Me Dead also stars Medina Senghore, Tyler Perry, Jake Weber, and Jon Bernthal. The film is scheduled to release in cinemas on 7 May with it also debuting on HBO Max on the same day and date as part of Warner Bros.'s release strategy for this year.
Last Updated: April 8, 2021