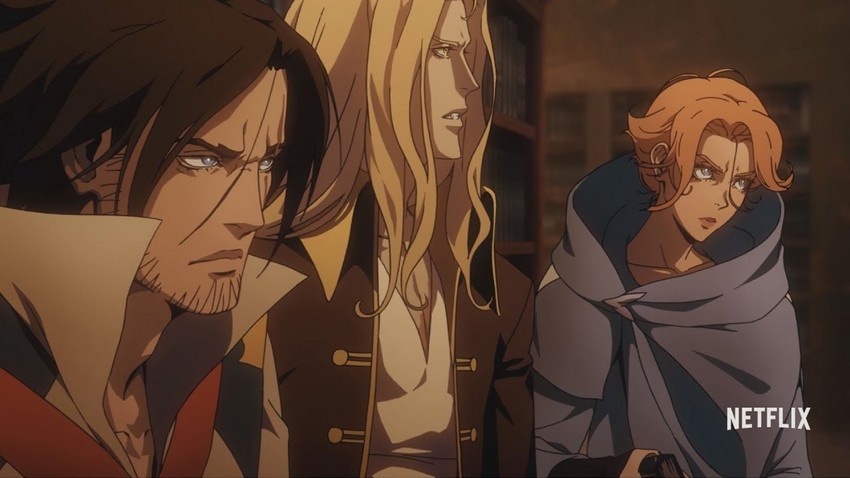 I'm a gigantic fan of veteran comic book writer and all-around British madman Warren Ellis, so I have no idea how Castlevania snuck up on me. Written by Ellis – who co-produced with Bootleg Universe' Adi Shankar – Netflix's animated adaptation of the classic gothic fantasy video game franchise was a ghoulish marvel and huge surprise hit when it appeared like a bat out of hell last year.
Adapted from 1989 video game Castlevania III: Dracula's Curse, Ellis' script saw a trio of heroes have to team up to take down none other than vampire lord Dracula himself, as he sought out revenge against humanity for the death of his wife. That trio consisted of incredibly likeable characters in Trevor Belmont (Richard Armitage), the last in a line of disgraced monster hunters; Sypha Belnades (Alejandra Reynoso), a magic-wielding Speaker; and Alucard (James Callis), the enigmatic son of Dracula. And as we saw in the first season, after coming together to form an unlikely team, these three would… well, we don't know what they would do because that's where the season ended after just four episodes!
With its fantastic animation, great atmosphere, quippy dialogue and badass action, that very low episode count was pretty much the only criticism fans levelled at Castlevania. Which is probably why Netflix wasted no time in revealing that the upcoming second season will be eight episodes in length this time. And now we have our first look at those episodes courtesy of the bloody first trailer which was revealed by Adi Shankar during the Asia Pop Comic Con in Manila over the weekend, stating "Here's the trailer for Castlevania Season 2. We did not set the bar at "good enough"… We're here to create the greatest video game adaptation of all time. Who's with us?". We sure as hell are!
As revealed in the trailer, this second season of Castlevania will premiere on Netflix on 26 October, while Richard Armitage has stated that a third season has already been greenlit.
Last Updated: July 30, 2018