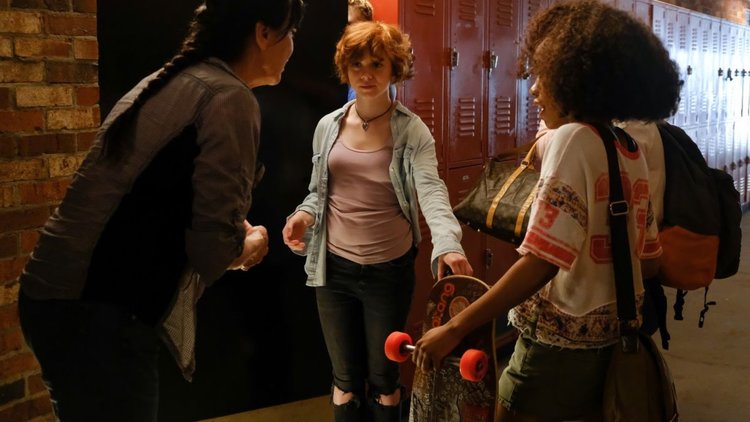 The world's most famous teenage girl detective is back! No Marshmellows, not Veronica Mars, I'm talking about Nancy Drew – and she's heading to the big screen with Nancy Drew and the Hidden Staircase, with It and Sharp Object's Sophia Lillis starring as the budding detective.
The movie is based on the second Nancy Drew novel of the same name, which was first published in 1930 and written by Mildred Wirt Benson under the standard series pseudonym of Carolyn Keene. The novel received a loose movie adaption in 1939, and a revised print edition in 1959. The last time the character was seen on-screen was in the 2007 movie Nancy Drew (which starred Emma Roberts), and there was recently a (thankfully) aborted effort to bring her to the small screen which would've seen her updated to be a New York City police detective.
The plot synopsis is as follows:
A bit of an outsider struggling to fit into her new surroundings, Nancy and her pals set out to solve the mystery, make new friends, and establish their place in the community.
Well that was about as useful as a homeopath's horoscope. She's going to solve a mystery. No sh*t, Sherlock! To give a brief thumbnail sketch of the book's plot, which will obviously be revised and modernised, Nancy investigates a supposedly haunted home which, over the course of her investigation, drags both her, her family, and her friends, into the middle of a dodgy real estate deal.
Let's take a look:
What immediately springs out to me is the lighthearted tone. It's so bright, optimistic, and fun – with none of the usual angst and cynicism that seems to have become the norm – and somehow manages to avoid coming across as too cheesy at the same time. Sophia Lillis also looks to be perfectly cast and delivering an excellent performance as the teenage detective, with just the right amount of attitude, vulnerability, humour, and most importantly – smarts.
The movie is definitely skewed towards younger viewers, but I think older fans of the character could really enjoy this trip down memory lane to a more innocent time too. What do you think?
Nancy Drew and the Hidden Staircase is due for release in the US on 15 March. Directed by Katt Shea (Poison Ivy), with the script by Nina Fiore (The Handmaid's Tale), it also stars Zoe Renee, Mackenzie Graham, Laura Slade, Sam Trammell, Linda Lavin, Andrea Anders, and Jesse C. Boyd.
Last Updated: January 21, 2019