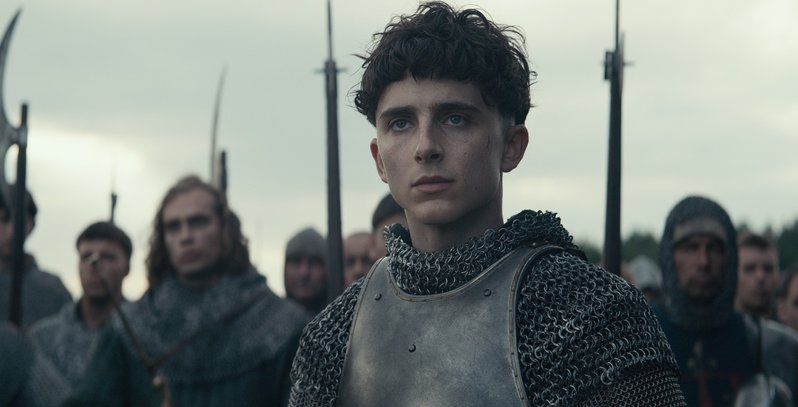 Being a king may give you power and wealth beyond your imagination, u do you know what the crown can't buy you? Friends apparently. At least according to this new trailer for Netflix's The King – as opposing kingdoms, old enemies and even your closest allies could be out to plot your demise.
Loosely adapted from William Shakespeare's Henriad, The King sees Timothée Chalamet star as a young wayward Prince Hal/King Henry V and reluctant heir who must come to grips with being the King of England following his tyrannical father's (Ben Mendelsohn) death while having to prove himself amongst even his own people and battle his sworn enemy The Dauphin of France (played by Robert Pattinson). We've seen a trailer for this movie before, but now with its release only a few weeks away, Netflix is ramping up their promotion by throwing in new scenes along with quotes of the excellent reception the film has got thus far on the festival circuit.
As historical dramas go, this looks like a captivating one, with the acting performances stands out. Both Chalamet and Pattinson look mesmerising in this with a certain sense of irony given that they are swapping nationalities and accents to play their respective roles. Director David Michod's also seemed to have delivered a film that looks as epic as its story with sweeping action set pieces contrasting a dark medieval world that highlights the plight of the countries..
The King is written by Michod as well, alongside Joel Edgerton who also stars in the film as an alcoholic mentor to the young king. The film also stars a certain famous actors daughter who doesn't appear to need strange headgear to perform. Hopefully, the sum of all these parts makes for one incredible movie for Netflix when this release next week November 1st.
Last Updated: October 25, 2019