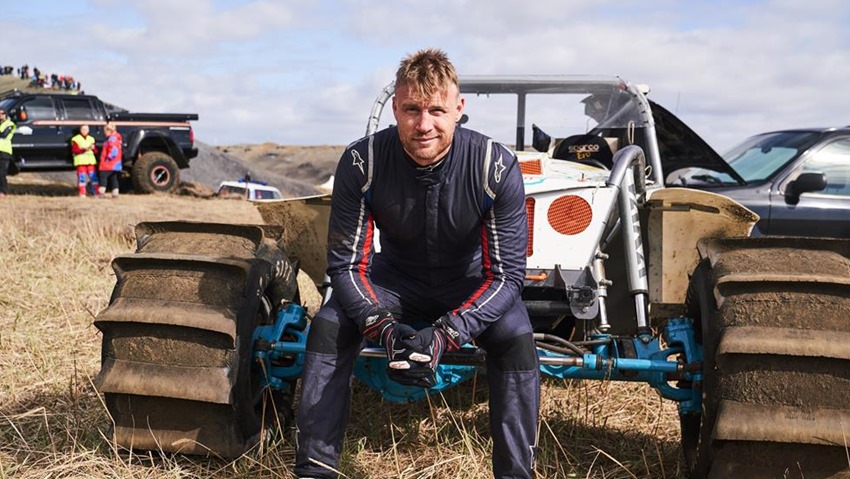 After years on the air, experimentation with several new hosts and an eye towards making car culture look better than ever through bleeding edge cinematagraphy, Top Gear is proving one old adage right: If it ain't broke, don't fix it. Going back to the original spark of petrolhead passion that ignited their engines so many years ago, series 27 of Top Gear is kicking off with a back to basics approach: Three car-mad hosts, chucked together into a crucible of fast lap times, outrageous challenges and an eye for the beauty of unrestrained motoring mayhem.
While Chris Harris anchors the show with his encyclopaedic knowledge of what goes on behind the wheel, it's Paddy McGuinness and Freddie Flintoff who are bringing some new blood to the Top Gear engine. New to the job but more than ready to blaze a path forward for a new era of motoring entertainment, Flintoff, McGuinness and Harris have a simple mission: Find the best cars in the world, be authentic and have a good time no matter where they find themselves.
We recently had a chance to chat to Flintoff, fresh off of filming series 27 and deep in production on the next season of Top Gear. We had questions for him, he had answers for us on everything from the most beautiful filming spots in the world to Top Gear almost losing a host in a morbid but hilarious manner. Here's what he had to say.
Apart from the chance to drive amazing cars and see the world, what is it about Top Gear that made you want to joint co-host it?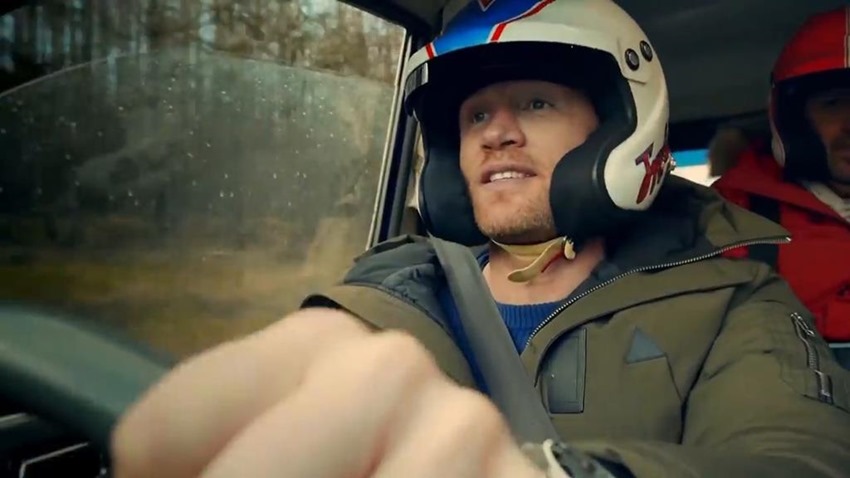 Definitely the two reasons you've mentioned already. The Top Gear brand has been going for ages, I remember watching it when I was a kid and I've watched it again in recent years. There are few jobs in TV when I think, 'you know what, I'd really love to do that', and Top Gear has always been one of them. As an ex-cricketer you never think you'll get the chance to do something like this.
Top Gear's previous seasons were criticised for being a touch too scripted, and while it does help to have a script to work from, are you and the lads given a lot of freedom to be yourselves?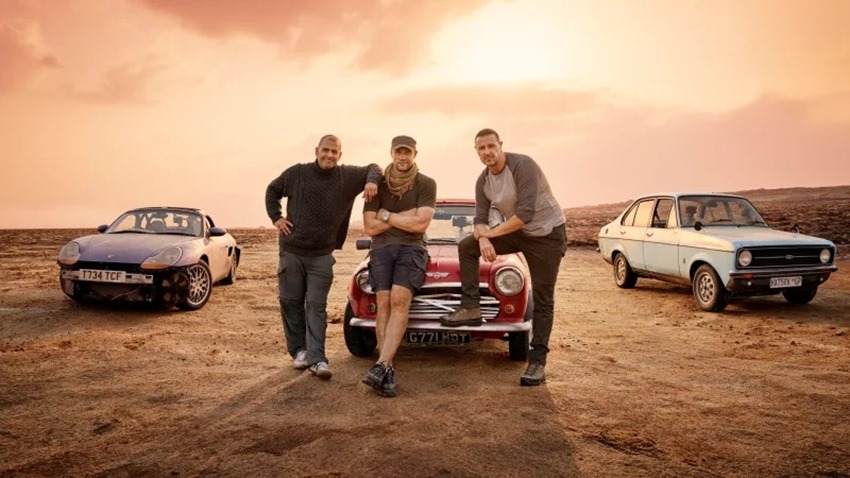 We don't really act that differently when the camera is on, vs. when it's off. I think the viewers will see that there are no scripts. Obviously, the producers create a trip or a playground just for us to go out and play in. All the other stuff that I've done on TV hasn't been to a script. My sports career has never been to a script. I don't know what I'm doing in the next 20 seconds so to try and get me to read off something would be a nightmare.
So yeah, the script, if it ever was there, was definitely out of the window for me.
Throughout the filming of season 27 you trek across Ethiopia, Borneo and Iceland, where there any locations that stole your breath away?
Ethiopia, I just wasn't expecting it. I think my generation, growing up in England, when you heard about Ethiopia you associated it with famine and disease. So when we went over, I didn't expect it to be on its feet and doing alright and it's just beautiful. The further we drove into the country, it's one of those places that just gets better and better. I think because I wasn't expecting that, it made it all the more memorable.
Possibly one of the most beautiful places I've ever been.
How are you still alive after driving through Ethiopia while wearing a winter jersey?
That was awful for sure. One of the challenge forfeits was to wear a knitted jumper in near 40 degrees of heat, and my cars air conditioning didn't work so I was definitely affected by it. Chris also wore it and he had it on – even though I wouldn't admit it to his face – on what was probably the hottest day we had. I know we shouldn't laugh, but he really was struggling at one point, but he did milk it.
Apart from your inspection of Paddy's Daimler hearse and the coffin boot space, what's the closest brush with death you've had while filming?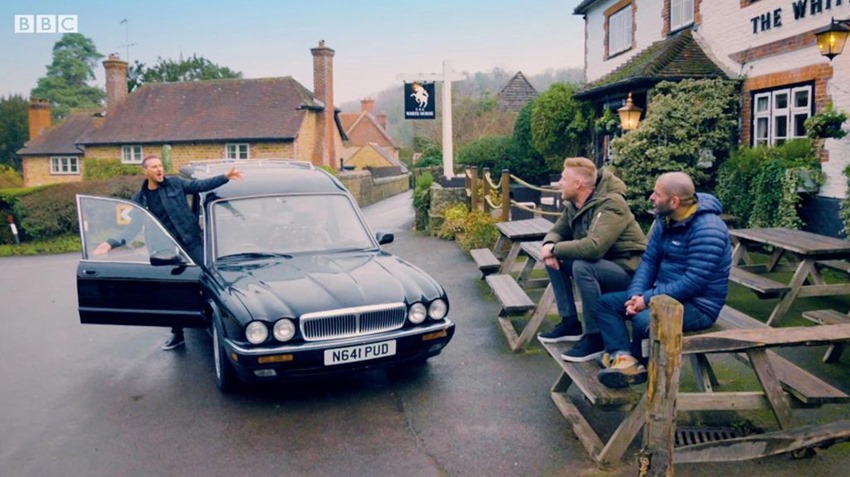 I did have an unfortunate accident in the hearse, they put me in the back of it and the door shut on my head. I also rolled the hearse. I think we were very luck, I've actually rolled another car on the very same track but it was a rally car.
This time, in the hearse, as it went over I thought 'oh here we go again' and it seemed to all happen in slow motion. My biggest fear was that Paddy was in the back when it happened and Chris jumps out and I'm shouting for Paddy and I couldn't hear him… I thought 'oh my word, I've done Paddy McGuinness in here'. I think that was on the first or second day of filming.
Chris and I went to Iceland to compete in this formula off road event, which was like nothing I've ever seen before. Cars would aquaplane across the water, before going up the side of the mountain cliffs and more. It was dangerous, but I found that great fun. Probably one of the best things we've done.
Would you say that after you completed filming this season, that you're a more skilled driver now? On a scale of 1 to 10 how would you rate your driving skills?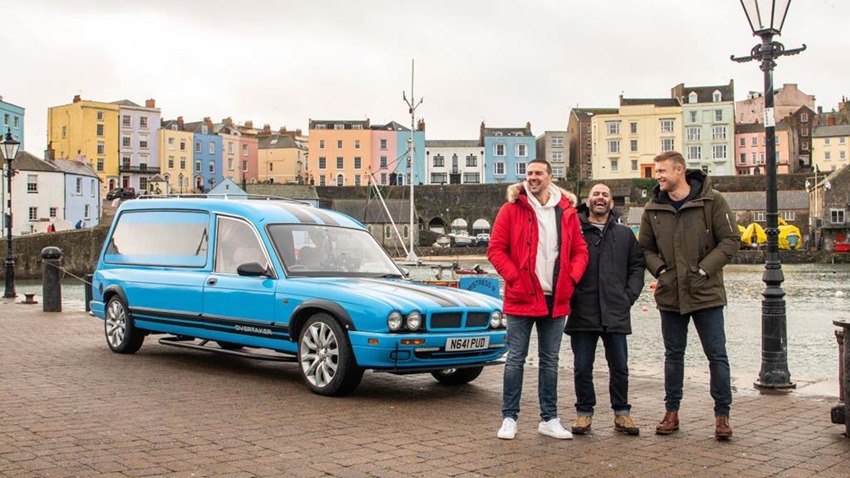 I'm hoping that I'm a bit more of a skilled driver after the season. I'm sure everyone thinks they're better drivers that what they are, it depends on who you ask. I like to think I'm brilliant, but in reality I'm probably a 7 out of 10.
What's your favourite trick that you've played on Chris and has he had his revenge yet?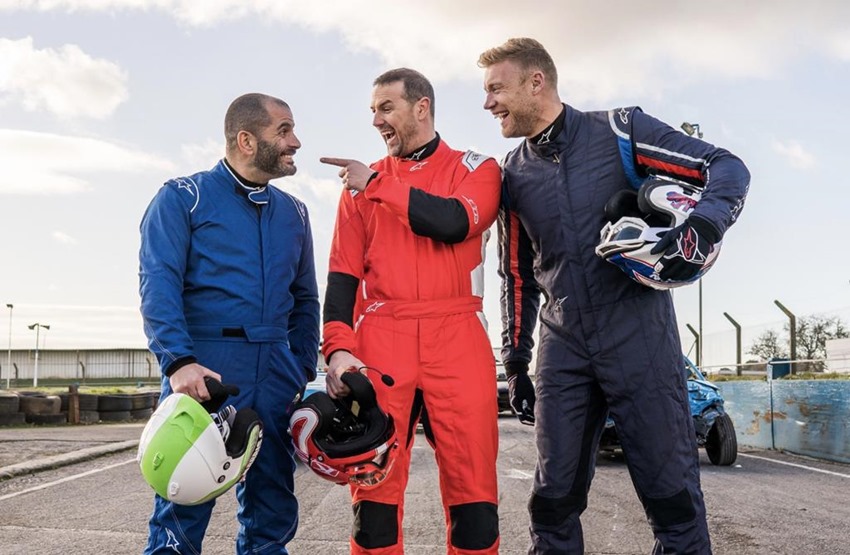 Chris and I give each other a little bit of a needle. I put him at the back of the hearse and Paddy shut the boot and we left him in there for a little bit. We had a challenge where we had to load up our cars, so I emptied his car. He's also had a watermelon smashed against his head. In fairness, he's crashed into me a couple times. In Ethiopia in the middle of the Danakil depression with not another car in sight, he managed to hit me.
I think from watching the season you'll see that between the three of us there's always two of us ganging up on the one. And it's always a different combination. We're very fickle.
Top Gear has been on the air for almost two decades and has inspired a lot of competition. What do you think you and the team can still do to ensure that Top Gear remains at the top of the motoring entertainment charts?
In England, I think Top Gear started in the 70's so it has been going on for a long time. We've had a good start with the first series and it's gone down well, so the one thing we need to do now is not rest on our laurels but to keep making it better all the time. As a first go of putting three people together, I think we've done well.
I'm not sure what it's like in South Africa, but in England, if a TV show doesn't work straight away it's just off, it isn't given a chance to breathe, but I think we've hit the ground running with this. It's an ambition to be better all the time and if we keep that in mind, I think we've got a good chance. But ultimately, it's about the viewers, the people watching, and making sure they enjoy it as much as we do. 
The new season of Top Gear premieres tonight, 29 August, at 8PM on BBC Brit (DSTV channel 120).
Last Updated: August 29, 2019