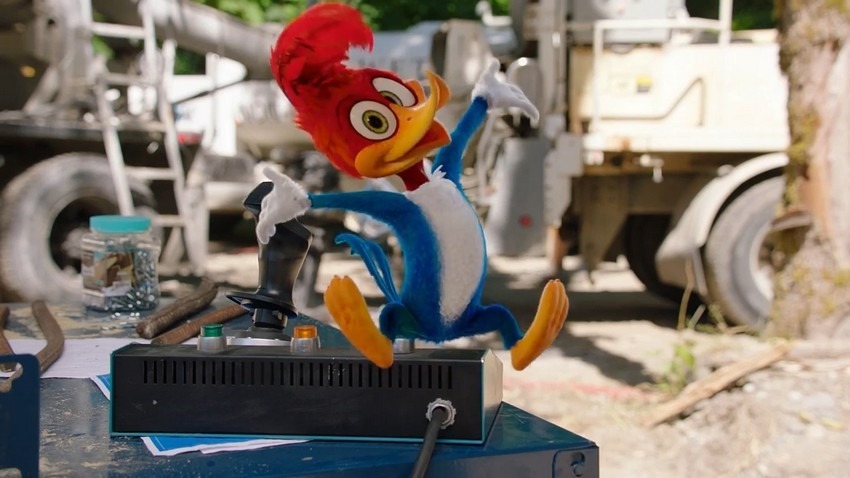 It's December 14th, which means we're still 17 days away from actually reaching 2018. And yet, despite the fact that it hasn't even started yet, we may already have a top contender for the worst movie of 2018. Folks, I give you the Woody Woodpecker live-action movie!… Oh, you don't know who Woody Woodpecker is? Well, young person who apparently doesn't know how to Google something, Woody Woodpecker was a loud-mouthed, screwball cartoon bird with an infectious laugh voiced by the legendary Mel Blanc who delighted kids with his antics all the way from his creation in the 1940s to the late 1980s/early 1980s. It was during the latter period that I first discovered and fell in love with the hyperactive nutcase. I am now regretting this life choice.
Woody Woodpecker is back with his signature laugh, wacky antics and wisecracks in this first ever live-action/animated film. Woody must protect his forest home from Lance Walters (Timothy Omundson), who starts building his dream mansion in the forest with his son, Tommy, and fiancée, Vanessa (Thaila Ayala). To make matters worse, he must avoid the clutches of two grizzly poachers. With a series of crazy hijinks to sabotage their plans, Woody proves he'll stop at nothing to defend his turf. Get ready for big laughs in this hilarious comedy about everyone's favorite woodpecker!
The upcoming live-action movie from writer/director Alex Zamm (the filmmaker behind such bona fide cinematic classics like Beverly Hills Chihuahua 2, Dog With a Blog and Jingle All the Way 2) looks so utterly terrible that it's made me retroactively hate this part of my childhood. Clearly, I was an idiot as a child who huffed paint fumes or something and Woody Woodpecker was actually always this unforgivably bad and I was just too high to notice (Notice: prepubescent drug use is not okay, kids!). That sounds like a far more likely scenario than the alternative, which is that in 2017, Universal Pictures – one of the most successful studios of modern times – actively decided that this was a movie they wanted to make and release publically. Did nobody think of the children?!
Also, Timothy Omundson, what are you doing? You can't be this desperate for cash? I saw you in some TV series just the other day, and you even have a Psych movie out! Consider your legacy, man!
Woody Woodpecker also stars Brazilian actress/model Thaila Ayala, as well as Eric Bauza of Ren and Stimpy fame as the voice of the eponymous bird. The film actually released theatrically in Brazil back in October and was originally planned for a worldwide cinematic release in April 2018. However, Universal has changed its plans and it will now be heading straight to DVD home release on 6 February. Good.
Last Updated: December 14, 2017