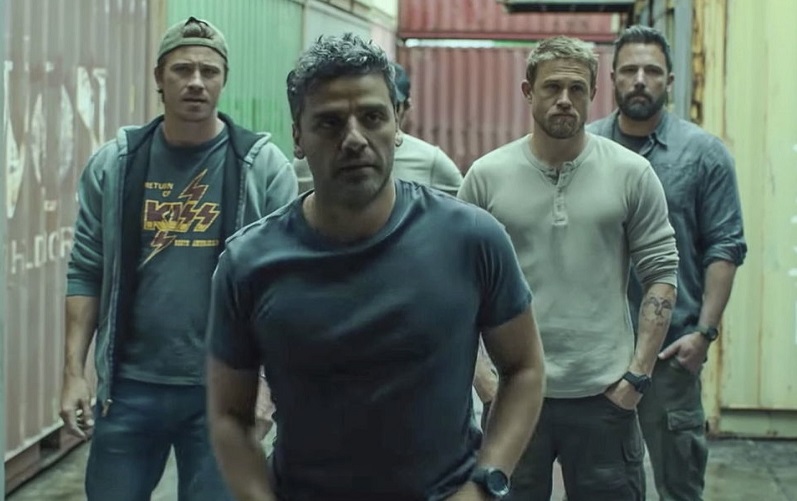 If we were to all put a value to our skills and abilities, it would probably end up being a price tag of a lot more than what we currently get paid. Which is probably why many of us joke about robbing a bank or winning the lottery one day and dreaming what we'll do with the money, but then never actually do anything about it. Well, these men in Netflix's new movie Triple Frontier decided they were going to do something about it. But rather than robbing a bank, these former soldiers decide that they're going to steal from the drug cartels instead.
It's a premise that sounds exciting enough on paper. Put the names of Ben Affleck, Oscar Isaac, Charlie Hunnam,  Pedro Pascal and Garret Hedlung on that document along with director J. C. Chandor (A Violent Year) and you have an easy sell right there. And sell it did as Netflix bought the rights to the film in their continued bid to get blockbuster quality movies onto the streaming service. A blockbuster quality that is apparent from the exciting first trailer for the movie which also reveals that Triple Frontier will be headed our way this coming March.
Written by Chandor alongside Mark Boal (The Hurt Locker, Zero Dark Thirty), two men who know a thing or two about making realistic military thrillers, Triple Frontier follows this group of former Special Forces operatives who feel disillusioned by the lack of financial compensation from their effort in fighting for their country as they go after the big drug cartels in Argentina, Brazil and Paraguay in the hopes of raking in the cash the finally deserve. Their quest might be a noble one, but taking on drug lords mean only thing: They will fight back just as hard, setting up the scene for what is likely to be a high-octane action movie. That it has a strong human story to go along with it should only add to its appeal.
Triple Frontier is shaping up to be a real triple threat for Netflix with its incredible writers, directors and cast all pointing towards a movie with great potential. Let's hope it turns out that way when the film is eventually released in March 2019.
Last Updated: December 13, 2018