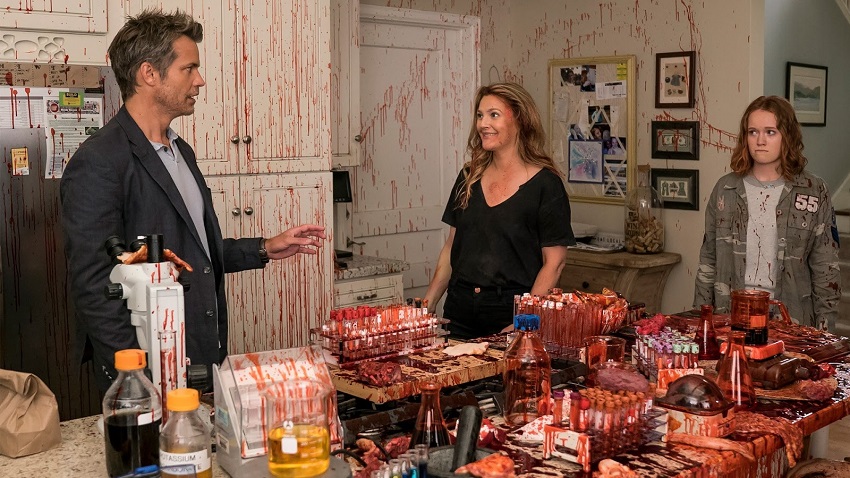 I really enjoyed watching Netflix's zombie comedy series Santa Clarita Diet, and I would have enjoyed it even more if I hadn't got distracted after a few episodes thanks to my guppy-like attention span and forgotten it exists until now. Curse you, short atte…
For those who don't know, Drew Barrymore (50 First Dates) and Timothy Olyphant (Justified) star as Sheila and Joel, an ordinary married couple living a humdrum life and working together as realtors in the Los Angeles suburb of Santa Clarita. Ordinary that is, until Sheila is turned into a zombie with an insatiable appetite for human flesh. As you can imagine that disrupts their lives a tad and the pair, together with their daughter Abby (Liv Hewson), must find a way to control Sheila's murderous impulses (or at least direct them towards more appropriate victims) while maintaining the façade of a normal suburban life.
Season three is set to kick off its ten-episode third season on 29 March, and sees the family finally getting into a good space as they come to terms with handling Sheila's condition. However that peace is sure to be short lived, as zombie hunters, the Nazi next door, and a mutant spider ball are all poised to make their lives even more complicated. Oh, and there's the teensy issue of Sheila technically being immortal and how that affects her marriage.
Let's take a look:
I really need to get back into this. Clearly the show has been digging into the mythology behind its zombie outbreak in the time I've been gone because organised zombie hunters are a thing now, and what's the deal with the mutant spider ball?
The show's official synopsis is as follows:
Joel (Timothy Olyphant) and Sheila (Drew Barrymore) are husband and wife realtors leading vaguely discontented lives in the L.A. suburb of Santa Clarita with their teenaged daughter Abby, until Sheila goes through a dramatic change sending their lives down a road of death and destruction…but in a good way.
Last Updated: March 14, 2019