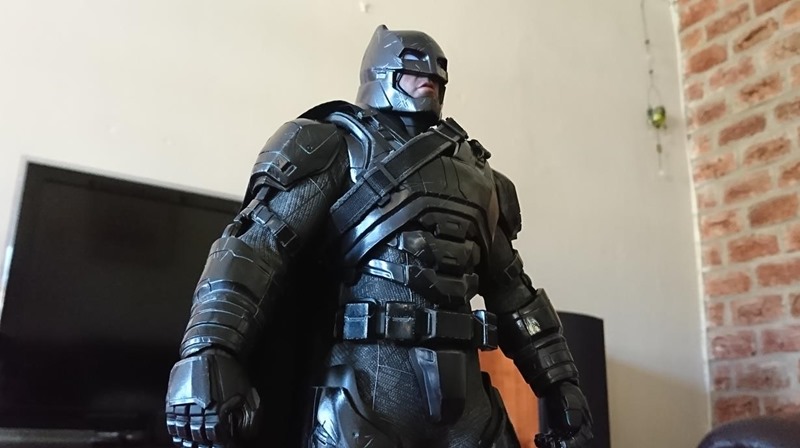 If you know me, you know that I like Batman. As like, more than just a friend (twirls hair). One other thing that I also love? Hot Toys. I've been writing about their products for months now, absolutely stunning pieces of art that command a premium price tag. Dammit, I've wanted one for so long but I've never had the courage to pluck down the cash for a sixth-scale collectible because I've had to spend it on adult stuff. Like toothpaste and LEGO insurance.
That's what adults buy, right? Anyway, that all changed earlier this year when I saw Batman V Superman: Dawn of Justin Bieber Justice. A movie which was quite honestly terrible at the cinema and a lot more decent in its bloated director's cut format a couple of months later. Point is, is that while the content of Batman V Superman may not be up to scratch, the visual quality was an entirely different story.
I still think of every frame in Batman V Superman being gorgeous enough to post in the Louvre. It is a stunningly well-shot movie, with the latest incarnation of the Dark Knight being a particularly brutal Ben Affleck who likes to take on criminals to uncomfortable extremes. Like the back of a Volkswagen. The batsuit got a massive upgrade, but it was the armour that Batman wore to protect himself from Superman that really stole the show.
And when I saw that realised in a sixth-scale format, I had to have it:

So, quick notes then. It's magnificent. It's unbelievably well detailed and the closest I'll ever get to Ben Affleck ever since that judge slapped me with a restraining order. Every panel of that armour looks and feels right. You can feel the anger from that Batman oozing through, to the point where I'm too scared to even flick onto the cooking channel to watch a Martha Stewart episode on fine dining.
Even the suit underneath the armour feels authentic, with numerous textures and seam lines standing out. I waited months and months to own this, paid a small fortune in customs and then camped out for my local Aramex guy to pop up. And it was worth every Rand and minute spent.
Last Updated: November 28, 2016