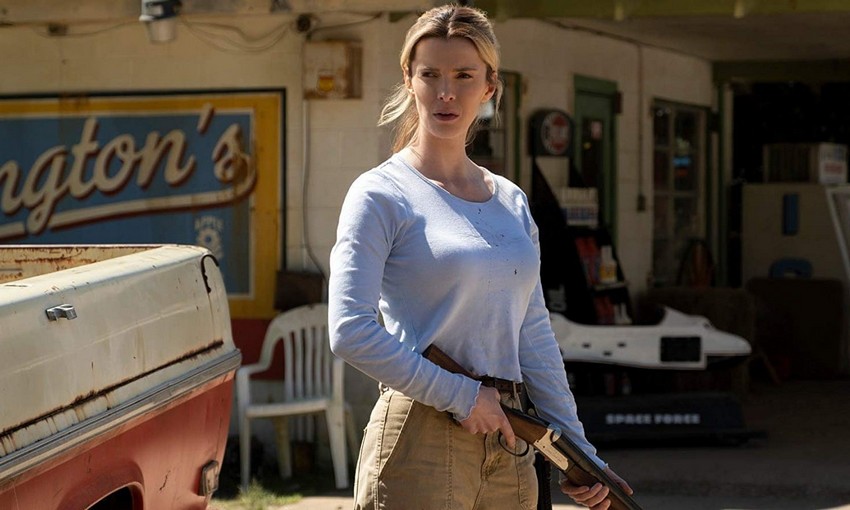 In an absolutely staggering revelation, the USA has had 255 mass shootings thus far in 2019 alone. The fact that we're only 222 days into the year, makes this even more shocking – America has an undeniable epidemic of violence on their hands. The debate around who or what's to blame rages on in just about every corner of the internet, with many pointing fingers at US President Donald Trump's inflammatory statements regarding immigrants/people of colour as well as American's controversial gun control policies as major contributing factors. Whatever the cause, the effects of recent tragedies have now been felt by Hollywood as well.
The Hunt is a satirical-horror film starring GLOW's Betty Gilpin that saw a number of conservative GOP-type Trump supporters who wake up in a field and discover that they are being hunted for sport – as a result of the opinions they shared on social media – by a group calling themselves the "liberal elites". The film – directed by Craig Zobel and penned by Damon Lindelof and Nick Cuse – was originally titled Red State vs Blue State, so it's clear how much it would have dug into the current tense political climate in the US.
In light of recent shootings across the US sparking controversy around the film's premise online, Universal Pictures and production house Blumhouse initially first stalled the film's marketing as several broadcasters dropped the film's ads. This weekend past though, the studio announced via press release that it's cancelling The Hunt's theatrical release entirely.
While Universal Pictures had already paused the marketing campaign for The Hunt, after thoughtful consideration, the studio has decided to cancel our plans to release the film. We stand by our filmmakers and will continue to distribute films in partnership with bold and visionary creators, like those associated with this satirical social thriller, but we understand that now is not the right time to release this film.
This announcement was made on Saturday and it's all but impossible that it's a coincidence that this happened just one day after President Trump went on a Twitter rant about it. Although he never actually names The Hunt, it's clear by his referral to the "Elite" that he was referring to the film when he tweeted out "They like to call themselves 'Elite,' but they are not Elite."
Chances are pretty good that The Hunt won't be completely mothballed here. As has been the case with many other controversial films which tied into politics or social issues at the time, the film will more than likely be released – either direct-to-TV or on some VOD platform – sometime in the future when the uproar surrounding mass shootings in the US dies down. Unfortunately, unless something drastic happens over there, I don't see there being any opportunity for that too happen anytime soon. And that's the biggest tragedy here.
Last Updated: August 12, 2019