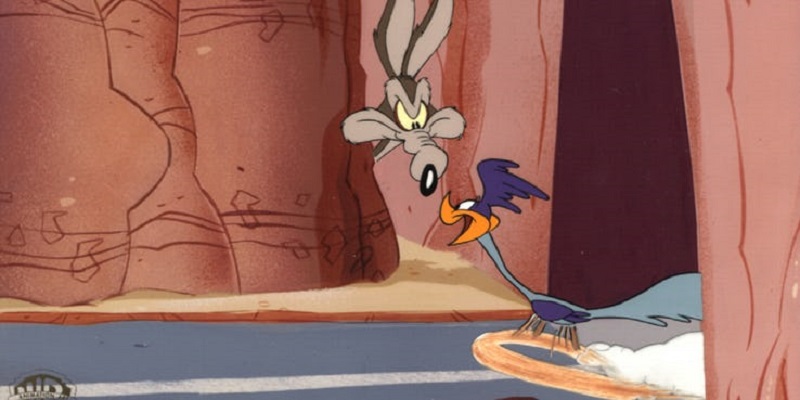 When it comes to bad guys in movies, we often give them a tough break. After all, while they may be out to do what we think is an act of evil, their actions often make complete sense from their point of view and we shouldn't always be so quick to judge. Same goes for cartoon bad guys. Take Wile. E Coyote for instance – yes, he might be portrayed as the bad guy in Warner Bros.'s classic Looney Tunes cartoons, but all he wants to do is eat his next meal. What is wrong with that? If there is any real bad guy in those cartoons it should be ACME, whose products continue to backfire on the poor hungry fellow. Beep! Beep!
It looks like this is something Warner Bros is realizing too as Deadline reports that the studio is looking to make a film about one of the unluckiest cartoon characters in history and his misfortune with the ACME company in a new movie to be titled Coyote vs Acme. Hopefully, this means our favourite Coyote will finally get the retribution he deserves.
Wile. E Coyote, whose appearance was supposedly inspired by Mark Twain's description of a coyote in the book Roughing It, made his debut alongside eternal nemesis The Road Runner in 1949's Fast and Furry-ous. Since then Wile. E has had the misfortune of his failure having appeared in over 49 animation shorts for the Looney Tunes, the last being 2014's The Flash and the Pan.
Warner Bros is reportedly bringing on Jon and Josh Silberman (It's Always Sunny in Philadelphia) to write the script for the film with The Lego Batman Movie's Chris McKay set to produce. It will also represent the first time a Looney Tunes character will appear in a movie that isn't part of an ensemble, which I think is a fitting tribute to this legendary anti-hero.
I do wonder how much screen time they can get out of a character that doesn't talk much and has traditionally just existed to be blown up or have objects fall on him. It will be interesting to see exactly how they use the character here because watching him get destroyed multiple times in one screening is less likely to be funny. Oh, who am I kidding? Bring it on!
Last Updated: August 29, 2018