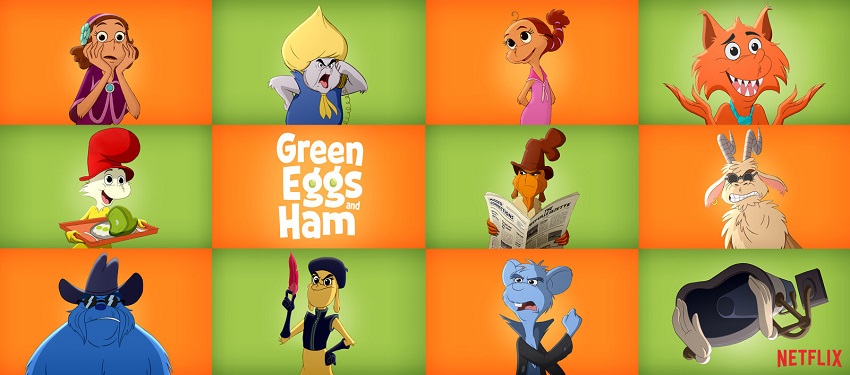 If you thought Peter Jackson adapting J.R.R. Tolkien's tiny book The Hobbit into three feature-length movies was a bit of a stretch, Netflix have a beer they'd like you to hold because they've adapted Dr. Seuss' beloved children's book Green Eggs and Ham, which has the distinction of only using fifty different words, into a TV series. Not only that, but they've also made it into what could be the most expensive animated series to date, with each of its thirteen episodes clocking in at an estimated $6 million.
A big chunk of that budget goes to its impressive cast. Michael Douglas and Adam Devine headline the star-studded voice cast that also includes Keegan-Michael Key, John Turturro, Tracy Morgan, Daveed Diggs, Diane Keaton, Eddie Izzard, Jeffrey Wright, Ilana Glazer, and Jillian Bell.
The series will see the grumpy Geoff and silly Sam, I mean the grumpy Guy and silly… Sam, as unwitting partners undertaking a road trip to rescue an endangered animal from the zoo – and along the way they encounter the gastronomical treat, green eggs and ham.
The official plot synopsis is as follows:
The story you know is just the start. This new adventure is off the charts. Hit the road with a whole new crew. There's Sam, Guy, and a Chickeraffe too.

But how'd we turn this 50-word, Seussian spiel into a 13-episode meal? Our recipe starts "Here" and definitely goes "There." We added a "Box" full of "Fox", a "Boat" load of "Goat," and a "Mouse," on the "House." Try it in the "Rain" on a "Train" or go far in your "Car" to find a spot to park and stream it in the "Dark." Because, in case you were unaware, this show's miles ahead of "Anywhere!"
Let's take a look:
At first glance I'd say this is targeted more at the young ones, and the older among us might have to look deeper to get something out of it. Technically the animation is superb – being very crisp, clean, and colourful – and there's nothing to sneeze at with the voice work either.
What do you think?
Green Eggs and Ham season one will premiere on Netflix this week on 8 November.
And if that didn't tickle your fancy, how about tickling your taste buds instead:
Last Updated: November 4, 2019