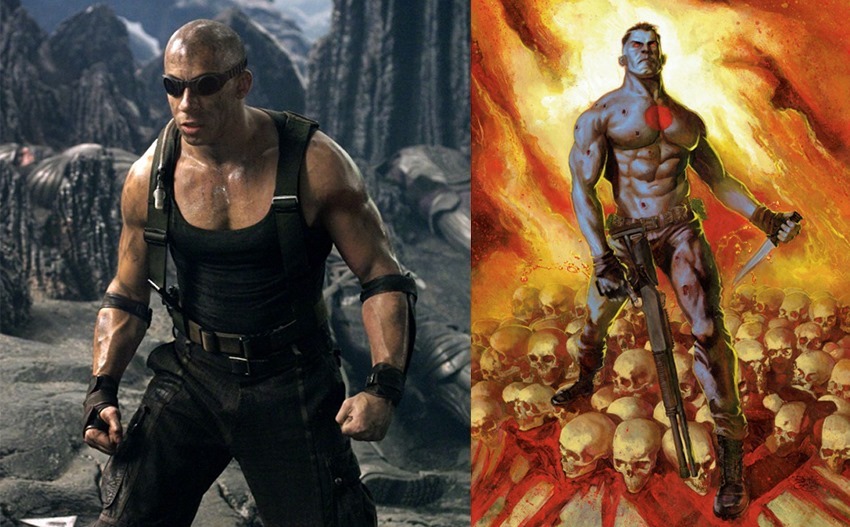 Marvel Comics and DC Comics may be the biggest two publishers out there, but they're definitely not the best, if you ask us. And since you're reading our site, you kind of did. For the last while we've been telling you folks how awesome the comic book offerings from Valiant are, and we're not the only ones that thought this as Sony optioned the publisher's library to turn it into their very own cinematic universe to rival the MCU. Leading the charge in this proposed universe will be Bloodshot, an adaptation of the award-winning comic following the very violent tale of the titular unstoppable amnesic super-soldier.
Last we heard, Oscar-winner Jared Leto was in circling the leading role which was a rather surprising choice – Leto is an incredible actor who has proven to be quite the on-screen chameleon, but he really doesn't fit the Bloodshot mold. It seems that somebody else may have thought the same thing as it is now being reported that Vin Diesel has taken Leto's spot and is currently in talks to star as Bloodshot. The Wrap broke the news also confirming that Sony is moving ahead with their five-film plan to kick off their cinematic universe with chapters of Bloodshot and fellow adaptation Harbingers which will eventually culminate in a big screen adaptation of the critically acclaimed Harbinger Wars crossover between the two titles.
The most recent incarnation of Bloodshot was one of the flagship titles in Valiant's 2012 relaunch that saw them rework their entire universe to massive success. In this version, Bloodshot is a one-man army powered by nanites that leave him capable of healing from almost any injury. Created by the government through Project Rising Spirit as the ultimate weapon, Bloodshot is controlled by having his memory and personality overwritten before each mission to suit the mission parameters. However, when he realizes the truth about what was done to him, Bloodshot escapes PRS and sets out on a quest – strewn with the corpses of those sent after him – to find out who he really is.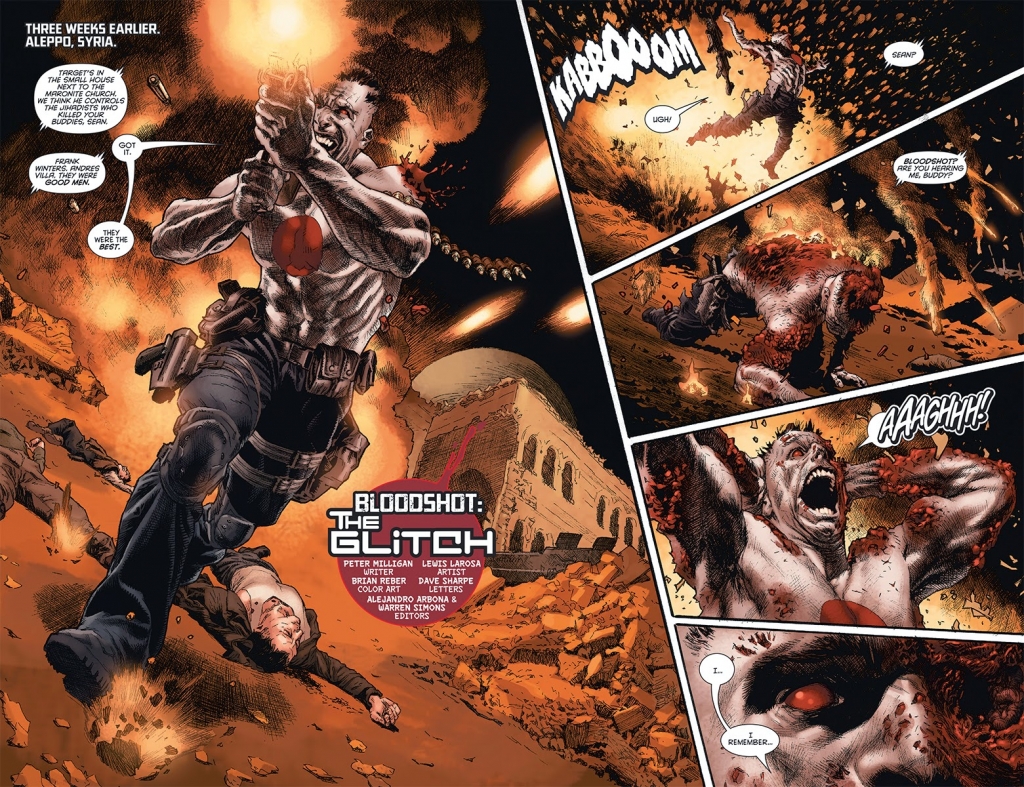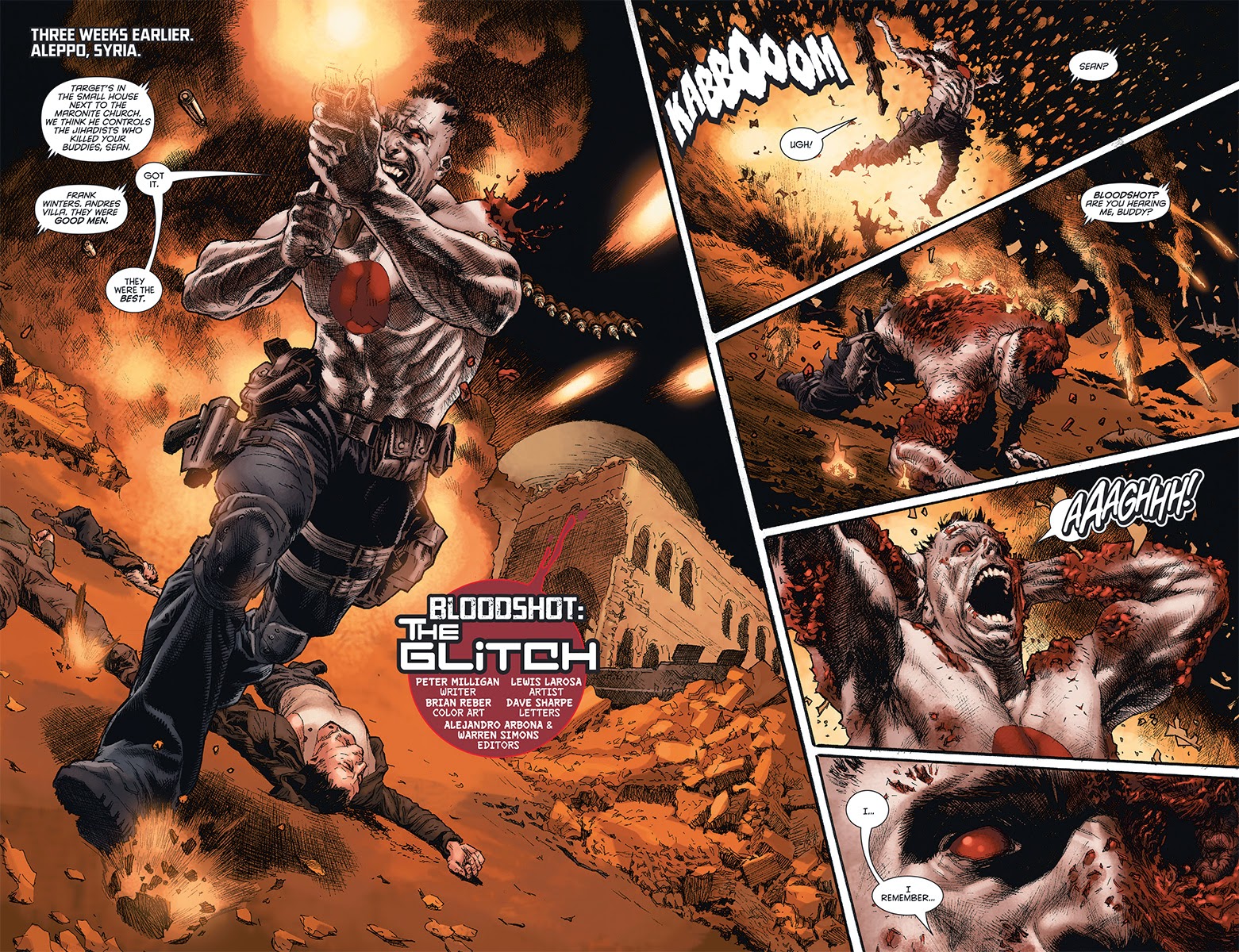 This type of stoic, unstoppable killing machine antihero is perfect for Diesel, and is a return to the type of characters that originally made him famous. According to The Wrap's sources, Sony also plans to "follow in the footsteps of the recent success of Logan and Deadpool with an R-rated take on the comic adaptation that will be tonally and aesthetically influenced by high-concept, sci-fi blockbusters of the late '80s including Robocop, Terminator, and Total Recall." Look, I know that's nothing but press blurb and a play on current Hollywood trends and buzzwords, but I still can't help but be excited about that. Bloodshot needs to be made as a no-holds-barred R-rated action movie like we used to get back in the day.
Also, there's already a tenable connection to Deadpool, as Bloodshot will be helmed by David Wilson, Deadpool helmer Tim Miller's partner at the acclaimed animation house Blur Studio. Besides for doing work on Avatar and The Girl With the Dragon Tattoo, Blur has also been behind some of the most memorable recent video game trailers and cutscenes for titles like Star Wars: Knights of the Old Republic, the Batman: Arkham games and several entries in the Halo franchise. He may be untested in the live-action feature film directing arena, but Wilson and co definitely know how to stage and choreograph action scenes, of which Bloodshot should have plenty. Backing Wilson up will be Eric Heisserer, the Oscar-nominated screenwriter for Arrival who will be scripting Bloodshot. Heisserer has recently cemented his relationship with Valiant by penning the brilliant critically lauded Secret Weapons series for them.
In the meantime, folks unfamiliar with Bloodshot and the rest of the Valiant Universe will be able to get a live-action taste of it with the upcoming Ninjak vs the Valiant Universe webseries (which will be separate from the cinematic universe), which will see ex Mighty Morphin' Power Rangers star Jason David Frank star as the unstoppable super soldier opposite Arrow's Michael Rowe as Ninjak.
Last Updated: January 9, 2018