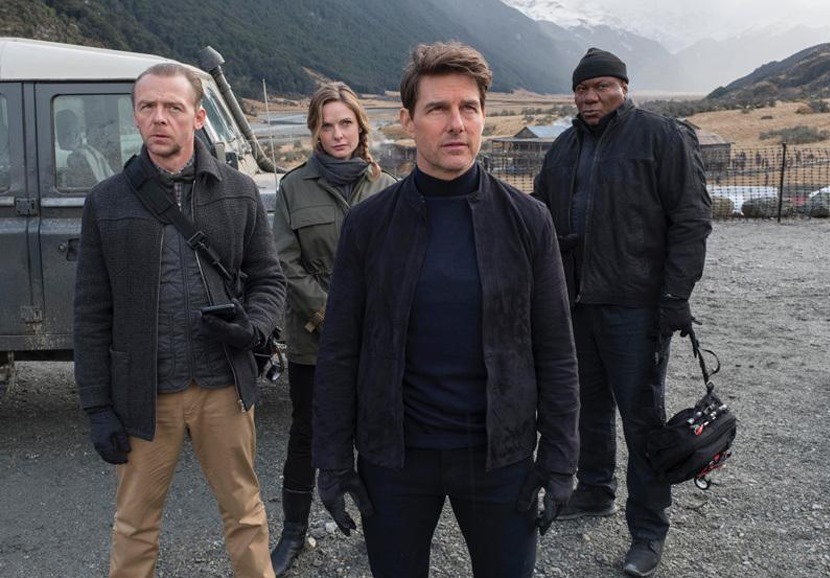 Hey, did you guys hear that it's all Mission: Impossible – Fallout's fault that Justice League was not a great movie? According to a small group of rather silly fans, Henry Cavill not being allowed to shave the mustache he grew for the new M:I movie so that he could do the Justice League reshoots, and thus resulting in the now infamous nightmare-fuel Superman CGI top lip, is totally the only thing wrong with that movie. Forget the terrible villain, haphazard tone, undercooked story and massive plot holes. Nope, all just the stache's fault.
These folks are so upset about it, that they have been calling for their peers to boycott Mission: Impossible – Fallout and not see it when it releases to somehow teach Paramount a lesson (y'know, instead of just trying to let Warner Bros. know that they're not happy with slapped-together movies). Well, I have some bad news for all of these guys and it comes in the form of the first trailer for Mission: Impossible: – Fallout which debuted at during Super Bowl in the early hours of this morning. The issue here is that it looks bloody good. So much so, that I have a feeling plenty of people are going to have a damn hard time boycotting anything!
The best intentions often come back to haunt you. Mission: Impossible – Fallout finds Ethan Hunt (Tom Cruise) and his IMF team (Alec Baldwin, Simon Pegg, Ving Rhames) along with some familiar allies (Rebecca Ferguson, Michelle Monaghan) in a race against time after a mission gone wrong. Henry Cavill, Angela Bassett, and Vanessa Kirby also join the dynamic cast.
Well, at least we didn't have to wait long to get that out of the way, as the film's "Fallout" title is pretty much explained in the trailer's opening moments as Sean Harris' Solomon Lane – the villainous head of the Syndicate who Tom Cruise's Ethan Hunt stopped but left alive in Mission: Impossible – Rogue Nation. It appears that that decision, as well as seemingly choosing the lives of his team over that of stopping some nuclear threat, is having all kinds of deadly repercussions! Hell, we even see Hunt literally go right through Rebecca Ferguson's Ilsa Faust with a BMW.
That's just the tip of the action iceberg here though, as writer/director Chris McQuarrie, returning once again after helming the brilliant Rogue Nation, seems to stage enough crazy antics for everybody to get involved in. So yes, if you ever wanted to see a very angry-looking Clark Kent beat some guys up in a bathroom, this is the movie for you. And yeah, we can also probably assume that that is really Cruise and not a stunt double dangling underneath a helicopter like it's nothing. This appears to be the so-called "biggest stunt ever" which Cavill told press had him thinking at one point, "Ah, this is how I go but at least I will have been killed by Tom Cruise and it will definitely make the papers!". Awesome.
Mission: Impossible – Fallout is scheduled for release on 27 July 2018 and also stars Alec Baldwin, Simon Pegg, Ving Rhames, Angela Bassett, Michelle Monaghan and Vanessa Kirby.
Last Updated: February 5, 2018