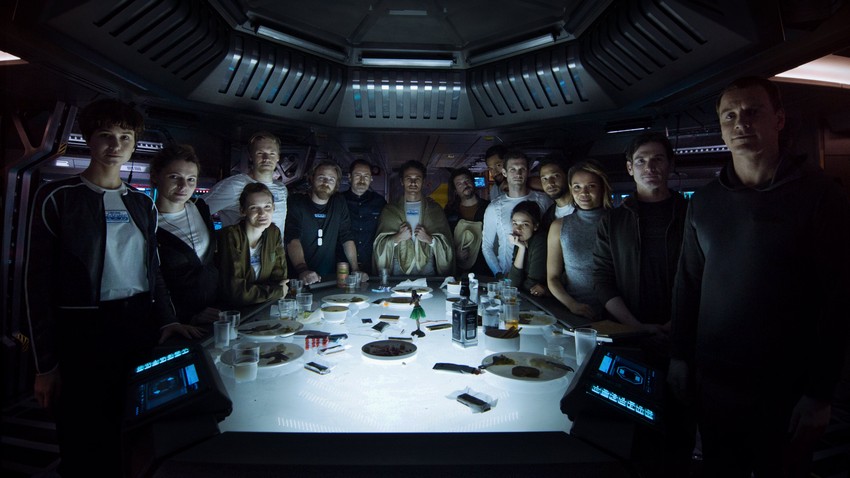 As I type this, there's a big debate going on in our site Slack channel: Was Prometheus an unmitigated disaster or was Prometheus even worse than an unmitigated disaster? Yeah, people around here really don't like that film. In the honour of full disclosure though (which I have to do since my name was on the review we did when the Alien prequel was released back in 2012), I don't hate Prometheus. I think it's a fantastically well-made movie boasting a great cast, some solid edge of your seat action, an intriguing mystery and also a whole bunch of very, very, VERY stupid stuff as supposedly highly intelligent characters went around saying and doing the dumbest things possible all the time. It was really pretty though.
So while my colleagues' expectation levels for Alien: Covenant, director Ridley Scott's upcoming follow-up to Prometheus, are positively subterranean, I still have a little bit of hope left. Hope that's bolstered by the fact that Scott will be taking Covenant back to its scary R-rated sci-fi horror roots. Or at least that's the promise. He's definitely picking up several cues from his original 1979 classic, as can be seen in this newly released four-minute prologue to the film which is set before the events of the film and serves as an introduction to the film's primary cast. The prologue has been titled "The Last Supper" and clearly harks back to that famous supper scene in the original movie where the late John Hurt experienced the galaxy's worst case of heartburn thanks to an alien burrowing out through his chest, laying on the nostalgia real thick.
Is that enough to get those Prometheus haters interested in this franchise again? Who knows? I just know that I'm intrigued. Check it out below!
Ridley Scott returns to the universe he created, with Alien: Covenant, a new chapter in his groundbreaking Alien franchise. The crew of the colony ship Covenant, bound for a remote planet on the far side of the galaxy, discovers what they think is an uncharted paradise, but is actually a dark, dangerous world. When they uncover a threat beyond their imagination, they must attempt a harrowing escape.
Alien: Covenant's cast is stacked from top to bottom with talented fan-favourite actors and rising newcomers in the form of *deep breath* Michael Fassbender, Katherine Waterston, Billy Crudup, Danny McBride, Demián Bichir, Carmen Ejogo, Amy Seimetz, Jussie Smollett, Callie Hernandez, Nathaniel Dean, Alexander England, and Benjamin Rigby. Notice the absence of Noomi Rapace, whose Shaw was last seen setting off with Fassbender's android setting off to find the home planet of the alien Engineers and is now nowhere to be seen. Interesting…
Alien: Covenant is scheduled for release on 19 May.
Last Updated: February 23, 2017