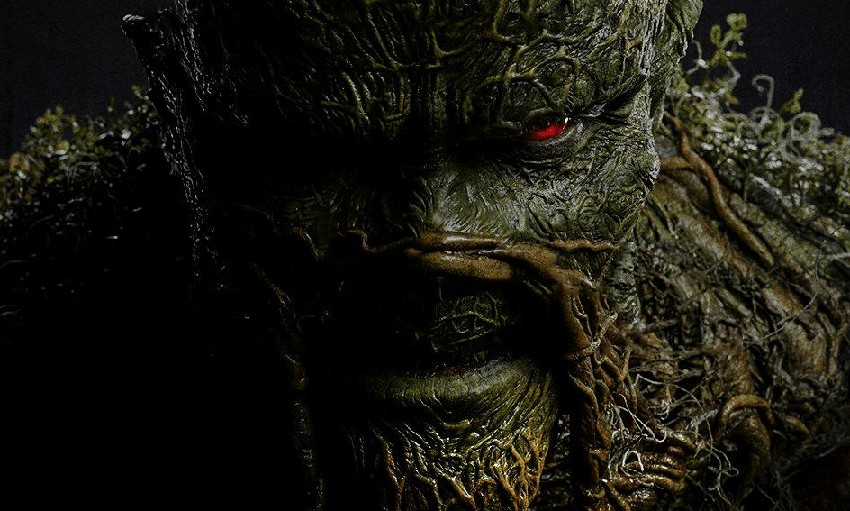 I don't know about you folks, but I'm already preparing all my pun-heavy headlines about Swamp Thing sinking or being bogged down. Unlike the rather well received Titans and Doom Patrol, the next series produced for the DC Universe streaming service has not even been released yet and it's already in trouble. As we learned last week, production on the filming of Swamp Thing was unexpectedly cut short without warning to the cast and crew as the series' planned 13-episode count got reduced to just 10.
DC Universe tried to assure fans that there was nothing amiss by releasing a short teaser trailer giving us our first look at the titular DC Comics character. I have to admit, it looked pretty good. If only they had stuck to that teaser.
The first full trailer for Swamp Thing dropped last night and it's full of horror. Horror both in the sense that DC Universe is clearly angling for the darker, creepier version of this story, and also because HOLY CRAP, THIS IS A HORRIFICALLY BAD TRAILER.
The haphazard editing, the low-budget production, the shoddy sound design, THOSE ANNOYING B-MOVIE SCREAM… this just looks bad.
However, I have to point out that my criticism here is aimed fully at the trailer itself. A number of official images have been released with the trailer showing off actor Derek Mears in full makeup as Swamp Thing and they look really good.
The series itself also still has the potential to be good. In fact, I like the angle they've taken which is to go more horror-focused. The last time we got a Swamp Thing live-action series was in the early 1990s and it was wall-to-wall cheese. A repeat of that is definitely not the answer.
Another aspect of how this new version is differentiating itself is by focusing on Crystal Reed's Abby Crane as she investigates the strange goings-on in a Louisiana marsh and then uncovers the monstrous creature that used to be biologist Alec Holland before his death and mystical resurrection as Swamp Thing. This way, the monster can be a good guy, but still act kind of creepy by skulking in the murky water.
At least that's how I hope things will play out. We'll have to see when Swamp Thing debuts on DC Universe on 31 May in the US. The rest of the world will get it on Netflix thereafter.
Last Updated: April 25, 2019