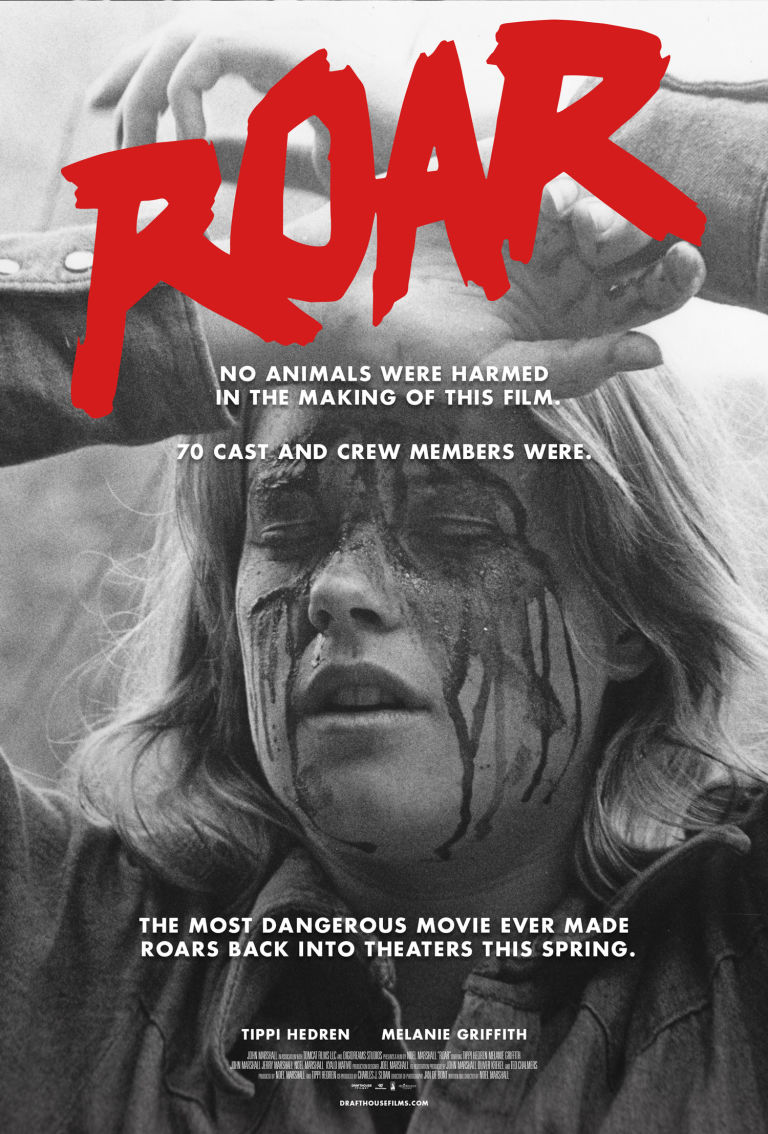 "No animals were harmed in the making of this film. 70 Cast and crew members were". Thus reads the alarmingly truthful blurb on the poster for Roar, a movie the likes of which the world had never seen before and probably never will again.
I mentioned Roar in an edition of Extras earlier in the week, but for those of you who missed it, let me quickly recap this unbelievable piece of cinematic history which is now being re-released by Alamo Drafthouse: Inspired by seeing wild cats overrun a house while making movies in Africa, The Birds star Tippi Hedren and her husband, The Exorcist producer Noel Marshall decided to make a movie about a family living side by side in a house with a pack of lions, cheetahs, jaguars and more to raise awareness of the big cats around the world. Since cats like these don't normally get along with each other, everybody told them they were crazy. Everybody was right. Hedren and Marshall did it anyway.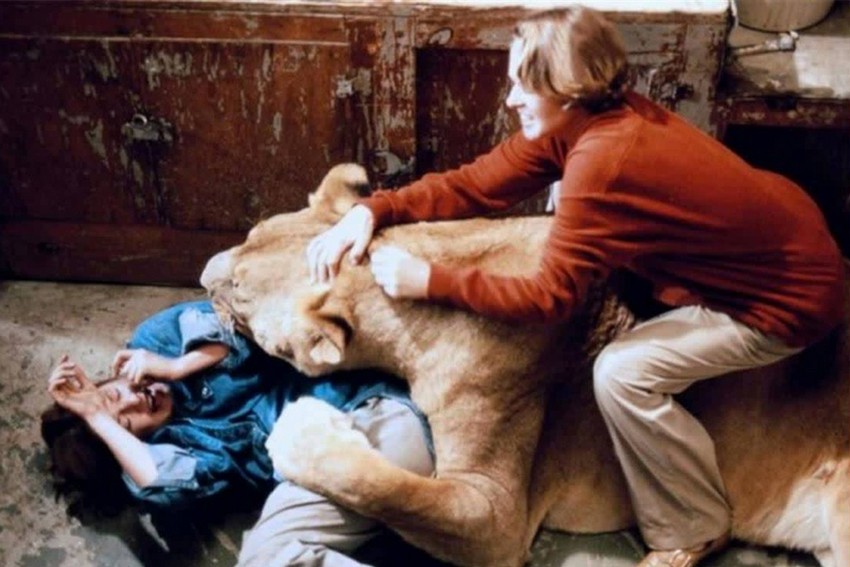 Starting in 1970, the pair started secretly adopting and raising infant cats in their Beverly Hills home, until they outgrew the premises and had to move to a ranch outside Los Angeles. Since the only people who had any relationship with these untrained animals was the couple's family – including Hedren's daughter, a young Melanie Griffith – they would be the stars of the movie. They hired cast and crew, including an up and coming European cinematographer named Jan De Bont (who would eventually direct such movies as Speed) and got to work on making their movie. Only it was not so easy. The shoot encountered a slew of natural disasters, including the entire movie set being caught in multiple destructive floods and wildfires
But a temperamental Mother Nature was pretty tame compared to what gave Roar it's nickname as "the most dangerous movie ever made". As animal experts had advised Hedren and Marshall beforehand, big cats were not meant for lengthy shoots like this, especially not ones that had never been trained, resulting in the cats "improvising" with claw and tooth on a regular basis to frightening results, as Alamo Drafthouse's Tim League explains:
"The cast and crew endured countless injuries, with over 70 bloody attacks documented. While nobody was killed, there were several close calls, most notably de Bont being scalped by a lion resulting in 220 stitches on his head. Hedren endured a fractured leg and deep scalp wounds. Griffith was mauled by a lion, resulting in over 100 stitches and reconstructive surgery. Noel was gored so many times that he was eventually hospitalized with gangrene. Maintaining a consistent crew became virtually impossible as injuries and safety risks kept them from returning to set."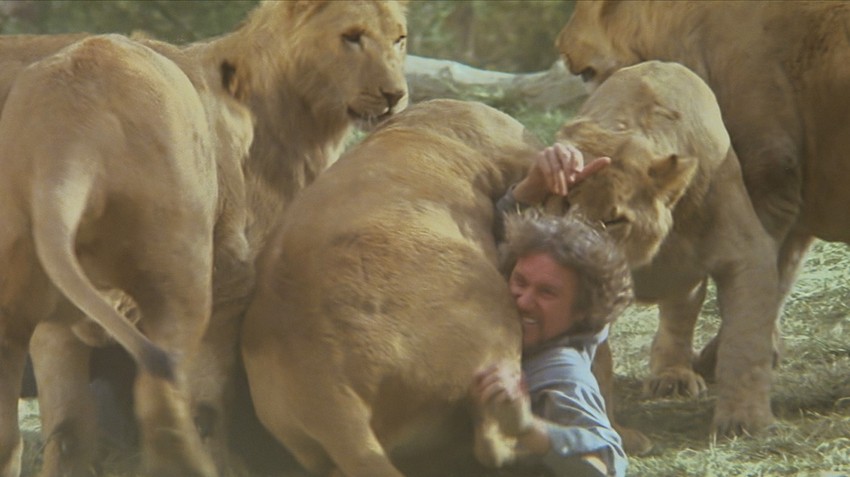 And still Hedren and Marshall kept on. The constantly quitting crew and all the various setbacks, including a feline illness that decimated the film's "stars", meant that the couple nearly bankrupted themselves over the arduous five-year nightmare of a shoot, forced to sell pretty much everything they owned to keep the production afloat. And still they kept on, until the movie was eventually finished and released in 1981. It was a box-office disaster.
Over time though, the film has rightfully earned its cult status, and as the gobsmacking story of its production was revealed, it just added to the film's allure. That terror you see in Tippi Hedren's eyes as a jaguar licks honey off her face, the outright panic on Marshal's visage when some "playful" lions run him over, the blood on a co-stars hands as they fend off an inquisitive jaguar? That's all real. Hell, even Melanie Griffith's vicious mauling is right there in the final cut for all to see. Despite the film's sometime's humorous tone or it's conservationist message, this is true horror. And I must see it.
Unfortunately, the best we can do right now is this trailer, but even that is enough to send a chill down your spine!
I doubt we will ever get this movie released locally, but such a historic and unparalleled piece of filmmaking needs to be known about by as many people as possible.
Last Updated: July 18, 2019