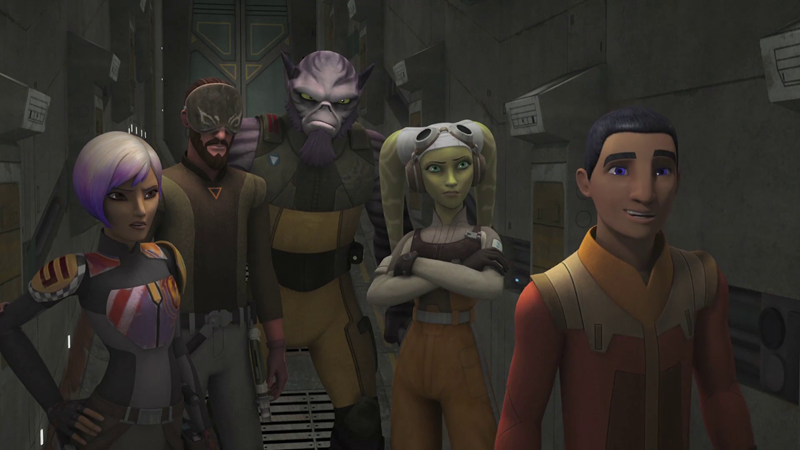 Look, I'm not even going to bother writing a proper intro, because dammit Star Wars Rebels season 3 trailer and holy cow is that who I think that is?
Get your first look at the new season of Star Wars Rebels, featuring the return of characters both new and familiar from both sides of the rebellion.
YES! You thought Order 66 was the biggest purge that the galaxy ever saw way back in Star Wars Episode 3: Revenge of the Sith? Well that pales when compared to Order 67 which saw most of the expanded universe content that had been filling the galaxy of Star Wars through games, books and comics in the years before Disney owned the brand.
One of those biggest losses was easily author Timothy Zahn's Heir To The Empire series, which introduced fans to Grand Admiral Thrawn: A Chiss native who was unique in the otherwise xenophobic structure of Emperor Palpatine's Imperial Navy and the biggest threat that the New Republic faced after the fall of the Galactic Empire.
Thrawn was a genius, a military tactician who deduced weaknesses in the strategies of his enemies by studying their art and attacking with ruthless precision. And now that he's in Star Wars Rebels, that officially makes him part of the official canon again. He'll be voiced by none other than Lars Mikkelsen, brother to Mads Mikkelsen who'll be popping up in Rogue One: A Star Wars Story. It's a small universe after all.
Star Wars Rebels season 3 premieres later this year, and stars the voices of Taylor Gray (Ezra), Vanessa Marshall (Hera), Freddie Prinze, Jr. (Kanan), Tiya Sircar (Sabine)  and Steve Blum (Zeb) as the crew of the Ghost who are helping to form the Rebel Alliance several years before Star Wars: A New Hope. The Fourth Doctor himself, Tom Baker, will pop up as Bendu while Dee Bradley Baker voices Clone Wars veteran Rex and Sam Witwer returns as the still-alive Darth Maul.
Last Updated: July 16, 2016