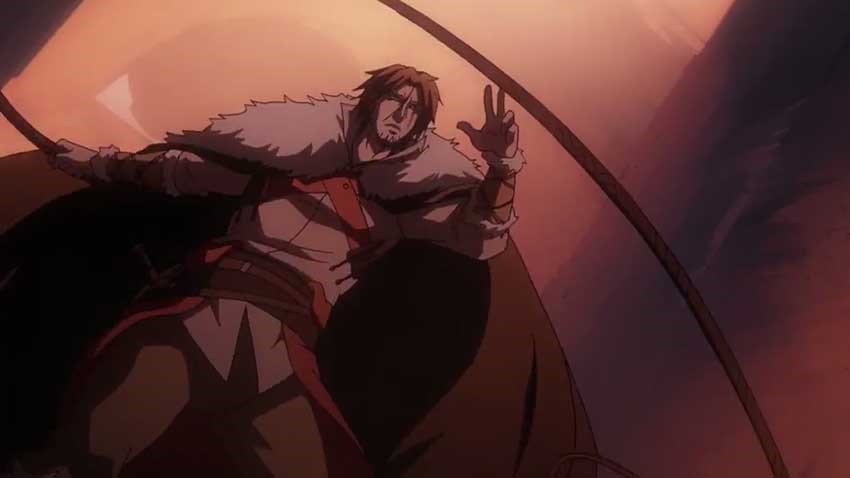 Castlevania has always been a prime example of what it means to be a cult classic franchise. Popular, but never that popular beyond a circle of fans who've stuck around ever since the Belmonts learnt to whip it. Whip it good. Point is, is that Castlevania has had dozens of games released over the years, each one contributing to a mythos of man and monster battling it out for supremacy in a world of nightmares.
A world that Netflix has drawn plenty of inspiration for with their upcoming TV show, that finally has a debut date and a swanky new trailer to show off. You can expect Netflix to crack the Vampire-Killer whip on July 7 as it gets all symphonic with the night. Here's the first trailer and official synopsis:
Inspired by the classic video game series, Castlevania is a dark medieval fantasy following the last surviving member of the disgraced Belmont clan, trying to save Eastern Europe from extinction at the hand of Vlad Dracula Tepe himself. The animated series written by best-selling author and comic book icon Warren Ellis and executive produced by Warren Ellis, Kevin Kolde, Fred Seibert and Adi Shankar.
You know what's funny? It's that this incarnation of Castlevania has an art style that immediately makes me think that anime studio Madhouse managed to sink their fangs into this production. Except it's not, as the team behind this is the exact same studio behind Adventure Time and Bravest Warriors. Frederator's actual quality in those mentioned TV and Web shows is rather brilliant, with a tone that frequently dips into darker themes despite the abundant use of the full spectrum of colours within those adventures. I'm quite looking forward to the rondo that they have planned here.
It's also the only Castlevania content that we can expect for a while. Konami appears to have given up the ghost on this franchise for the time-being, so hopefully this series can revive interest in resurrecting Dracula once again.
Last Updated: May 25, 2017