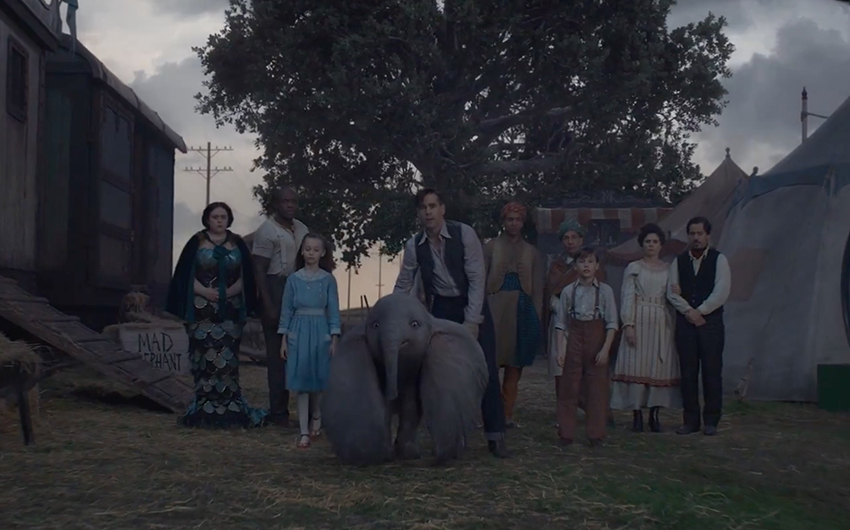 When Disney first started remaking some of their classic animated movies as live-action blockbusters, there were some that scoffed at the idea. Nobody is scoffing now. Besides for the relatively moderate earnings of 2016's Pete's Dragon, all the film studio's other recent live-action remake efforts – Cinderella, Maleficent, The Jungle Book, Beauty and the Beast – have been roaring successes both commercially and critically, with Beauty and the Beast ending up the highest grossing musical of all time and the 13th-highest grossing film overall.
And now the House of Mouse is back with an elephant! Yes, Dumbo, the beloved young flying pachyderm introduced to audiences in Disney's original 1941 animated classic – which has since been selected for preservation in the United States National Film Registry by the Library of Congress as being "culturally, historically, or aesthetically significant" – is getting the live-action treatment as well. This time its fan-favourite filmmaker Tim Burton who is driving the affair, and we've just got our first real look at his efforts courtesy of the first teaser trailer.
From Disney and visionary director Tim Burton, the all-new grand live-action adventure "Dumbo" expands on the beloved classic story where differences are celebrated, family is cherished and dreams take flight. Circus owner Max Medici (Danny DeVito) enlists former star Holt Farrier (Colin Farrell) and his children Milly (Nico Parker) and Joe (Finley Hobbins) to care for a newborn elephant whose oversized ears make him a laughingstock in an already struggling circus. But when they discover that Dumbo can fly, the circus makes an incredible comeback, attracting persuasive entrepreneur V.A. Vandevere (Michael Keaton), who recruits the peculiar pachyderm for his newest, larger-than-life entertainment venture, Dreamland. Dumbo soars to new heights alongside a charming and spectacular aerial artist, Colette Marchant (Eva Green), until Holt learns that beneath its shiny veneer, Dreamland is full of dark secrets.
The original Dumbo was only 64 minutes long, an intentionally short and rather simplistic film made almost solely to balance out the losses Disney incurred on the elaborate Fantasia. With that in mind, it will be interesting to see whether Burton and screenwriter Ehren Kruger stick to that spartan approach or actually add some additional flare to the beloved tale. Either way, the film is looking great with plenty of charm and heart and boasts a killer cast in Colin Farrell, Michael Keaton, Danny DeVito, Eva Green, Alan Arkin, and more.
Dumbo is scheduled for release on March 29, 2019.
Last Updated: June 13, 2018