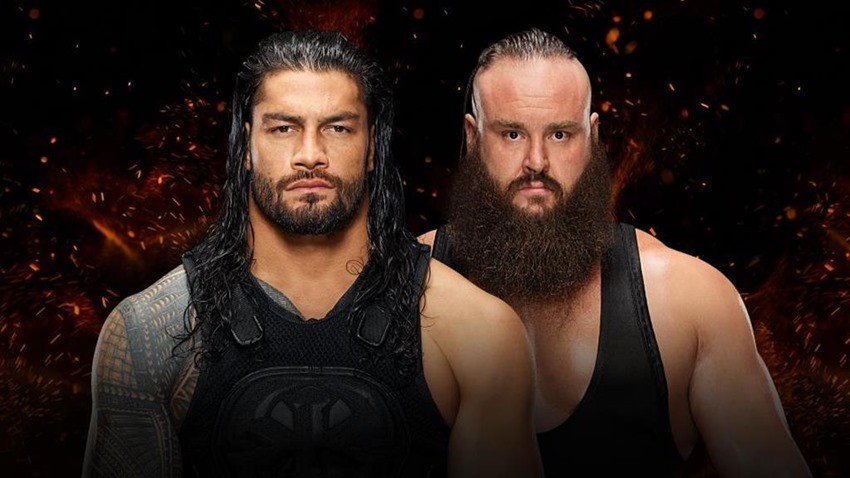 GOODNESS GRACIOUS…GREAT BALLS OF FIRE! The last time I'd heard that phrase used, was back in high school when the rugby team honoured the secret tradition of introducing new members to a tube of Deep Heat. This weekend's WWE special will most likely have far less testicle trauma involved, unless everyone gets slotted into a match with Ric Flair.
Unlikely, but I wouldn't count it out. A brand new pay-per-view special, Great Balls of Fire has what appears to be a solid line-up of matches on the card. Here's the official list from the dubya dubya eeeeeeeee:
Universal Champion Brock Lesnar vs. Samoa Joe
Roman Reigns vs. Braun Strowman (Ambulance Match)
Raw Women's Champion Alexa Bliss vs. Sasha Banks
Seth Rollins vs. Bray Wyatt
Raw Tag Team Champions Cesaro and Sheamus vs. The Hardy Boyz (30-Minute WWE Iron Man Match)
Intercontinental Champion The Miz vs. Dean Ambrose
WWE Cruiserweight Champion Neville vs. Akira Tozawa (Kickoff Match)
Enzo Amore vs. Big Cass
The biggest macth easily belongs to Brock Lesnar, as the beast incarnate will defend the Universal Title that he won off of Goldberg at Wrestlemania 33 in April. Since then, number one contenders have been rather scarce as the race to find a challenger heated up. Samoa Joe would eventually emerge to be the biggest obstacle that the mayor of Suplex City has ever faced: A submission machine whose burly physique hides a surprisingly agile and quick competitor. Should be a cracker of a match.
For once, I'm actually looking forward to a Roman Reigns match. The ongoing feud with Braun Strowman has been fantastic stuff, although I hope the upcoming Ambulance Match is the bout that decides the better monster once and for all. Strowman is a fantastic heel, a nigh-unstoppable behemoth in the vein of Kane and the Big Show when those first giants first appeared in the then-WWF. It's time to see Strowman emerge as more than just a Reigns punching bag.
All this and more this Sunday. Or tune on Monday morning for fresh results.
Last Updated: July 7, 2017