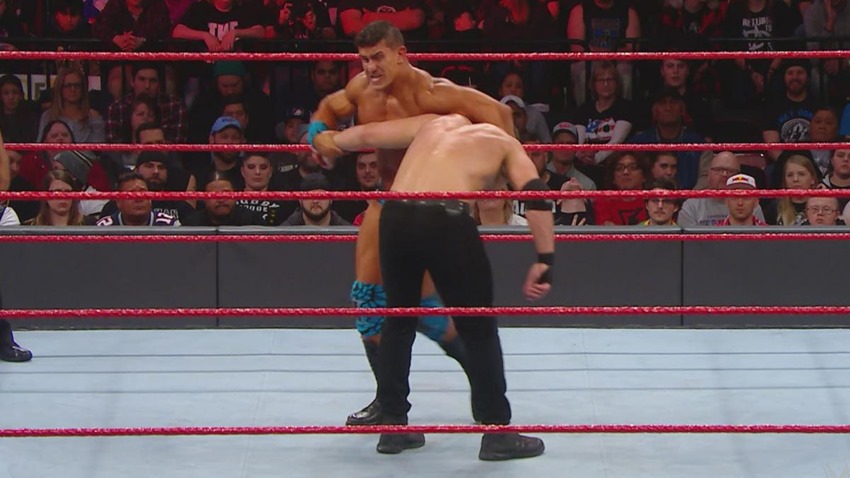 WWE Monday Night RAW took place from the Moda Center in Portland, Oregon. Here's all the action that went down on the road to Elimination Chamber.
Stephanie McMahon suspended Becky Lynch
Becky Lynch may be going to Wrestlemania, but it looks like she won't be seen on RAW for a while as Stephanie McMahon's concerns about the state of Lynch's injured knee were proven right. Livid, Lynch lashed out at Stephanie after she was handed an indefinite suspension and apparently showed signs of her knee being in danger of snapping off, as The Man eventually hobbled out of the ring.
Raw Women's Champion Ronda Rousey def. Liv Morgan and Sarah Logan
With Lynch out of contention for the time being, RAW Woman's Champion Ronda Rousey needed to vent some steam, and she did so by bulldozing through not on Liv Morgan, but Sarah Logan as well in back to back matches.
The Revival won a Four Corners Tag Team Match to earn a Raw Tag Team Title opportunity against Bobby Roode and Chad Gable
The revival of The Revival continues, as Dash and Dawson put in a hell of an effort to take down some of RAW's best tag teams. With Heavy Machinary, the Lucha House Party and the B-Team defeated, all that's left for the tag team specialists is a date with destiny and a chance to finally get their hands on the tag team gold that has eluded them for so long.
Drew McIntyre and Baron Corbin confronted Kurt Angle
Is Kurt Angle's in-ring career over? It would certainly seem so after suffering a string of losses, and with the former RAW GM stepping into the ring to announce something, it felt like a retirement speech was in the air. Something that Baron Corbin and Drew McIntyre weren't keen on hearing, as they were looking to retire Angle themselves and hit the ring for a beatdown.
Outnumbered, Angle soon found reinforcement from an unlikely ally: Braun Strowman, who arrived in the nick of time to save the day.
The Boss 'N' Hug Connection def. Alicia Fox and Nikki Cross to qualify for the WWE Women's Tag Team Championship Elimination Chamber Match
Looks like it's not only The Revival who were busy recapturing their tag team gold potential, as the team of Sasha Banks and Bayley also teamed up to earn a coveted spot at Elimination Chamber to be crowned the first RAW Woman's tag team champions. With Banks ambushed before the match even began, Bayley was fighting a severe handicap, but one that paid off when the Boss reappeared at the eleventh hour to save her teammate from a charging Nikki Cross, giving the huggable one the chance to tag in some fresh blood.
Elias def. Jeff Jarrett
Well here's a weird one: On the one side of this encounter, Double-J a Double-R E Double-T Jeff Jarrett proved that he can still hang with the toughest hombres in the WWE, but his bout ended with Elias locking in the Drift Away. Thanks to a distraction from the Road Dogg however, Jarrett had the final laugh, nailing Elias across the back with a guitar.
Finn Bálor def. Lio Rush
If Finn Balor wanted to have a shot at the Intercontinental Championship, he wouldn't just have to prove his worth to Bobby Lashley: He'd have to entertain him as well. That plan backfired for the All Mighty, who had sent Lio Rush in to do his dirty work for him, as Lashley found himself ejected from the ring and watched from backstage as Balor drilled Rush with the Coup de Grace.
EC3 def. Dean Ambrose
After a massively chaotic episode of a Moment of Bliss that featured everyone from Dean Ambrose to Nia Jax, one thing was certain last night: EC3 has joined the RAW roster. The former TNA Impact champ and NXT heavyweight made a huge splash last night, rolling Ambrose up for the pin and kicking off his RAW career in style.
Drew McIntyre and Baron Corbin def. Kurt Angle and Braun Strowman
They may have had a bone to pick with Drew McIntyre and Baron Corbin, but Kurt Angle and Braun Strowman quickly found themselves outfoxed by the duo. After a hellacious bout that saw Angle come close to recapturing the spark that made him a WWE champion so many years ago, it was Strowman's monsterous rampage that saw the ref call for the bell and award the bout to McIntyre and Corbin.
Not done yet, the heels launched a massive beatdown on Angle, but Strowman's return to the ring saw the Gift of Destruction chokeslam both men into the steel steps as RAW went dark.
Last Updated: February 5, 2019