WWE Monday Night RAW took place this week from the Wells Fargo Arena in Des Moines, Iowa. Here's all the action that went down last night.
Roman Reigns def. Bray Wyatt to qualify for the Men's Elimination Chamber Match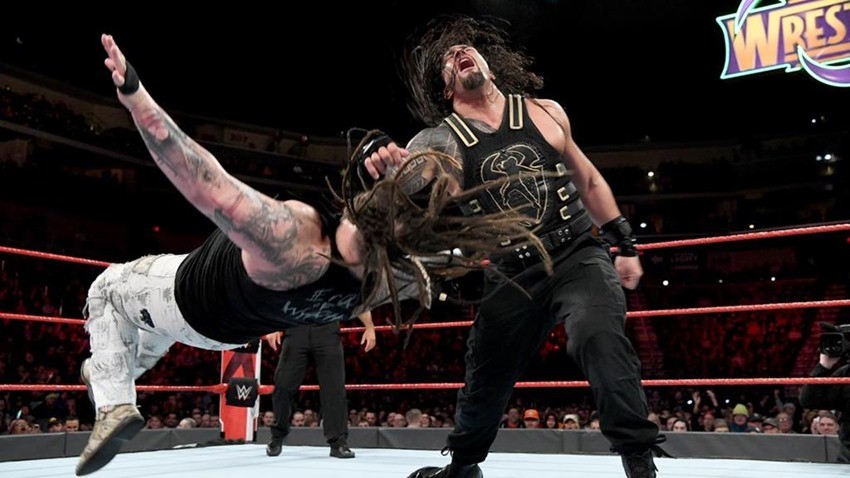 WWE Monday Night RAW kicked off with a race to find a challenger for Brock Lesnar's Universal Championship. With the Elimination Chamber being the event that'll decide who will face the beast incarnate at Wrestlemania, it was time to decide which WWE superstars would be lucky enough to set foot in Satan's Structure.
First up? Bray Wyatt and Roman Reigns, as the Eater of Souls looked ready to repeat history and earn his way into another Elimination Chamber that he claimed he would emerge triumphant in again. Unfortunately for Wyatt, Reigns was hungrier for a win, as he weathered a Sister Abigail to bounce back from the edge of defeat and land a Spear on Wyatt.
The night got even worse for Wyatt, as Woken Matt Hardy hit the ring to delete his opponent.
Finn Bálor and Karl Anderson def. The Revival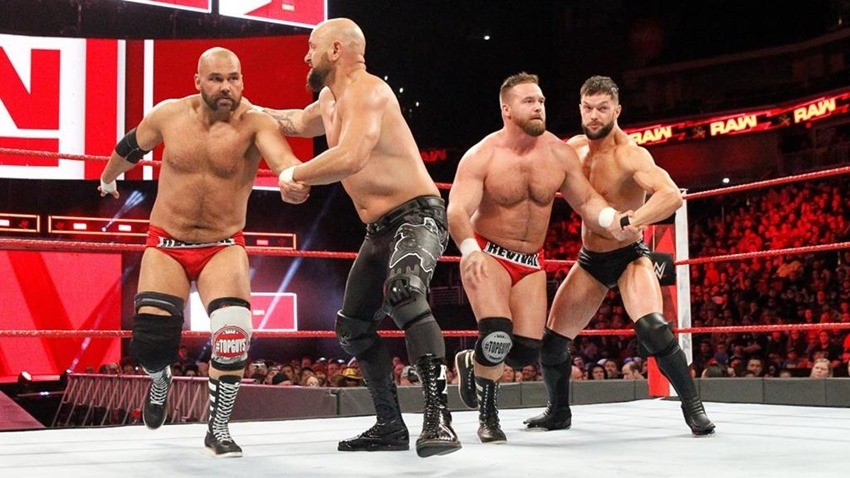 The tag team specialists of Scott Dawson and Dash Wilder were back in action against members of the Balor Club, looking to prove that their team-based expertise was more than a match for Finn's inexperience in the tag division. And while Dawson and Dash may have had an advantage when they kept Balor away from Karl Anderson, the tables quickly turned when the good brother was finally tagged in and he splintered the team, leading to a win.
Cedric Alexander and Mustafa Ali def. Drew Gulak and Tony Nese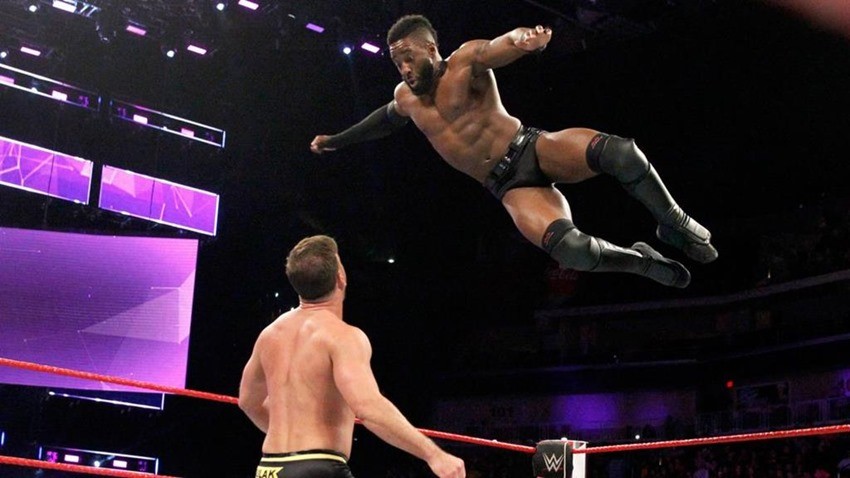 The WWE cruiserweight division has a new general manager and no champion, which meant that it was time to find a replacement. With a series of matches that will eventually end at Wrestlemania, the cruiserweights divdided themselves up into teams. The action was fierce, but the finish eventually came when Cedric Alexander put Drew Gulak down for the count with a Lumbar Check.
Raw General Manager Kurt Angle announced the competitors for the Women's Elimination Chamber Match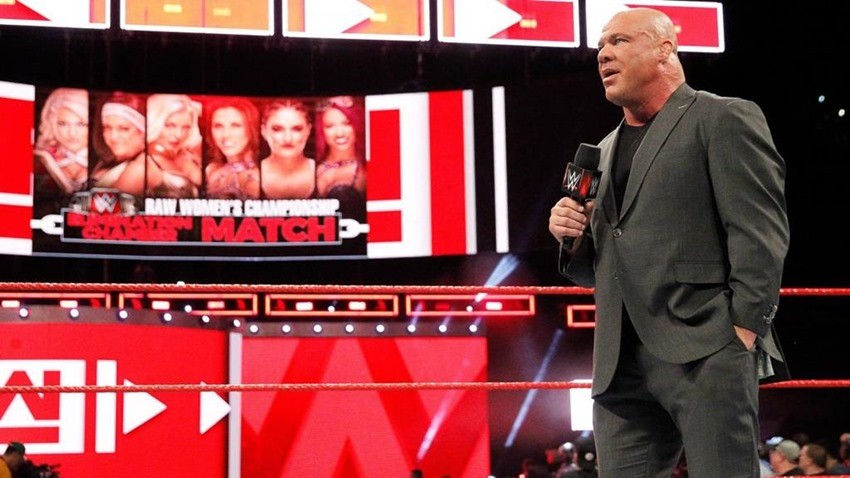 Proving that the woman's division is capable of putting on a show equal to that of the men's RAW roster, it was time for another first: Last week RAW Commissioner Stephanie McMahon announced that Alexa Bliss would defend her title in the first-ever women's Elimination Chamber, and this week general manager Kurt Angle announced her opponents.
Little Miss Bliss would face off against Bayley, Sasha Banks, Mickie James, Mandy Rose and Sonya Deville in the cage, while her Wrestlemania opponent Asuka would face a challenge of her own: Nia Jax. If Jax could defeat Asuka at the Elimination Chamber, she'd be added to the Wrestlemania women's main event.
Asuka def. Bayley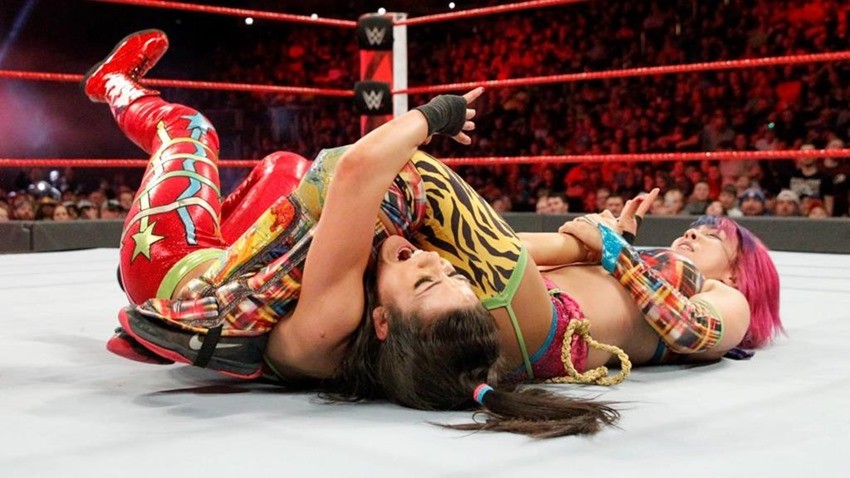 Could the doctor of Huganomics defeat Asuka and end her legendary winning streak. Nope! Despite a spirited offense, the huggable one was no match for the Empress of Tomorrow in the long run. Coming dangerously close to ending the streak when she countered the Asuka Lock into a pinfall, the Empress changed tactics and caught Bayley in an armbar that quickly forced her opponent to tap out.
More proof then, that even Bayley wasn't ready for Asuka.
Intercontinental Champion The Miz def. Apollo Crews to qualify for the Men's Elimination Chamber Match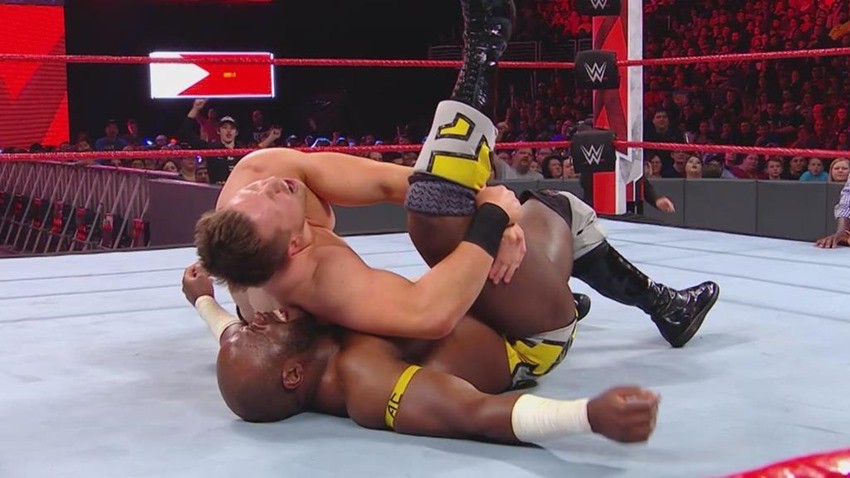 With the Intercontinental Championship once again his, the year of The Miz looks set to continue as the A-Lister looks to add the WWE Universal Title to his portfolio. With a road of pain to travel however, The Miz faced some stiff competition from Apollo Crews as they battled it out for a spot in the Elimination Chamber.
The hardest-working member of Titus Worldwide delivered an unbelievable amount of carnage upon the body of The Miz, but the IC champ used his cunning to survive a pair of Standing Shooting Star Presses and catch the big man in the most tender of spots on the ropes. A winded Crews was easily caught in the Skull-Crushing Finale then, leaving The Miz with a victory in his pocket.
Raw Tag Team Champions Cesaro and Sheamus def. Seth Rollins and Roman Reigns via Disqualification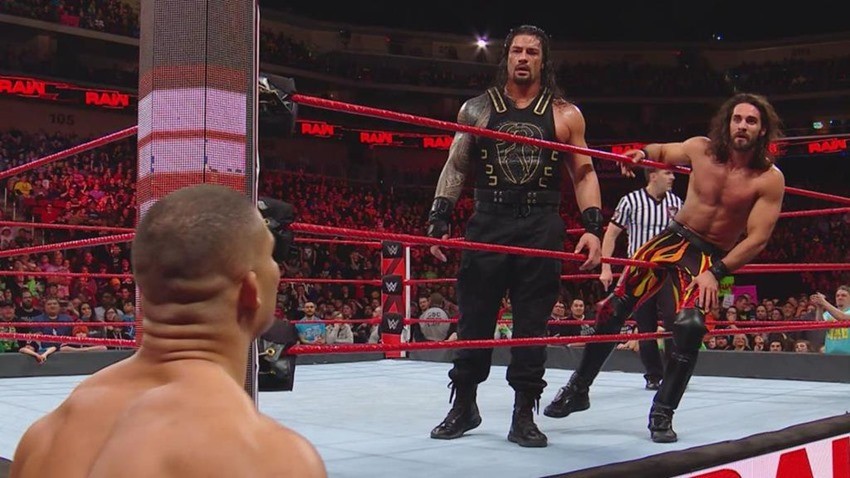 With Seth Rollins needing a tag team partner to help him win back the gold and his regular former co-champion Jason Jordan out with injury, who better than a brother in arms? On paper, Roman Reigns and Seth Rollins should have been able to dethrone Cesaro and Sheamus, but thanks to Jordan deciding to insert himself into the match, The Bar walked away with their gold once again.
When Rollins found himself kicked off the apron, it was Jordan who appeared to help his tag team partner back into the ring, much to the annoyance of Reigns. Jordan did help block The Bar from walking out of the match and going for a count-out loss that would have secured them their belts, but the champs were craftier and tricked Jordan into assaulting them.
A disqualification loss with the same results, the champs left in high spirits that night. Meanwhile, general manager Kurt Angle told his son to go back home and remain there until he was medically ready to wrestle again.
Nia Jax def. Vanessa Floyd
The irresistible force of Nia Jax will soon meet the immovable streak of Asuka at the Elimination Chamber event, with Wrestlemania glory on the line. Caught in the middle of that was Vanessa Floyd, as the local talent soon found herself outclassed by Nia and shattered within minutes as Jax readies herself to make Asuka the Empress of Yesterday.
Mickie James def. Sonya Deville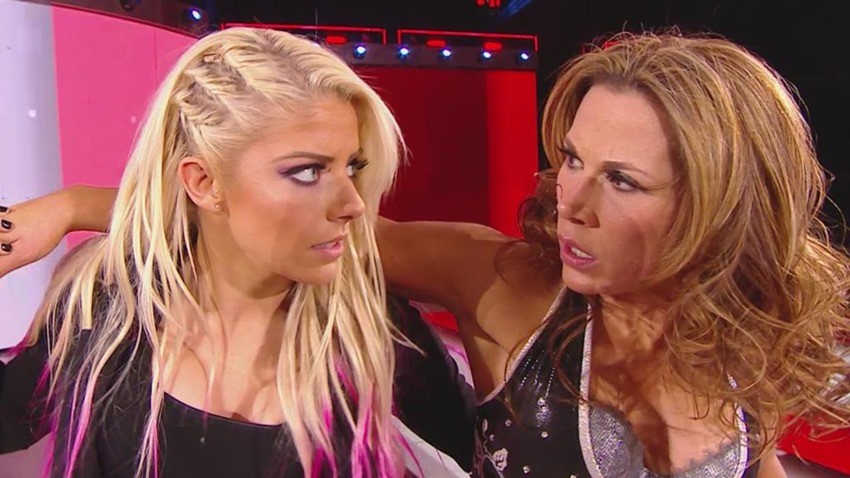 Two of the ladies Elimination Chamber opponents locked horns last night, and in a taste of things to come it was Mickie James who triumphed over Absolution's Sonya Deville. Facing a storm of hard fists and knees from Deville, James timed her counter perfectly and locked her foe into a roll-up pin (thanks to an assist from Alexa Bliss), walking away with the 1-2-3 and some fuel in her engine for her upcoming main event match.
Elias def. John Cena and Braun Strowman to earn the No. 6 entry position in the Men's Elimination Chamber Match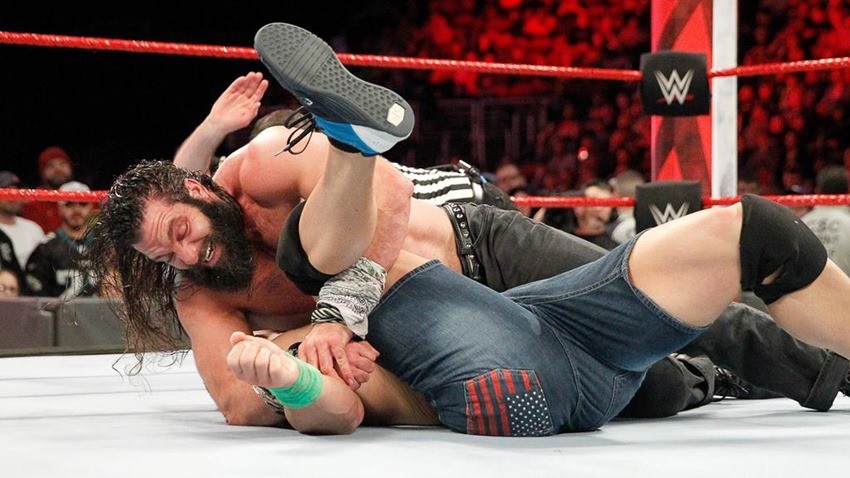 What happens when a maniacal minstrel, the leader of the Cenation and the gift of destruction collide? Pure carnage, as John Cena faced off against Elias and Braun Strowman in a Triple-Threat match. The Monster Amongst Men was in peak destructive form, demolishing both Cena and Elias before they finally set aside their differences and worked together to drive the demon-killer out of the ring.
It wasn't long before Elias showed his true colours however, clobbering back against Cena and attempting to keep Strowman down with a smash of his guitar. A smash that did very little as the reawakened giant ran riot and started breaking everyone once again. Elias would have the last laugh in the end however, as he managed to chuck Strowman out of the ring after he had delivered a running powerslam to Cena, stealing the pin and a glorious win over Cena as he heads towards the Elimination Chamber.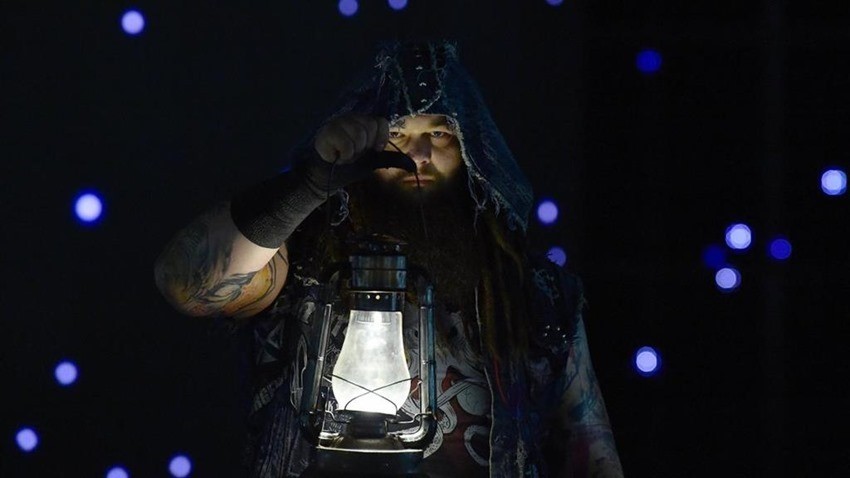 Last Updated: February 6, 2018