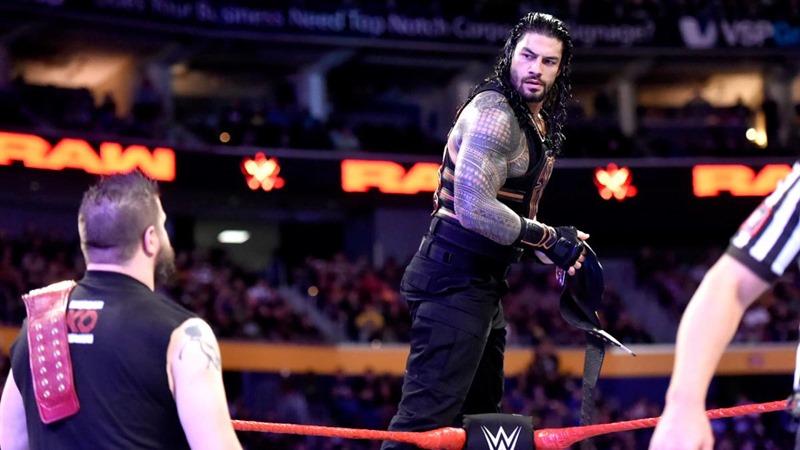 WWE Monday Night RAW took place at the Keybank Center in Buffalo, New York. Here's all the action that went down.
WWE Universal Champion Kevin Owens and U.S. Champion Roman Reigns defeated Cesaro and Sheamus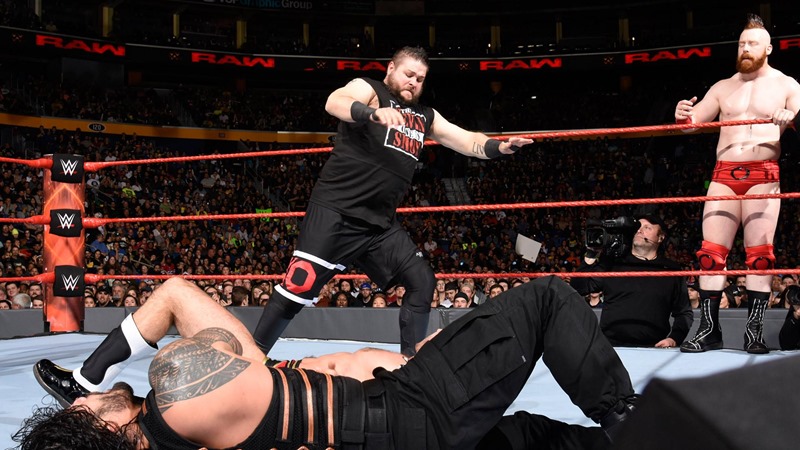 With Survivor Series closing in fast, RAW kicked off with some team-building exercises. And by team-building, I mean connecting fists to faces as Raw Commissioner Stephanie McMahon and General Manager Mick Foley promised changes on the horizon for teammates who couldn't get along. While Cesaro and Sheamus could put aside their usual differences to work together as a cohesive unit, Roman Reigns and Kevin Owens weren't exactly on the same page in their tag team bout.
Internal bickering left the two wide open for some vicious attacks, but Reigns managed to be the bigger man after a Brogue Kick from Sheamus left Owens out for the count. Landing a Superman Punch on Sheamus, Reigns placed the broken body of Owens on the Irishman for the pin.
Sami Zayn defeated Bo Dallas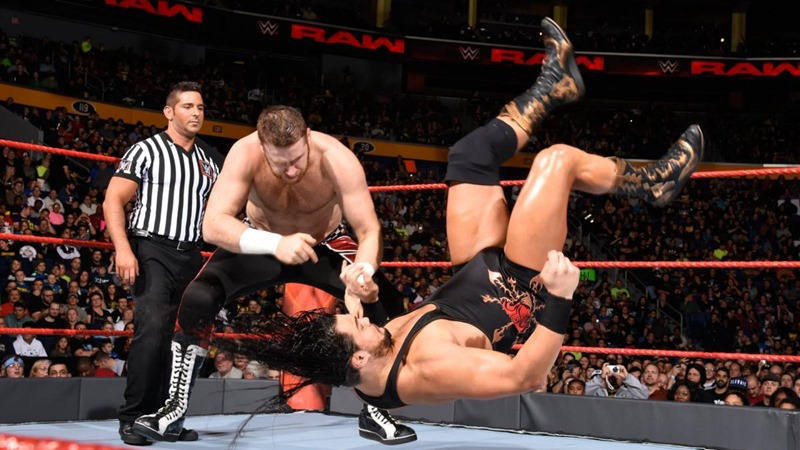 There's an Intercontinental championship match on the horizon against Smackdown champ Dolph Ziggler for Sami Zayn, but a warm-up match saw the high-flyer taking on the Bo-liever Do Ballas last night. With Dallas on a winning streak as of late ever since he adopted a new "Bo-lieve in Bo" campaign, Zayn had his work cut out for him as his opponent launched a heavy assault on him.
But when Zayn saw an opportunity, he struck. An exploder suplex and a Helluva kick quickly saw Dallas fall for the three count, giving Zayn the momentum to carry him forward to his Survivor Series showdown.
Seth Rollins, Chris Jericho and Braun Strowman defeated Raw Tag Team Champions The New Day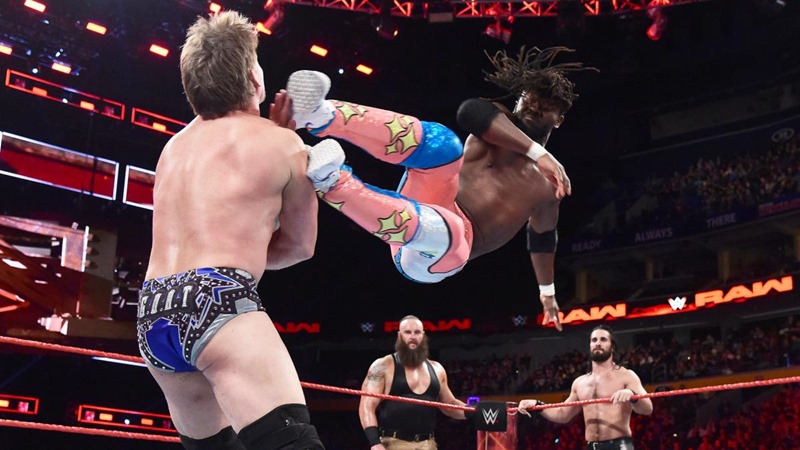 Teamwork was the name of the game on RAW, and no other team embodies that idea better than The New Day. But last night, they were up against a pair of the most cunning competitors in the ring and the gift of destruction himself, Braun Strowman. Despite the odds and their personal histories, the three men managed to reach a state of unity that saw them annihilate the tag team champions.
Strowman exercised his demolition skills by removing both Kofi Kingston and Big E from the ring, leaving Xavier Woods to suffer the wrath of the impromptu team. While a running powerslam from Strowman may have ended the match with a decisive victory, a A Pedigree from Rollins sent an even bigger message to Jericho.
WWE Cruiserweight Champion The Brian Kendrick defeated Sin Cara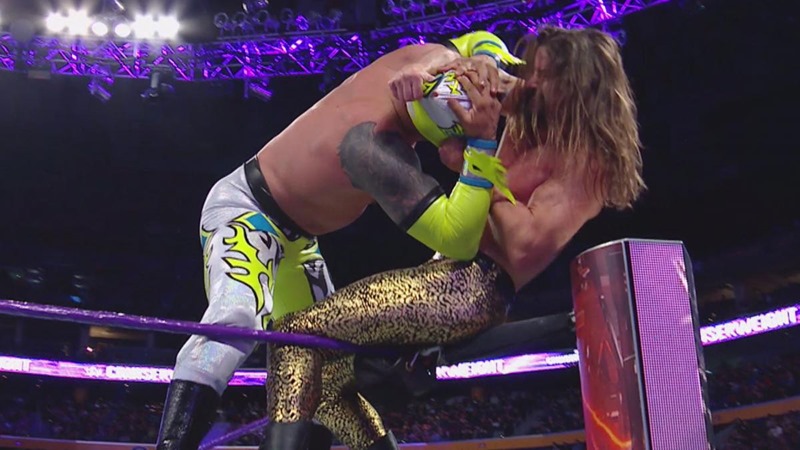 The Brian Kendrick has a lot riding on his shoulders right now. Not only does he have to deal with the constant pressure of being the WWE Cruiserweight champ, but his match at Survivor Series against Smackdown's Kalisto has the RAW division hanging in the balance. But Kendrick was on fire last night, attacking the luchador before the bell was even rung and using a few dirty tricks to secure victory with a Captain's Hook.
Goldberg and Brock Lesnar faced off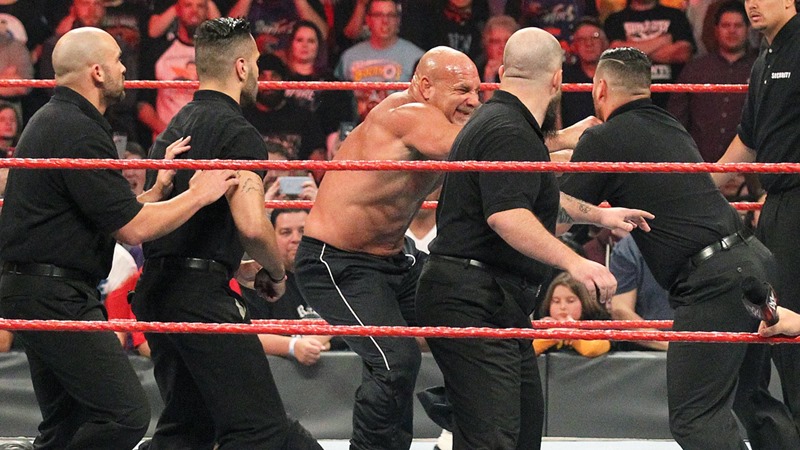 A rematch more than a decade in the making. When Lesnar and Goldberg last fought, it was a tepid affair at Wrestlemania that had fans booing the two titans. But years later, the two giants are ready to make amends in the most violent way possible at Survivor Series. Last night saw the two icons in the ring for the first time in many a while, but as usual Paul Heyman may have run his mouth a little too much.
Telling Goldberg that he'd be beaten up so badly that his own son would start referring to the beast as "daddy", Goldberg was unleashed and seeing red. Fighting his way through an army of security provided by Mick Foley, the Beast could only smirk as he walked off with a mental advantage going into Survivor Series.
Raw Women's Champion Charlotte Flair and Sasha Banks defeated Nia Jax and Alicia Fox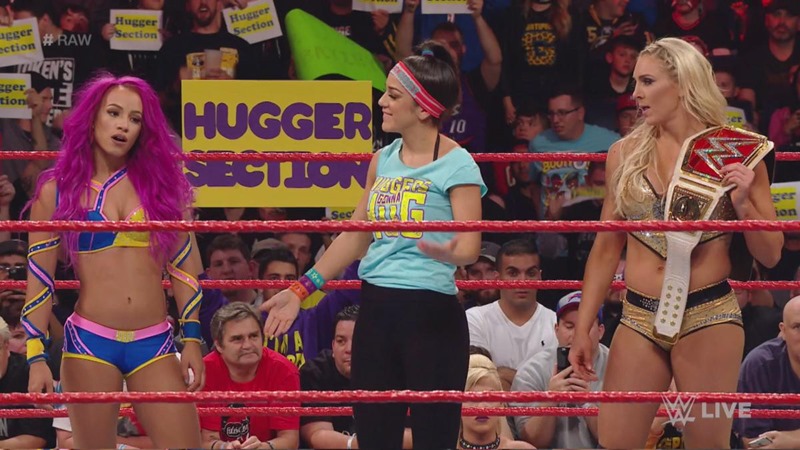 Last night may have seen some differences put aside, but last night's tag team match was surprising to say the least. With Sasha Banks and Charlotte having a storied history, the two women were forced to join forces against Nia Jax and Alicia Fox in an intra-squad Survivor Series RAW match. As for their fifth member, Bayley? She sat on commentary for this bout as the two teams clashed.
With Nia Jax removed from the ring by Banks, Alicia Fox quickly fell victim to a Banks Statement that ended the match. The work done, Bayley was on hand to offer hugs, something that Charlotte was having none of. You mad lady, you mad,
Enzo Amore, Big Cass, Luke Gallows and Karl Anderson defeated The Golden Truth and The Shining Stars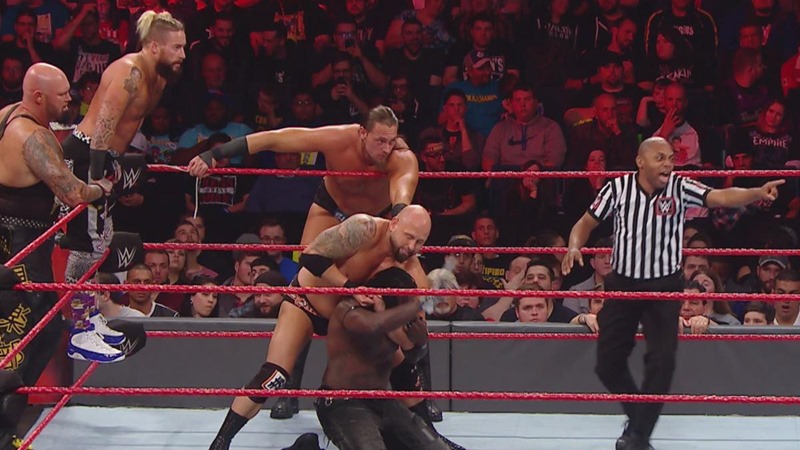 Speaking of setting aside differences, loudmouths Enzo Amore and Big Cass managed to co-exist with Karl Anderson and Luke Gallows long enough to come out on top in a match against the bizarre ones and a pair of scoundrels.The realest guys in the room made good use of a tense alliance with the Club, as Big Cass used an Empire Elbow on Primo to start the finish on their RAW match.
Realising that they had more to gain by losing however, the Golden Truth kept Epico out of action as Anderson and Gallows planted a Magic Killer on Primo. One fake-out to Enzo in the bag, Gallows easily pinned Primo to cap the match off.
Team SmackDown LIVE confronted Team Raw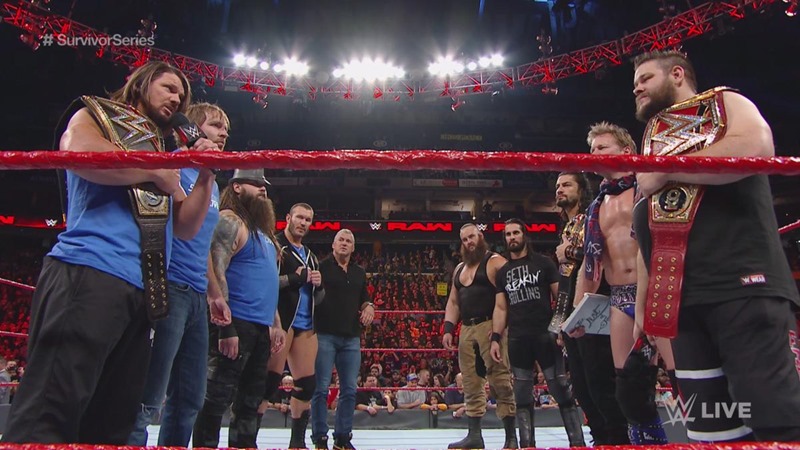 SmackDown LIVE Commissioner Shane McMahon and GM Daniel Bryan were scheduled to appear on RAW last night, but they weren't coming into the lion's den without some backup. After finding themselves surrounded by the RAW Surivor Series Team, Team Smackdown decided to make an appearance to even the odds: WWE World Champion AJ Styles, Dean Ambrose, Bray Wyatt, Randy Orton and Team Blue "mascot" James Ellsworth.
And of course, it all ended with a massive brouhaha inside the ring once Dean Ambrose opened up the hostilities with a sneaky blow to Jericho that saw red and blue collide. But it was a collision of teamwork, as Seth Rollins saved Roman Reigns from a Styles Clash, sending the Phenomenal One packing with a Double Powerbomb.
And that was RAW for the night!
Last Updated: November 15, 2016