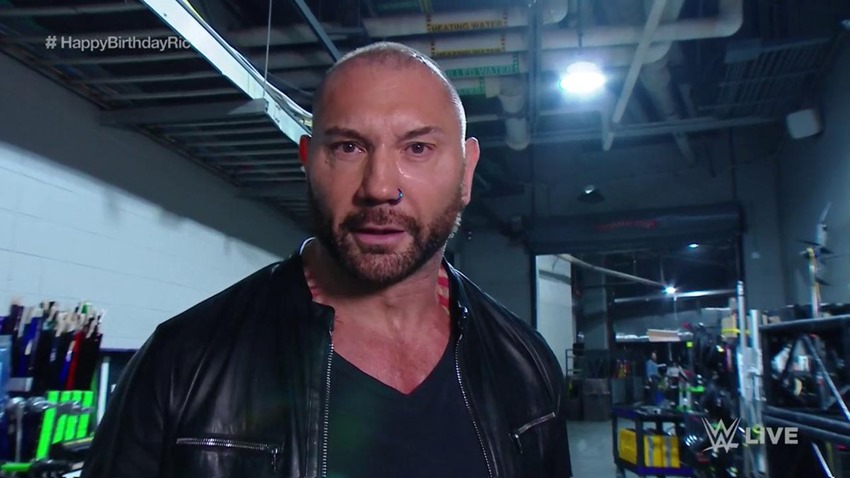 WWE Monday night RAW took place from the State Farm Arena in Atlanta, Georgia. Here's all the action that went down last night.
Roman Reigns announced his leukaemia was in remission
Well here's some good news to start RAW on: Former WWE Universal Champion Roman Reigns, who had to relinquish his title as he started a new fight against a deadly bout of leukaemia, officially announced that his disease was back in remission. It was a touching moment for the Big Dog, who was happy to reveal that he was well on the way to being back at full fighting strength, and that the RAW roster would see him back in action once he was fully cleared to compete again.
Ricochet and Aleister Black def. Raw Tag Team Champions The Revival
They may be at the top of the tag team card, but The Revival keep finding themselves the target of many a challenger. This week saw the tag team specialists suffer another loss to the recent influx of NXT call-ups, as Ricochet and Aleister Black joined forces, putting on a slobber-knocker of a show and ending it with a Black Mass finisher from Black on Scott Dawson.
Becky Lynch was arrested after attacking Raw Women's Champion Ronda Rousey
60 day suspension? What 60 day suspension? Becky Lynch decided to crash a match that featured Ronda Rousey and Natalya taking on the Riott Squad, and the Lass Kicker decided to cause pure havoc in the process. Whacking Natalya in with her crutch, Lynch was eventually apprehended and arrested by security, with support coming from the most unlikely of sources: RAW Woman's champion Ronda Rousey, who pleaded with Stephanie McMahon to reinstate Lynch's main event match for Wrestlemania and overturn her suspension in the process.
Kurt Angle def. Jinder Mahal
Looks like Kurt Angle still has plenty of fight in him, as he answered an open challenge from Jinder Mahal and quickly put the modern-day Maharaja down with the dreaded Angle Lock. A few suplexes to the Singh Brothers later, and Angle was having a damn good Monday night.
Intercontinental Champion Finn Bálor def. Lio Rush
Lio Rush may have some skill in a WWE ring, but is he skilled enough to take on Finn Balor even when the Intercontinental championship is offered up as a prize? Not exactly. Even when he lucked into a match advantage that saw Balor twist his knee, Rush still couldn't put the Irishman down for the count, as he pushed through and delivered some powerful offense that ended with a trademark Coup de Grace.
Bobby Lashley, was not pleased.
Braun Strowman attacked Bobby Lashley and Lio Rush
Speaking of Lashley, he found himself on the receiving end of the Gift of Destruction, as Bruan Strowman had had enough of being ganged up on and decided to take the initiative. Bulldozing his way through Lashley and Rush, Strowman was intent on sending a message that the numbers game wasn't going to be enough to stop his rampages through the WWE.
Drew McIntyre def. Dean Ambrose (No Disqualification Match)
It seems as if Dean Ambrose has rubbed everyone the wrong way as of late, as he faced a beating not only from Drew McIntyre in a NO DQ bout, but also had Elias, Baron Corbin and Bobby Lashley delivering some pain as the match ended with a Claymore and the one two three. Salvation came in the form of Roman Reigns and Seth Rollins, who cleaned up the ring and helped their wayward Shield brother avoid any more damage from the gang that had left him broken on the ring floor.
Bayley def. Nia Jax
Hugs and kisses won out over Nia Jax's brand of violence, as the Irresistible Force found herself distracted by Bayley's pal Sasha Banks' at ringside. One running knee and a flying elbow later, and Bayley had a huge win under her belt.
Batista returned to RAW, attacked Ric Flair
It's not amazing that Ric Flair is seventy years old. It's amazing that the legendary and multiple-time world champion is still alive after a hellacious career, but the Nature Boy is still stylin' and profilin' like a champ even as he enters a more senior age. Last night was meant to be a massive birthday celebration for Flair, but there was one problem: While the entire RAW roster was waiting for the legend to make his way to the ring, another former champ decided to send a message to WWE COO Triple H.
The Animal.
Dave Batista returned to RAW, but he did so by brutalising Flair, dragging him out into a corridor and asking Triple H if he had his attention. Seeing as how Triple H sprinted to check on Flair while Batista vanished into the night, I'd say that yeah, the Animal definitely does have the ear of the king of kings.
Last Updated: February 26, 2019