WWE Monday Night RAW took place from the state of California in Ontario this week. Here's all the action that went down after a hellacious No Mercy event.
Roman Reigns appeared on "Miz TV"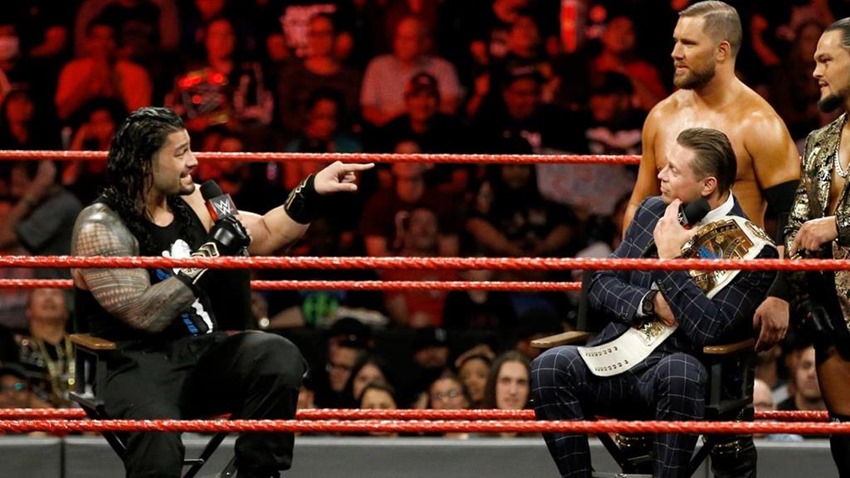 With John Cena silenced at No Mercy, Roman Reigns now has his eyes on the biggest prize in the WWE: Brock Lesnar's Universal Championship. Kicking off Monday Night RAW on Miz TV, The Miz himself was quick to remind Reigns that he was one of only two champions on RAW with a singles championship belt around his waist.
That boast and the war of words that followed backfired for The Miz, as Reigns decided to challenge the awesome one on the spot for his belt. A match setup that general manager Kurt Angle approved of, as he greenlit a main event between the two. Right after Matt Hardy and Jason Jordan were done with the Miztourage.
Matt Hardy and Jason Jordan def. The Miztourage
With Jeff Hardy out of action thanks to injury, Matt Hardy teamed up with Jason Jordan to kick RAW off properly. Jordan's amazing athleticism wore down Bo Dallas and Curtis Axel, whose combined offense couldn't stop the wunderkind. Clearing the ring, Matt Hardy ended the bout with a decisive Twist of Fate on Dallas.
Elias def. Apollo Crews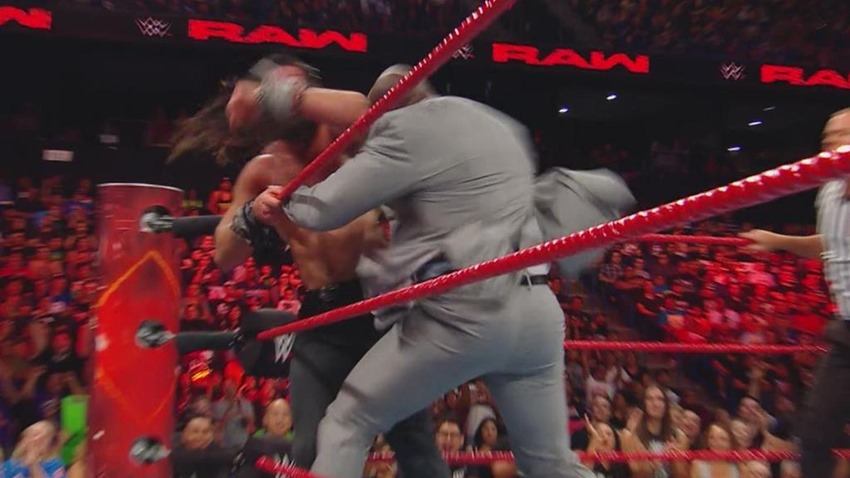 Having managed to defeat Apollo Crews at No Mercy, Elias came back for round 2 against the Big Deal. Despite having learnt a thing or two from their first encounter, Crews still found himself beaten with a cheap shot that set him up for the Drift Away. Elias may have won the battle, but Titus O'Neil's post-match inteference kept the battlin' balladeer out of the ring and sent him running for the hills after the bell was rung.
Braun Strowman attacked Curt Hawkins
Good news for Curt Hawkins: His legendary losing streak wasn't extended last night by another loss. Bad news: Braun Strowman answered his open challenge invitation and demolished him before he could scupper away with a count-out loss, as the monster amongst men slammed Hawkins through a set of LED TVs at the top of the entrance ramp.
In the ring, Strowman demanded that someone face him for some competition. Would anyone be crazy enough to face the gift of destruction? Well you can't spell insane without Dean Ambrose, as one half of the RAW tag team champions answered the call to action.
Braun Strowman def. Raw Tag Team Champion Dean Ambrose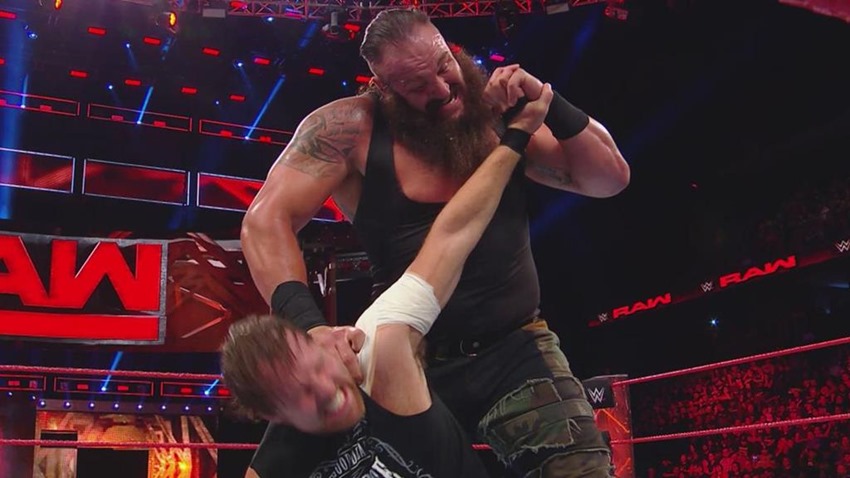 No Mercy's main event between Braun Strowman and Brock Lesnar almost saw a new champ crowned. Almost. But coming close doesn't cut the mustard, as Strowman walked away empty-handed from that bout. What's a gift of destruction to do? Work out his frustrations on a lunatic, as Dean Ambrose felt the wrath of the monster in the ring.
Ambrose threw everything he had at Strowman, but he was down for the count after his standing elbow drop was reversed into a running powerslam. Incensed at the fact that Ambrose could have ended up in hospital and put their tag team reign in jeopardy, co-champion Seth Rollins decided to take matters into his own hands and challenge Strowman himself next week on RAW.
Mickie James confronted Raw Women's Champion Alexa Bliss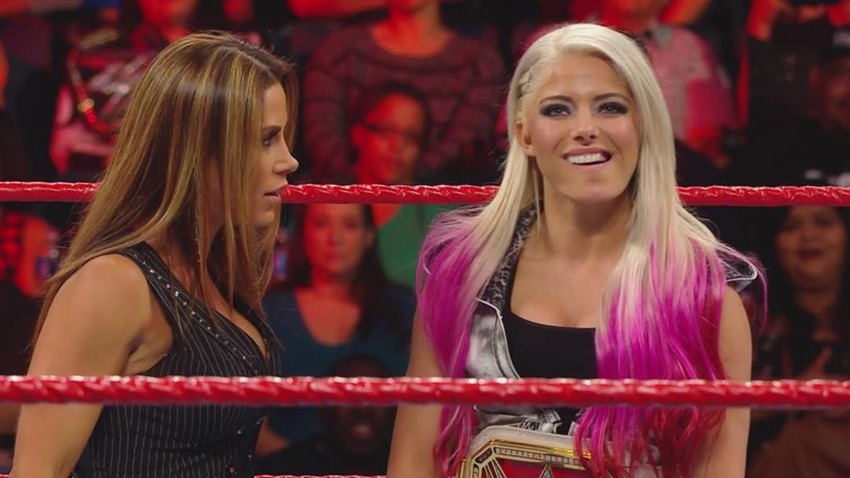 Speaking of saving face by the skin of her teeth, Little Miss Bliss herself managed to retain her Raw Women's Title at WWE No Mercy. Bliss had her mind on another superstar however: Mickie James, as the former champ decided to interrupt Bliss in the ring. The two eventually had a heated argument in the ring, ending with Mickie slapping Bliss and kicking her out of the ring.
Which is fine and all because I dig Bliss but bring on Asuka already!
Raw Tag Team Champion Seth Rollins def. Sheamus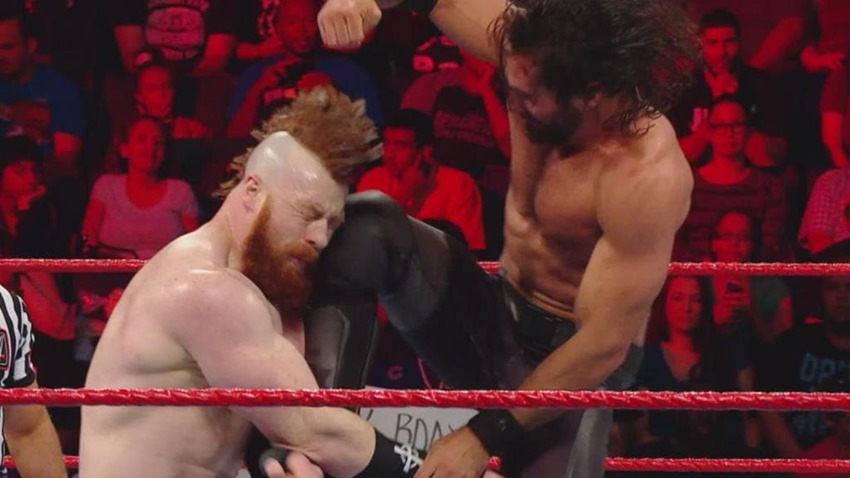 With Dean Ambrose unable to provide support at ringside in addition to Cesaro being somewhat more fragile thanks to some dental action that went awry at No Mercy, the playing field was just about even for Sheamus and Seth Rollins to square off. Rollins came out on top over the Celtic Warrior, repaying the offense of the Irishman with a Ripcord Knee to the face that put his competition down for the night.
Finn Bálor def. Goldust
Now that Bray Wyatt had been vanquished, Finn Balor's newest goal was clear: Clawing his way back to the top of the WWE Universal championship that he had briefly won and abdicated when his victory took a physical toll on him. While Bray Wyatt's defeat may have been dedicated to the disrespect shown to superstars such as Goldust, the bizarre one wanted to prove himself to Balor and the rest of the audience, in the ring.
Having ignited the battle with a cheap shot in the locker room, Goldust put on a spirited effort but soon found himself outgunned by Balor's Coup de Grâce finisher. A win that resulted in the lights going out and the stadium filling up with the sound of "He's Got the Whole World in His Hands" as the fireflies surrounded Balor. Looks like Bray Wyatt isn't done yet with the former champ.
Bayley and Sasha Banks def. Nia Jax and Emma
Looking for some payback against Nia Jax, Bayley recruited Sasha Banks for a tag team bout against the titan. Having Banks in her corner proved to be a lifesaver, as Bayley found herself saved froma vicious onslaught of attacks from Jax, being pulled out of the ring at the last second as Jax painfully collided with the ring-post. With Jax out of action, that left Emma to face the music and a Bayley-to-Belly suplex that put her down for the count.
The entire Cruiserweight division confronted WWE Cruiserweight Champion Enzo Amore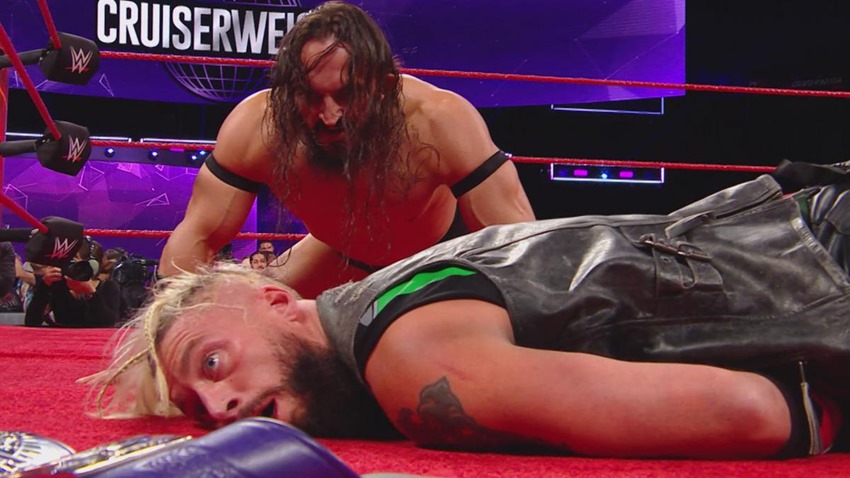 Certified G, which probably stands for Gannoying, Enzo Amore has somehow managed to unseat Neville as the king of the cruiserweights after No Mercy. Deciding to celebrate with a Certiefied G Coronation, Amore had plenty of reason to celebrate. Not only was he champion, but thanks to his No-Contact clause in his contract, if any other cruiserweight laid hands on Amore they would find themselves stripped of any chance to battle him for the belt.
A clause that Amore utilised to its full potential, as his celebration had him running his mouth even more than usual when the 205 Live locker room came on down. Former champ Neville decided to send a message to Amore: That he would soon end the reign of the new champ on behalf of the entire tag team division, sacrificing his right to claim a rematch as he laid into Amore.
Trying to scamper away, Amore found his path blocked by the cruiserweights and soon felt the brunt of a Red Arrow from Neville. Crumpled in a corner, Amore's contract was literally shoved back into his mouth. Now how about dat?
Last Updated: September 26, 2017