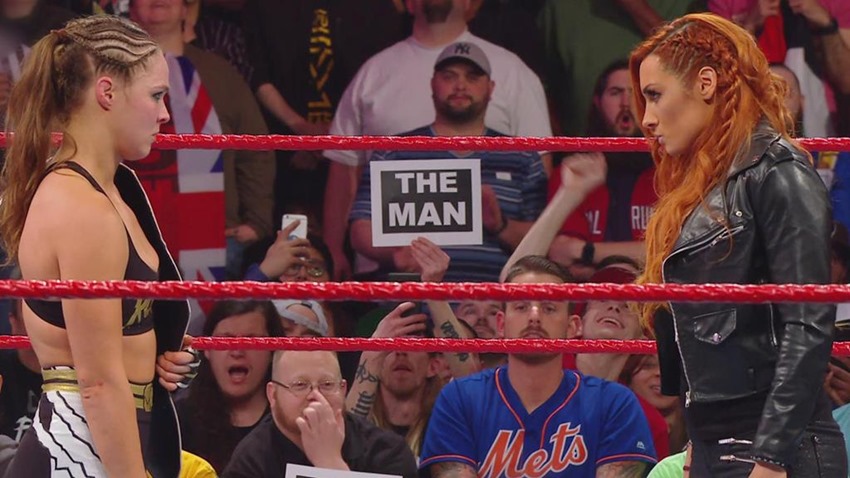 WWE Monday Night RAW took place from the Talking Stick Resort Arena in Phoenix, Arizona. Here's all the action that went down last night in the wake of the Royal Rumble.
Seth Rollins def. Dean Ambrose
Mere hours after his monumental Royal Rumble win, and Seth Rollins found himself between a rock and a hard place. For starters, Triple H decided to let the number one contender know that by the end of the night, he'd better be ready to let both WWE Champion Daniel Bryan and WWE Universal Champion Brock Lesnar know who would be facing him at Wrestlemania and two, Dean Ambrose was itching for a fight.
A brutal war of attrition followed, but by the time that Rollins could land a Stomp on the head of Ambrose, it was all over for the Lunatic Fringe.
Nia Jax and Tamina def. Alexa Bliss and Mickie James to qualify for the WWE Women's Tag Team Championship Elimination Chamber Match
RAW has some new gold waiting to be won, and every woman in the locker room is looking to not only be a tag team champion, but also the sought-after first such champ. Nia Jax and Tamina may just be on that road to glory, as their bout against Alexa Bliss and Mickie James ended with Jax landing a double Samoan Drop on the pair.
Baron Corbin def. Kurt Angle
Former general managers battled last night, but it was the lone wolf who came out on top. His ankle locked into Angle's vice grip, Corbin managed to slither out of the hold and land a match-winning Deep Six for the win, adding some extra insult to injury when he administered the End of Days after the bell had rung.
Intercontinental Champion Bobby Lashley confronted Finn Bálor
The dream of being WWE Universal champion once again may be over for Finn Balor, but after last night's encounter with Bobby Lashley that left the extraordinary one crumpled in the ring? It looks like Intercontinental gold is on the line.
The Revival def. Zack Ryder and Curt Hawkins
Curt Hawkins and Zack Ryder may be back on RAW as a team, but they were no match for the tag team specialists known as the Revival, as Dawson and Dash ran circles around the duo and applied their trademark Shatter Machine to win this bout in a decisive manner.
Jeff Jarrett and Road Dogg confronted Elias
I have no idea what's going on in this feud, but what I do know is that seeing a guitar get broken over somebody's spine never gets old.
The Riott Squad def. Natalya and Dana Brooke to qualify for the WWE Women's Tag Team Championship Elimination Chamber Match
In classic Riott Squad fashion, deception and misdirection helped Liv Morgan and Sarah Logan triumph over Natalya and Dana Brooke in the race to the RAW woman's tag team championship.
WWE RAW Woman's Champion def. Bayley
Sure, Ronda Rousey and Bayley putting on a showstopper match may be a great story, but the real tale of the night? Becky Lynch arriving after Rousey had finished her duel with Bayley, as The Man had made up her mind: As the woman's Royal Rumble winner, she was ready to challenge Rousey for her position as the top dog in the WWE.
Braun Strowman def. Drew McIntyre via disqualification
What began as a test of strength between two of RAW's biggest monsters, quickly became a beatdown as Baron Corbin's arrival saw the DQ bell rung in Strowman's favour. Outnumbered, the gift of destruction put up a valiant effort but even he was no match for the combined might of McIntyre and Corbin.
Seth Rollins confronted WWE Universal Champion Brock Lesnar
Looks like Seth Rollins has made his Wrestlemania main event choice, as he decided to chase after Brock Lesnar and answer him with his fists. Rollins may have got an early lead on Lesnar, but the kingslayer wasn't prepared for the sheer brutality of the champ. Slams, holds and F-5s buried the challenger, as Lesnar accepted Rollins and his challenge for the showcase of the immortals.
Last Updated: January 29, 2019