WWE Monday Night RAW took place from the Smoothie King Center in New Orleans. Here's all the action that went down.
Braun Strowman attacked U.S. Champion Roman Reigns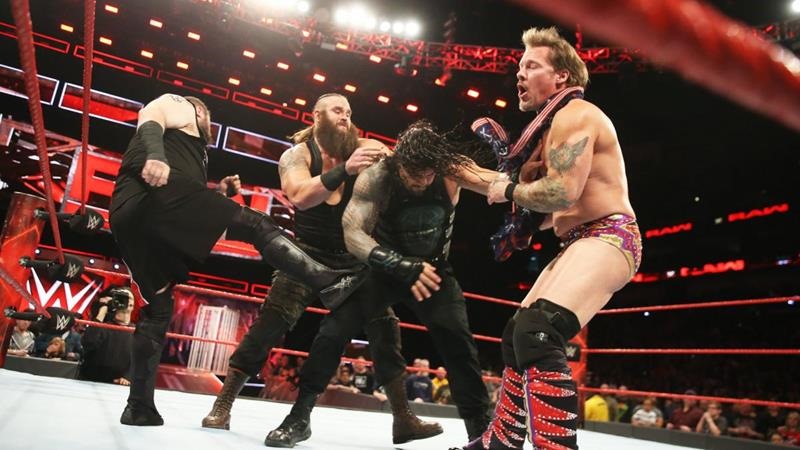 The big bad Braun Strowman wasn't exactly happy with current US Champion Roman Reigns delivering a pair of spears to his organs last week, as he decided to gate-crash a title defense against the likes of Jeri-KO mere moments before the bell was meant to be rung for that match. Having rumbled with Seth Rollins backstage before he got to Reigns, Strowman found himself facing the architect again after he had dismantled Reigns, prompting RAW Commissioner Stephanie McMahon to appear.
Giving Reigns time to heal by moving his match to later on in the night, Stephanie also immediately set up a bout between Strowman and Rollins to kick RAW off properly.
Seth Rollins vs. Braun Strowman ended in a Double Count-out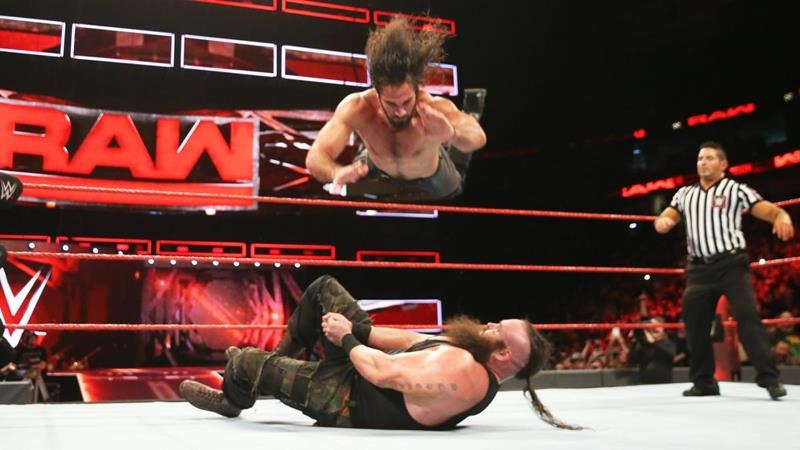 And that match didn't go to plan exactly. Starting off with some risky moves to keep the monster down, the gamble didn't pay off exactly as Rollins found himself missing a top-rope attack to the outside of the ring. Still, an earlier Frog-Splash connection to Strowman's abdomen paid off at least, as the broken architect and a winded gift of destruction found themselves unable to make it back to the ring before the referee counted them out.
With the match over however, Strowman decided to introduce Rollins to a chair, but the former Shield member still had enough wits about him to counter the assault and send Strowman packing.
Jack Gallagher defeated Drew Gulak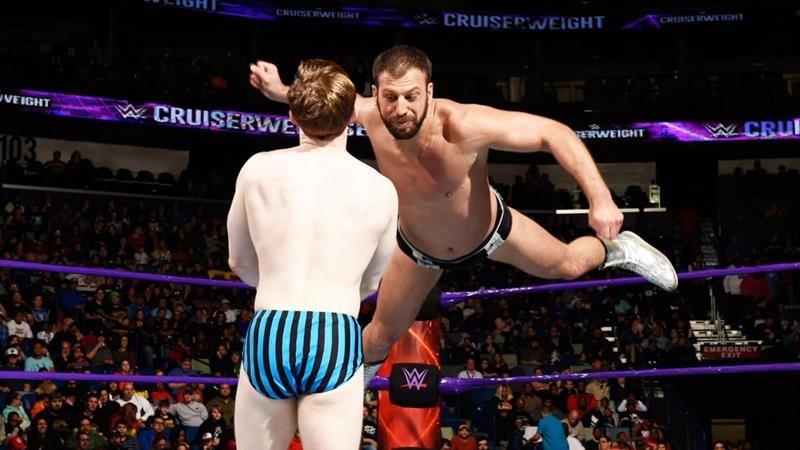 Crusierweight action was up next on RAW, as the extraordinary gentleman known as Jack Gallagher quickly finished off Drew Gulak in style. But after having suffered a loss to Tony Nese last week on 205 Live thanks to the meddling of Ariya Daivari, Gallagher grabbed a mic and invited his foe to meet him in the ring on the next edition of that cruiserweight classic show.
Big Cass defeated Jinder Mahal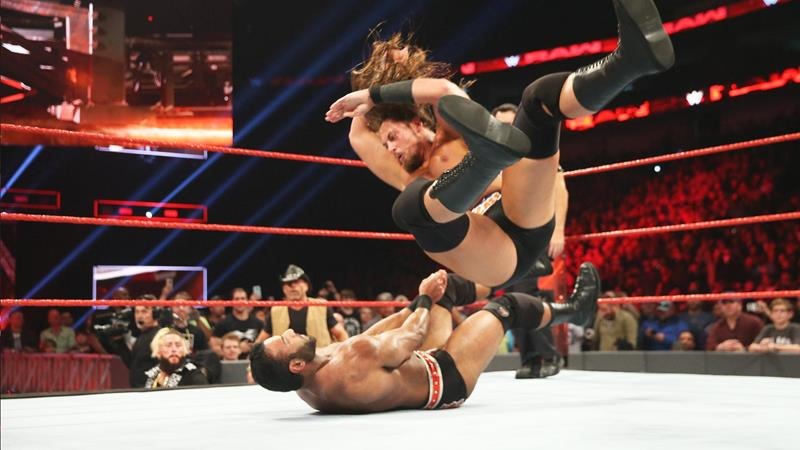 Remember the Heartbreak Kid Shawn Michaels? Well he happens to have a movie coming out soon, called "The Resurrection of Gavin Stone", and RAW was the perfect venue for him to do some promotions for that flick. Except for the fact that Rusev and Jinder Mahal (Who were probably burned badly after they paid to watch Triple H in The Chaperone) had some issues with this, especially with the fact that Michaels was refusing to have Lana CGInserted into the movie like a beloved character in a Star Wars spin-off.
Which is where Enzo Amore and Big Cass came into the picture, as the loudest players in the room ran some interference. Big Cass proved that you just can't teach being a physical monster, but Rusev decided to get involved with the bout as Jinder Mahal found himself being dominated by the giant. But the Bulgarian Brute may have bitten off more than he could chew, as he quickly found himself facing some Sweet Chin Music from Michaels, giving Cass the chance needed to lock Mahal into an East River-Crossing Empire Elbow finisher.
Neville defeated Lince Dorado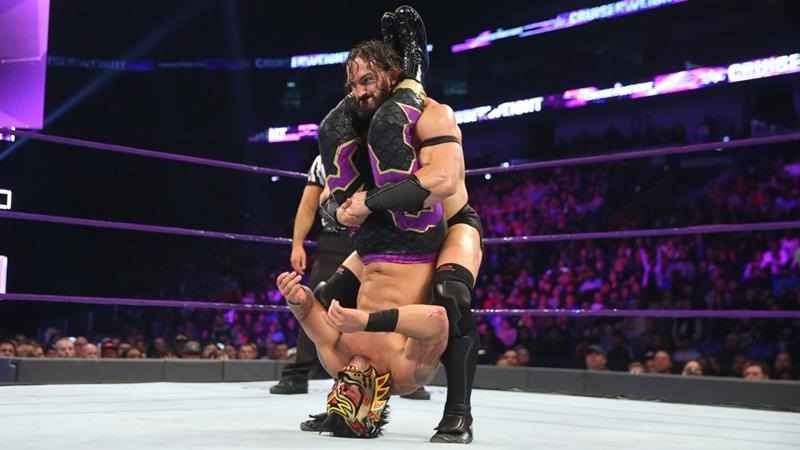 Back to the cruiserweight division after that segment, as Neville's ambition reached new heights as his campaign to be champ of the lightweights continued. Back on RAW for the first time in many a month, Neville's opponent Lince Dorado found himself facing a high-flyer who could easily match or surpass his own skills in the ring.
And even though Dorado may have had the momentum at first, it wasn't long before Neville came back swinging, reversing a deadly Hurricanrana into a Facebuster and finished off the luchador with the Rings of Saturn.Not satisfied with the three-count in his favour, Neville continued the assault, prompting current cruiserweight champ Rich Swann to rush the ring to the defense of Dorado.
Raw Tag Team Champion Sheamus defeated Luke Gallows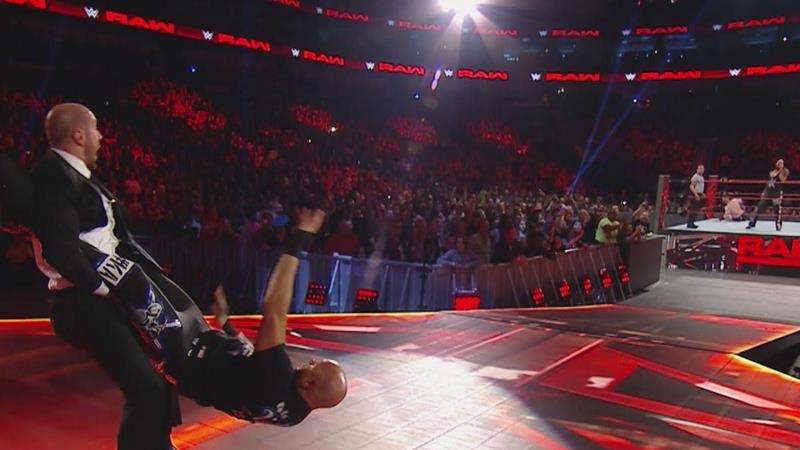 Looking for some RAW revenge against Luke Gallows after he cost him a match against Karl Anderson last week, Sheamus decided to even the odds in a rematch as his fellow tag team champ Cesaro kept an eye out for shenanigans. But the Celtic Warrior was in for a challenge, as Gallows was more than happy to provide some fist-based relief to the Irishman.
Barely surviving the onslaught, Sheamus managed to land a Brogue Kick on Gallows, a move which finally saw Anderson ditch the trash-talking session at the commentary table so that he could race to the aid of his partner, setting up new distractions to give Gallows a chance at a win. But Sheamus still persevered, landing a decisive Brogue Kick sequel while Cesaro kept Anderson busy with some action on the ramp.
The Undertaker crashed Raw General Manager Mick Foley's job evaluation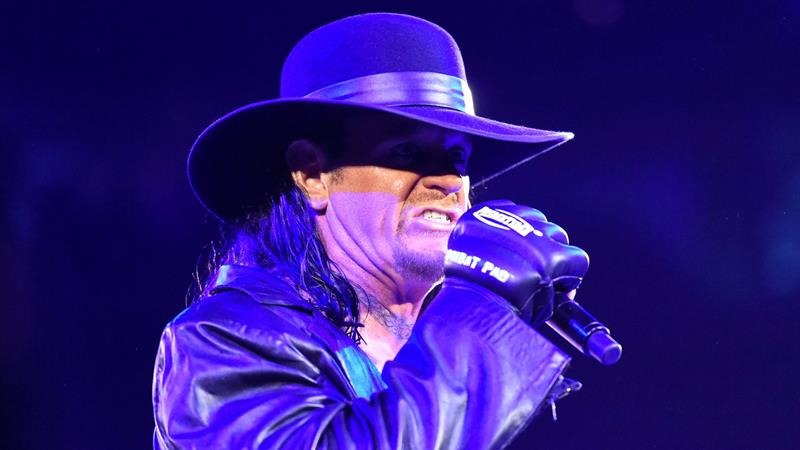 Mick Foley might be unemployed soon, judging by the way that RAW commissioner Stephanie McMahon has treated her GM lately. Telling the hardcore legend straight that unless he could pull a rabbit out of the hat and make the Undertaker appear, Foley pleaded for the deadman to return and help save his bacon.
Finally stepping out from the shadows as Stephanie was on the verge of firing Foley for good, the Phenom made his way to the ring to deliver a message, as he'd "dug 29 holes for 29 souls" in the upcoming Royal Rumble, and he'd be there to read them their final rites in the first big event of the WWE calendar. Something that Braun Strowman seemed very interested in as he watched backstage.
Raw Women's Champion Charlotte Flair and Nia Jax defeated Sasha Banks and Bayley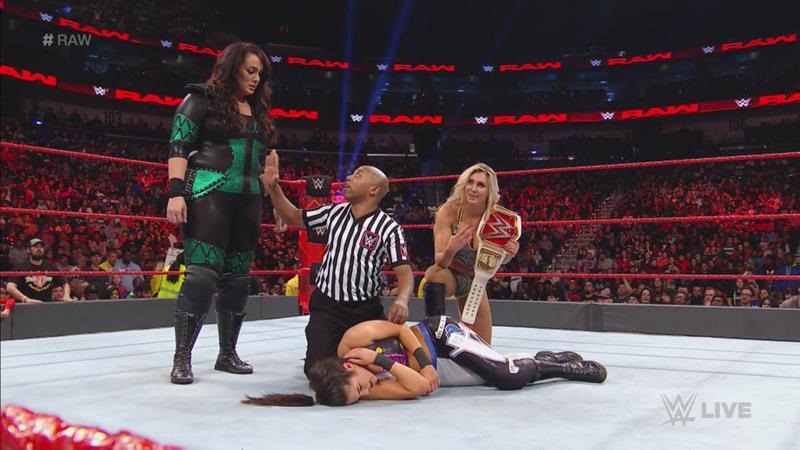 Charlotte Flair isn't ready yet to end her vendetta against Bayley, as she teamed up with Nia Jax to deliver some punishment to the huggable one and Sasha Banks on RAW. The Queen's strategy was simple but effective, as she kept the action focused on the injured knee of Banks, leaving Bayley all alone in what was pretty much a glorified handicap match.
But the doctor of huganomics wasn't going to go down easy, as she threw her entire offense at the pair before she eventually fell to a massive leg drop from Jax.
Kofi Kingston defeated Titus O'Neil
Is the New Day open to having a new member join their ranks? Perhaps, as the team decided to give Titus O'Neil another chance at membership. The test this time? A replay of O'Neil's infamous keg carry challenge from his NXT days, albeit this time with a big barrel of "Booty Juice" that the Big Deal managed to carry across the finish line.
But the night wasn't over yet for On'Neil, as he found himself in a bout against Kofi Kingston. Taking the fight to Kingston, O'Neil was on fire but quickly found himself facing the ringside shenanigans of the New Day crew that ended with Trouble in Paradise and a three-count that left O-Neil out cold.
Jeri-KO defeated Roman Reigns to make Chris Jericho the new United States Champion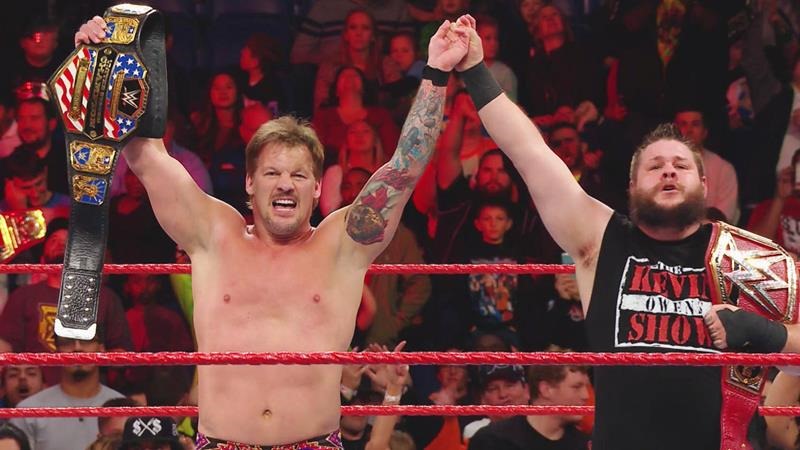 Just how do you end RAW on a high note? With the gift of Jericho, maaaaaan. With Roman Reigns still battered after facing Braun Strowman earlier in the night and having to deal with both the WWE Universal champ and the Ayatollah of Rock 'n Rolla, the odds were stacked against Reigns. And even the big dog couldn't overcome them this time, as Jeri-KO romped to victory.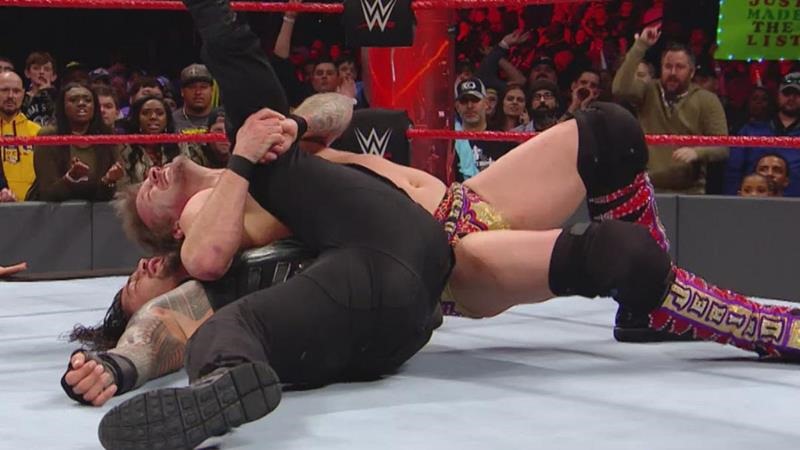 Despite a spirited fight from Reigns, a combination of teamwork, powerbombs and codebreakers was just too much for him to endure, securing victory for Chris Jericho as RAW ended with a new United States Champion standing tall in the ring. Who just so happens to be Canadian.  Drink it in!
Last Updated: January 10, 2017