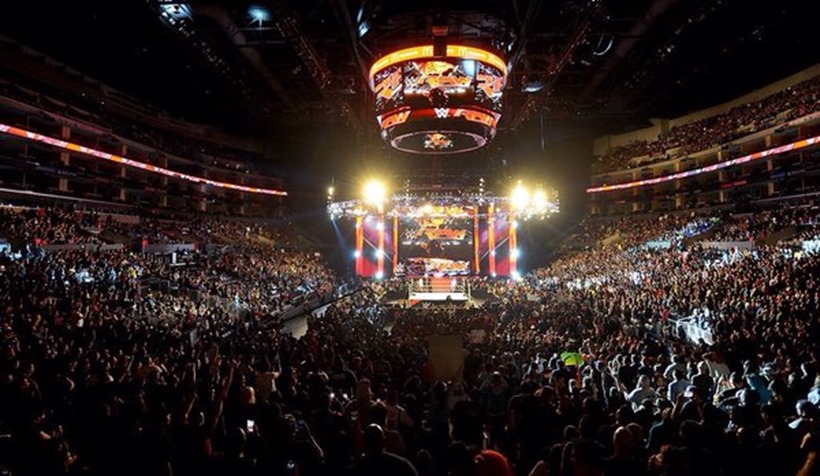 Taking place at the the Staples Center in Los Angeles, California, Monday Night RAW featured the return of Shane McMahon and a few other faces. And also Dr Phil. Here's what went down on the April 11 episode.
Opening segment
Shane 'O Mac! The money is back in the ring, ready to manage the show for a second week in the row thanks to an apparent massive "social media" demand. Shane says that this episode of RAW will be bigger and better than before as he announces matches featuring Natalya, Charlotte and number one contenders matches for the various titles.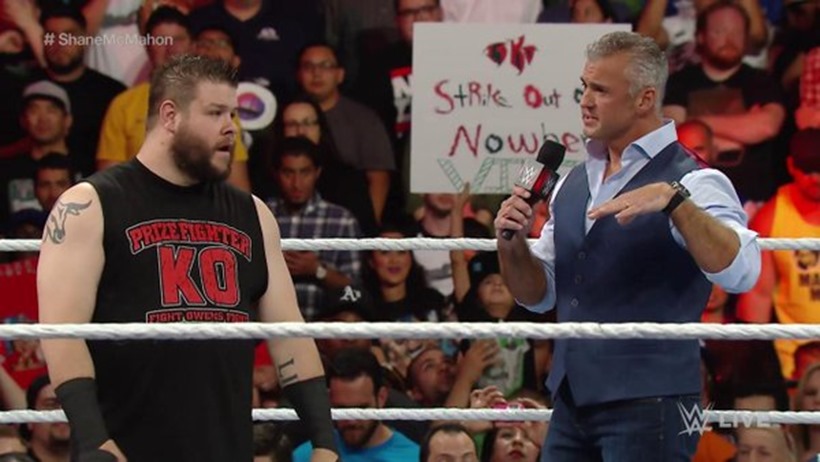 Kevin Owens isn't happy with Sami Zayn getting some of the spotlight, so Shane books Owens in a match against Cesaro to see who will be the number one contender for the Intercontinental Championship to start RAW off. The winner will get to face The Miz later in the night.
Cesaro defeats Kevin Owens
Cesaro takes early control, until Owens starts to work his injured shoulder. Cesaro bounces back with uppercuts and a dropkick, Owens locks in a crossface crippler submission hold and Cesaro again shifts gears by locking in the Sharpshooter. Owens looked like he was going to walk away with an IC match later that night after hitting a superkick and a frog-splash, but Cesaro would be victorious when he eventually hit the Neutralizer and got the pin.
Dr Phil and Ric Flair have a Woo-off
#WOOO!!! @DrPhil @RicFlairNatrBoy #RAW pic.twitter.com/m7FBFuXu5K

— WWE (@WWE) April 12, 2016
Really, I have nothing more to add to that. WOOO!
The Dudley Boyz defeat The Lucha Dragons
After a New Day promo filled with Booty-Os, the Dudley Boyz are in action. The match goes back and forth, but the Dudleyz are clearly in control, with Bubba Ray hitting the 3D for another win on RAW. With that much done, Enzo Amore and his partner Cass decide to come on down and talk some dirt.
Roman Reigns is in the ring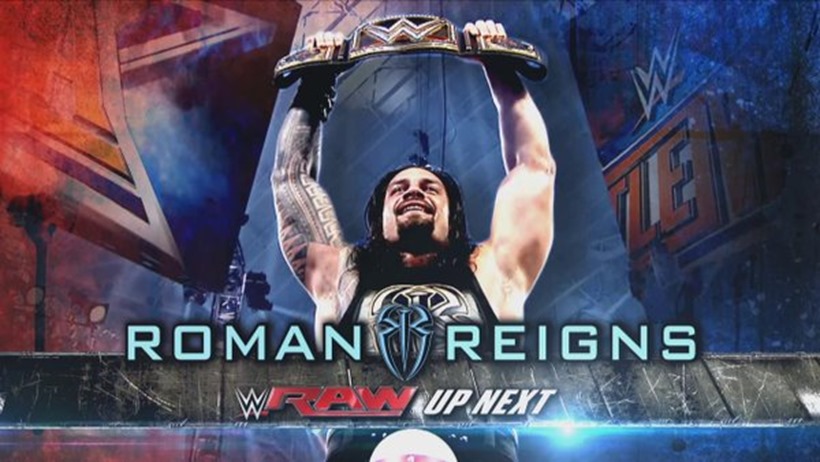 And he's there to tell everyone how he'll be demolishing AJ Styles at Payback. It's not long before the League of Nations arrives however, but Reigns is saved by none other than the Wyatt Family. Shane McMahon likes what he sees, and announces that Reigns and the Wyatts will team up to battle it out with the League later that night on RAW.
Natalya defeats Charlotte via DQ
Dr Phil is back at ringside, while Natalya and Charlotte battle it out inside the ring. Sharpshooter, knee drops and a Figure-4 leglock feature in Charlotte's attack, while Natalya's arsenal includes armbars, german suplexes and a clothesline. After missing a moonsault on Natalya, Charlotte quickly finds herself locked into the Sharpshooter. Ric Flair yanks the ref out of the ring, which gives Natalya a DQ win. Which also means that Charlotte gets to keep her Divas championship.
Dr Phil isn't happy, as he cuts a promo about Charlotte not being a good role model. Dr Phil in a WWE ring. What a time to be alive.
The Usos defeat Curtis Axel and Heath Slater
Bo Dallas and Adam Rose are also at ringside for this match, as the two teams battle it out. After a couple of minutes, Jimmy Uso rolls up Heath Slater for a quick pin.
It's LUKE GALLOWS AND KARL ANDERSON!!!
They are DESTROYING the @WWEUsos!! #RAW pic.twitter.com/YZFlStY9C9

— WWE (@WWE) April 12, 2016
And then get jumped by Luke Gallows and Karl Anderson. Well, that was a surprise.
AJ Styles defeats Sami Zayn
A phenomenal match with the phenomenal pair, as Zayn and Styles went at it. The match started off with arm locks and arm grabs, before going into overdrive with dropkicks and a suicide dive for the ages outside the ring. Zayn would land some very close 2 counts, as would Styles when they emptied their tanks with the use of big splashes and DDTs.
Eventually, A slightly botched sunset flip off the top rope would see Styles captilise on the error and land his Phenomenal Forearm on Zayn for the win.
Chris Jericho's Highlight Reel is back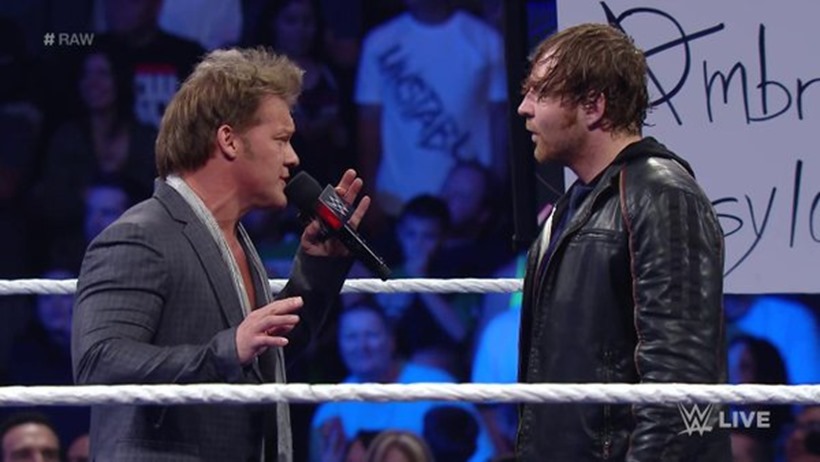 Y2J is back in the ring with his talk show, and tonight he's interviewing…himself. Jericho is there to brag like no other superstar can, claiming how he happens to be untouchable and the best in the business. A claim which brings out Dean Ambrose, who is there to inform that Jericho that his Highlight Reel show has been cancelled by Shane McMahon. and replaced with Dean Ambrose's Ambrose Asylum.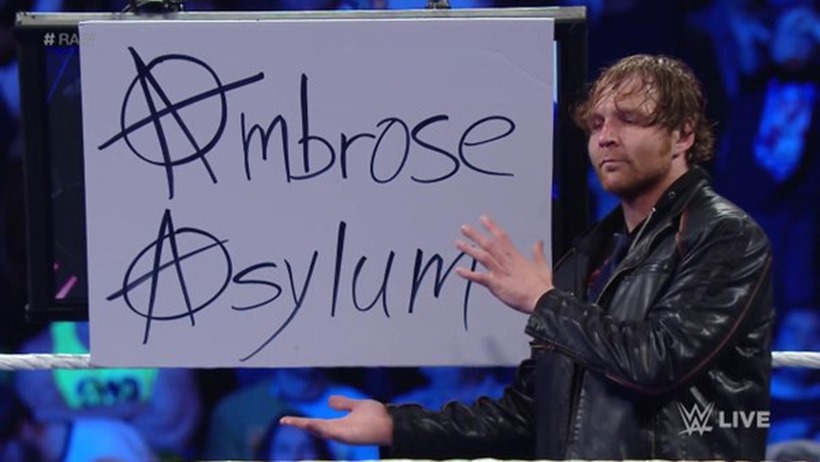 Jericho is obviously unhappy, so Ambrose calms him down with Dirty Deeds done not so cheap, before he returns to the RAW backstage.
Backstage with Goldust and R-Truth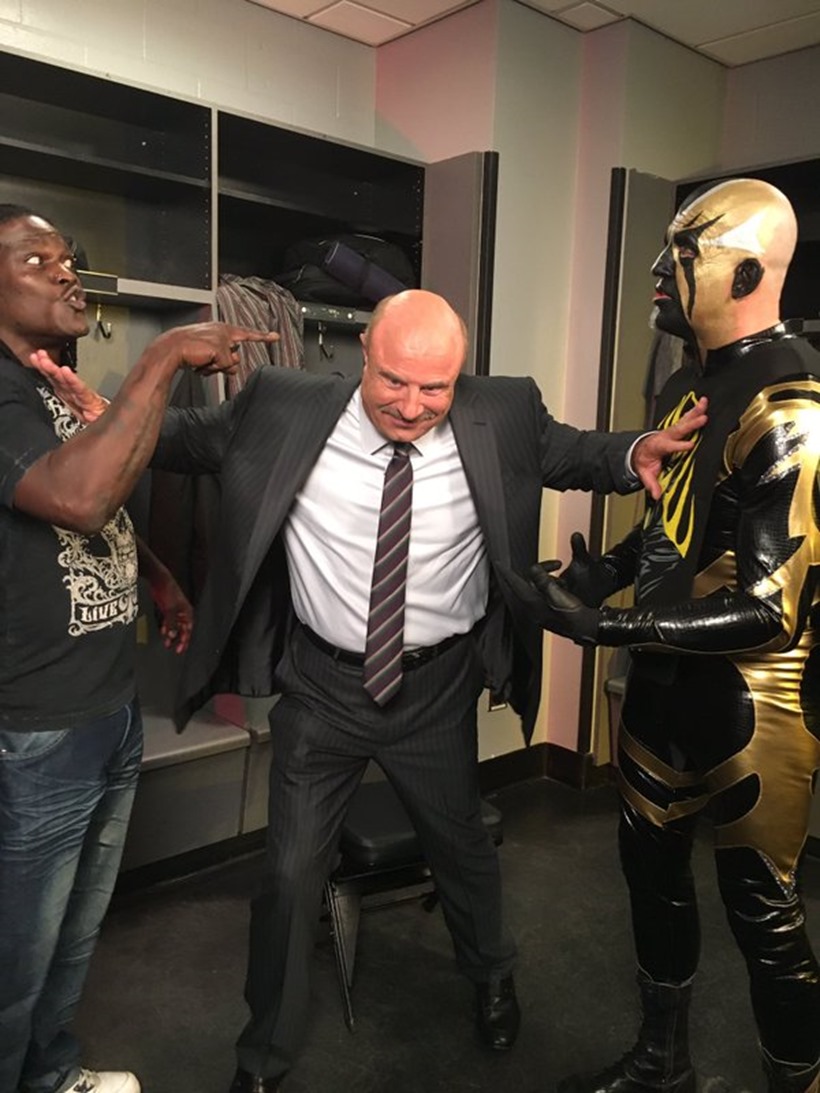 The two oddities are arguing, in a manner that not even Dr Phil wants to get involved in.
Apollo Crews defats Adam Rose
A quick match, as Crews nails a standing enzuigiri and a spinning sit out power-bomb to pick up a win on Monday Night RAW.
Roman Reigns and Bray Wyatt defeat Sheamus and Alberto Del Rio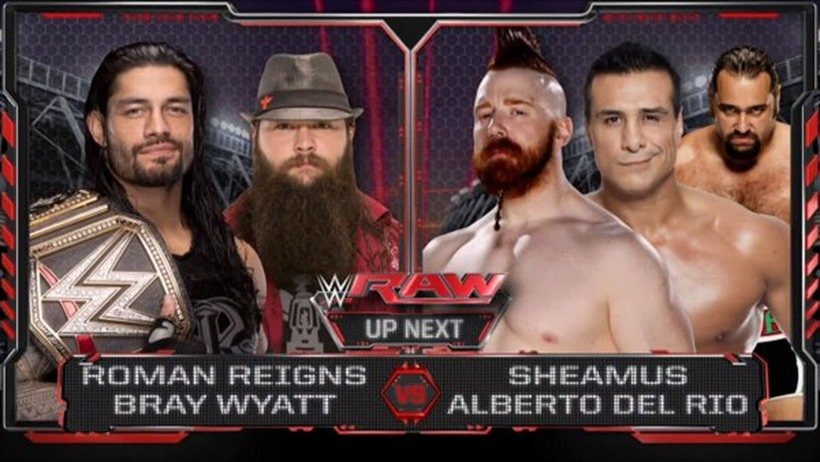 Reigns and Bray Wyatt are perfectly synched up tonight, taking easy turns and tags to beat down on Sheamus. The Irish rogue eventually comes back into action when he hits a backbreaker on Bray, tags in Del Rio and has his Mexican pal land a double-foot stomp from on high. Reigns also takes some damage, but gets in a Samoan Drop to tag in Bray.
More big attacks from both sides, as the rest of the Wyatt family deal with the rest of the League. Victory would go to Reigns and Bray however, as Sister Abigail met Del Rio while Reigns ran inteference with a spear on Sheamus. With that match done, Reigns and Bray Wyatt would end Monday Night RAW with an ominous stare-down.
Last Updated: April 12, 2016