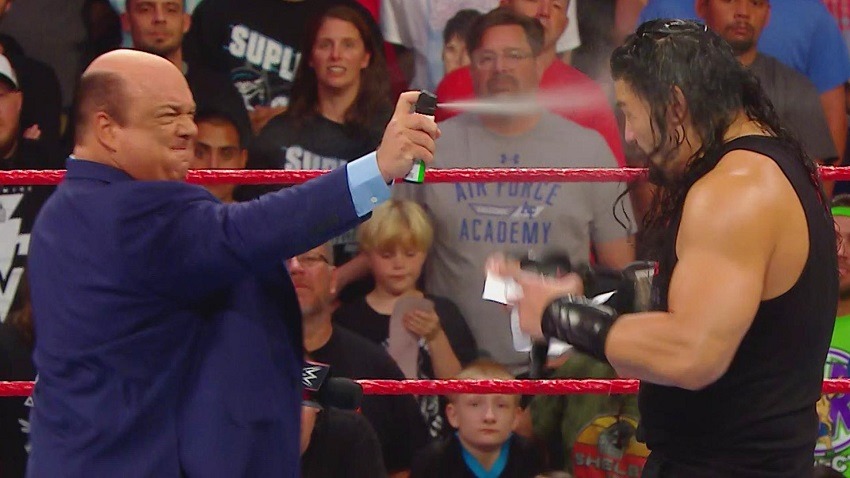 WWE Monday Night RAW took place from the Greensboro Coliseum in Greensboro, North Carolina. Here's all the action that went down in the run-up to Summerslam.
Ronda Rousey paid tribute to Jim "The Anvil" Neidhart
Ember Moon def. Raw Women's Champion Alexa Bliss via Disqualification
Despite having plenty of muscle in her corner in the form of a security team and Alicia Fox, RAW's goddess still fell from grace when she faced Ember Moon in the ring. A battle that saw Ember Moon rise up to deliver some tremendous offense to Bliss ended on a sour note when her Eclipse finisher didn't provide the three-count needed to put Bliss down, as Fox intefered and Ronda Rousey made her presence known in the brouhaha that broke out.
With Fox receiving the brunt of Rousey's fury, Bliss escaped the ring and ran off with a DQ loss. Come Summerslam however, there'll be nowhere to run to.
Constable Baron Corbin def. Tyler Breeze
Using his constabulary powers, Baron Corbin decided to set up some matches on RAW for not only himself but for his Summerslam opponent Finn Balor as well. First up? A singles bout against Tyler Breeze, that the Lone Wolf easily won with his deadly Deep Six after the narcissist ran headfirst into the finisher.
Braun Strowman and Finn Bálor def. Kevin Owens and Jinder Mahal
Baron Corbin may have used his authority to place Finn Balor in a handicap match, but general manager Kurt Angle decided to even the situation for the extraordinary man…and then some. Changing the bout to a tag team match, Angle added the Gift of Destruction to the side of Balor. Proving that he could indeed keep his temper in check, Strowman's addition eventually resulted in Mahal being powerslammed into oblivion.
Corbin would still have the last laugh however, as he caught Balor with the End of Days, sending his opponent a message before Summerslam.
An Elias-inspired local competitor attacked Bobby Lashley
It really really did not end well for local talent Ricky Roberts when he decided to smash his guitar over the back of Bobby Lashley, who decided to introduce the minstrel to his trademark spinebuster in response.
Raw Tag Team Champions The B-Team def. "Woken" Matt Hardy & Bray Wyatt and The Revival
With the odds stacked heavily against them, the B-Team managed to pull off a miraculous victory that saw their RAW tag team titles stay firmly around their waists. Even with the bizarre nature of the Deleters of Worlds upsetting their momentum and The Revival having a playbook full of offense, Bo Dallas and Curtis Axel still clinched the victory. The war ain't over yet however, as the B-Team will face The Revival for the gold this Sunday at Summerslam.
Universal Champion Brock Lesnar attacked Roman Reigns
It was a ruse! With Paul Heyman seemingly being ready to dump Brock Lesnar as his client and offer his services to Roman Reigns as well as a look at the Beast Incarnate's game plan for Summerslam, the deal offered to Reigns seemed too good to be true. It was. Instead, Reigns got blasted in the face with a can of pepper spray, which gave Brock Lesnar the opening he needed to appear on RAW and pounce on the challenger, delivering knees, slams and an F-5 ahead of their main event on Sunday.
Bobby Roode and Titus Worldwide def. Mojo Rawley and The Authors of Pain
A quick match of varying feuds, that ended with Bobby Roode landing his most Glorious DDT on Mojo Rawley to win the match.
Ruby Riott def. Sasha Banks
Gaining an early match advantage, Ruby Riott handicapped Sasha Banks early on in the match by trapping her hand in the ring steel steps and then applying a devastating kick to it. With her Riott Squad in her corner as well, it wasn't too long before Sasha Banks eventually fell to Riott, whose return signalled the return of a more ruthless challenger to the WWE ring.
Dean Ambrose returned to help Seth Rollins attack Intercontinental Champion Dolph Ziggler and Drew McIntyre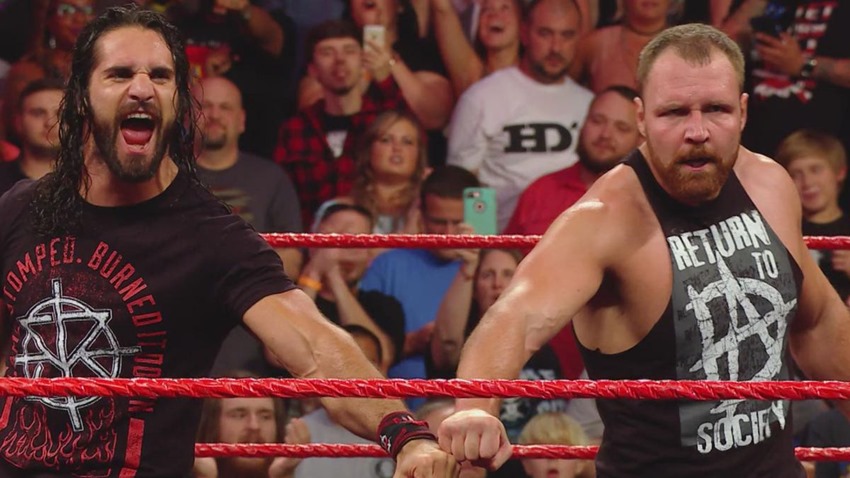 With the Intercontinental championship around the waist of Dolph Ziggler, the show-off has managed to keep the belt in his hands thanks to one very important factor: Drew McIntyre. A problem that challenger Seth Rollins hasn't had an answer for, as the numbers game has managed to keep him out of the championship game for too long.
General manager Kurt Angle had an idea for Summerslam though, to even the odds. If Ziggler wanted to keep McIntyre in his corner, he'd have to agree to a match contract that would stipulate that Rollins could also have his own partner around. Who was it? With Roman Reigns out of action thanks to Lesnar's rampage, Rollins revealed that his other Shield brother would have his back: Dean Ambrose.
The Lunatic Fringe had finally returned, wasting no time in launching an assault on Ziggler and McIntyre that drove the duo from the ring.
Last Updated: August 14, 2018