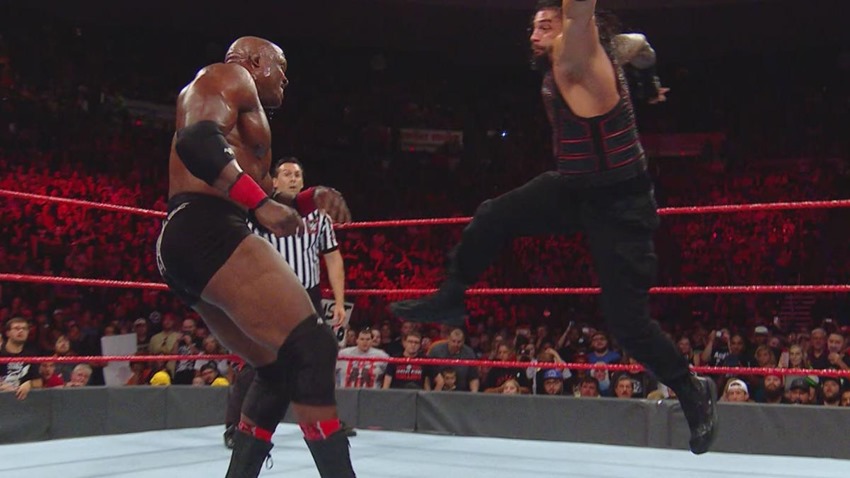 WWE Monday Night RAW took place from the US Bank Arena in Cincinnati, Ohio. Here's all the action that went down last night.
Raw Commissioner Stephanie McMahon and Triple H announced the first-ever Women's pay-per-view, WWE Evolution
A few years ago, the Divas division of the WWE was buried and in its place came a revolution. Since then, the women's division has gone from strength to strength, featuring WWE's top female superstars in massive main events and gruelling battles. The next step? A dedicated women's pay per view event in October called WWE Evolution.
With over 50 superstars from the past and present ready to battle, it sounds like it'll be one hell of a show.
Raw Tag Team Champions The B-Team def. "Woken" Matt Hardy and Bray Wyatt
Try as they might, Woken Matt Hardy and Bray Wyatt just can't seem to get the better of The B-Team, as Curtis Axel and Bo Dallas notched another victory against the Deleters of Worlds last night. Using teamwork and some canny distractions, Axel got the winning pin and some extra pain from a livid team of Woken Warriors, as Hardy and Wyatt are far from finished with their quest to reclaim the gold.
Sasha Banks and Bayley def. Samantha Simon and Karen Lundy
NOBODY CARES ABOUT THIS STORYLINE.
Kevin Owens confronted Braun Strowman
And it didn't go well, as Owens' plan to send Jinder Mahal out to soothe the savage beast resulted in the Maharaja and his pal Sunil Singh getting a Running Powerslam for their efforts. After weeks of pain though, Kevin Owens had a new mission: To take everything that the gift of destrctuin held dear, away from him.
How would he do that? With a match at Summerslam that had a very one-sided stipulation. If Strowman lost the bout in any way, his Money In The Bank opportunity would be forfeited to Owens. A match idea that Stephanie McMahon was only too happy to greenlight.
Mickie James def. Natalya
With Alexa Bliss at ringside, the six-time Women's Champion soon found herself distracted and on the receiving end of a Mick Kick as Mickie James ran home to victory.
Titus Worldwide confronted The Authors of Pain
And it all ended in a calm manner. Nah, just kidding, hands were thrown and all chaos broke loose as the two tag teams went at one another.
Mojo Rawley def. Tyler Breeze
Mojo Rawley's momentum continues to push forward, as this week saw a repeat performance of his last match against Tyler Breeze: Mojo on top, Breeze on the bottom and utterly smashed after taking a heavy Alabama Slam.
Seth Rollins and Finn Bálor def. Intercontinental Champion Dolph Ziggler and Drew McIntyre
When two former WWE Universal champions join forces, it seems like nothing can stop them. Finally catching Intercontinental Champion Dolph Ziggler and Drew McIntyre in the same ring, Finn Balor and Seth Rollins had their work cut out for them. What began as a one on one match between Balor and McIntyre evolved into a tag team bout after RAW general manager Kurt Angle decided to put the show-off in his place for interfering, eventually leading to the extraordinary man and the kingslayer earning a win.
Even better? Seth Rollins vs Dolph Ziggler for the gold, is now greenlit for Summerslam.
Ember Moon def. Liv Morgan
The War Goddess may have fallen to the Riot Squad last week, but Ember Moon rose back up to claim a new victory in her battle against the stable, Knocking out Liv Morgan with a picture perfect Eclipse.
Elias attempted to perform a song off his debut album
It uh…it didn't go well.
Roman Reigns def. Bobby Lashley to earn the right to face Universal Champion Brock Lesnar at SummerSlam
They've been battling for weeks, looking for a chance to face WWE Universal Champion Brock Lesnar for a chance at glory at Summerslam. Locking horns once again in a brutal main event, Bobby Lashley and Roman Reigns threw everything they had and then some at one another as the bitter rivalry heated up.
The match ended in the only way it could have: With a Superman Punch from Reigns, followed up by a Spear that finally knocked the wind out of Lashley long enough for him to be covered. Roman Reigns is going to Summerslam.
Last Updated: July 24, 2018