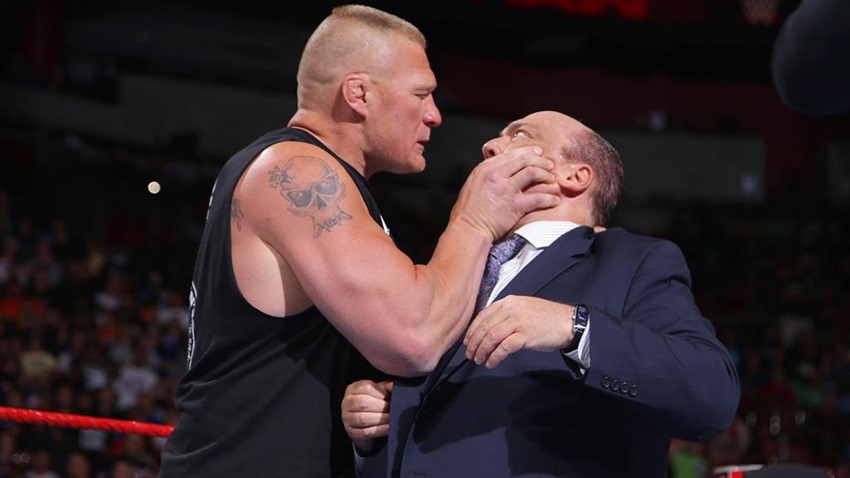 WWE Monday Night RAW took place from the American Airlines Arena in Miami, Florida. Here's all the action that went down last night.
Universal Champion Brock Lesnar refused to confront Roman Reigns
It's good to be the king! With the WWE Universal Championship going nowhere, reigning champ Brock Lesnar's attitude to the WWE and the number one challenger Roman Reigns has been frosty to say the least. Preferring to relax inside of his locker room instead of meeting Reigns in the ring for a showdown, it ws Lesnar's advocate Paul Heyman who carried back a message for the beast incarnate.
A message that didn't exactly phase the beast, as he sat back and allowed his inactions to speak louder than words.
Constable Baron Corbin def. Finn Bálor
Maybe size does matter, but for all of his tremendous physical prowess Baron Corbin still had a tough time whittling down Finn Balor in the ring. Attempting to ground the high-flyer, Corbin's strategy wasn't exactly soundproof. Balor managed to get some licks in of his own, but he came undone when the End of Days eventually found its mark and the Constable of RAW got the win.
Alicia Fox def. Natalya
With Alexa Bliss in one corner and Ronda Rousey in another, chaos was bound to kick off in this match between Alicia Fox and Natalya. The Queen of Harts may have had the advantage in the ring, but when distractions caused the ref to lose focus, Natalya caught a hard right in the face from Bliss and was finished off by Fox to seal the deal on this bout.
Elias challenged Bobby Lashley to a duet
Deciding to play to his strengths after Boby Lashley interrupted him again, Elias challenged the strongman to an impromptu rock 'n roll duel. Surprisingly, Lashley could hold a note and his own in the ring when Elias tried to blindside him, as he sent the trouble-making troubador scampering up the ring after a brief tussle.
Jinder Mahal def. Braun Strowman via Count-out
Braun Strowman's habit of total destruction will need to be far more measured when he faces Kevin Owens at Summerslam, lest he lose his golden handshake thanks to the stipulations of that match. Strowman got a taste of Owens and his more nefarious methods of winning a match, as his bout against the modern-day Maharaja ended with a count-out loss when he chased after Owens after the prizefighter had stolen his money in the bank briefcase. A sign of things to come?
Apollo Crews def. Akam
Sometimes experience can be far deadlier than brute power, as Apollo Crews used the momentum of Akam to lead the charging bull straight into the turnbuckle and lock him into a roll-up pin for a quick win.
Seth Rollins def. Drew McIntyre via Disqualification
The war between Seth Rollins and the duo of Dolph Ziggler and Drew McIntyre continues, as the kinglsayer zeroes in on the Interncontinental championship once again. Attempting to save McIntyre from a pin attempt, Ziggler's interference may have cost his enforcer the match, but a backstage scrap minutes later saw the pair win the war.
The Revival def. "Woken" Matt Hardy and Bray Wyatt
The losing streak of Matt Hardy and Bray Wyatt continues, as the Woken Warriors found themselves utterly outclassed and outmatched by the tag team specialists Dash and Dawson. With picture perfect teamwork and a Shatter Machine finisher on Wyatt, Dash and Dawson's victory was a huge statement to the tag team division and the B-Team who were watching from ringside.
Sasha Banks and Bayley def. The Riott Squad
Oh yay, it looks Bayley and Sasha Banks are firends again. Yay.
Universal Champion Brock Lesnar attacked Kurt Angle
In life, you can rely on three things: Death, taxes and Paul Heyman hyping up the appearance of Brock Lesnar. The stinger here? Lesnar doesn't give a damn about Heyman. This was proven last night, as RAW General Manager took a gamble when he anounced that he'd fire Heyman if Lesnar didn't show up. With Lesnar's advocate on his knees, begging for a second chance and openly confessing that the beast wasn't even a good champion, the Suplex City mayor finally appeared.
And then he ran rampant in the ring. With Roman Reigns banned from the building, Lesnar decided to give Angle a taste of the F-5, while Heyman was manhandled by the champ while Baron Corbin decided to beat a hasty retreat after receiving a taste of of Lesnar's fists earlier in the night.
Last Updated: July 31, 2018