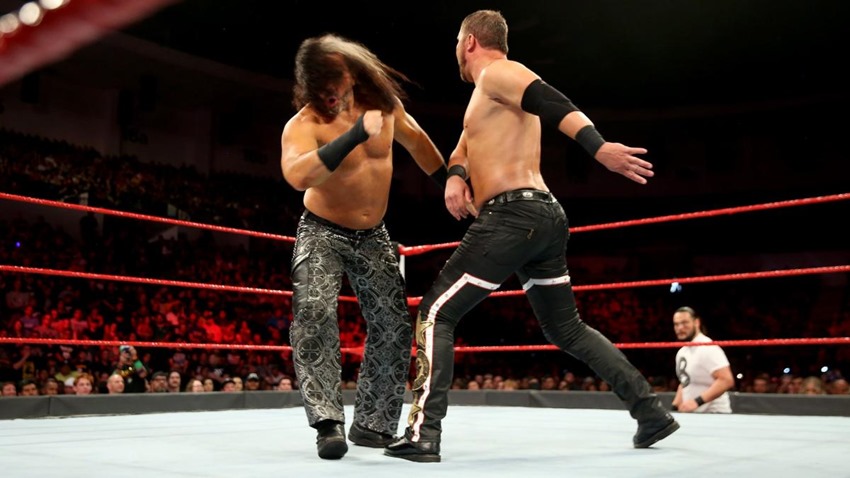 WWE Monday Night RAW took place from the Valley View Casino Center in San Diego, California. Here's all the action that went down last night.
Raw General Manager Kurt Angle cancelled the multi-man match to determine Brock Lesnar's next challenger
Who will be Brock Lesnar's next victim in an ill-fated attempt to pry the WWE Universal championship out of his iron grasp? That's a good question, and one that won't be answered any time soon as due to a "contractual snag", RAW General Manager Kurt Angle was forced to cancel a multi-man bout to find the new number one challenger.
Surrounded by peeved superstars, Angle at least managed to find a silver lining, sanctioning a a rematch between Roman Reigns, Bobby Lashley and the Revival.
The Revival def. Roman Reigns and Bobby Lashley
Finally, the tag team specialists lived up to their name and reputation. In a rematch, Dash and Dawson took advantage of Roman Reigns' attempts to steal a tag from Bobby Lashley, leading to the big dog being trapped in a pin roll-up after he accidentally sent Dawson colliding into Lashley.
Curtis Axel def. Raw Tag Team Champion "Woken" Matt Hardy
The weirdest of mind games continues! Cutis Axel managed to pick up a huge win over Woken Matt Hardy, quickly defeating one half of the current RAW tag team champions by reversing a superplex into a crossbody in a match that was devastatingly quick. They may be the B-Team, but with efforts like that it appears that Curtis Axel and Bo Dallas are ready to throw down with A-grade offense.
The Authors of Pain def. Rich and Rex Gibson
In another short match, Akam and Rezar returned to squash some local talent, leaving their mark on the ring and sending a message to the tag team division that the Authors of Pain were indeed back in action.
Natalya def. Raw Women's Champion Alexa Bliss
RAW Women's champion may not have to worry about Ronda Rousey for the next month, but Natalya was another story. Giving as good as she got, Bliss was in fine form as she kept Natalya grounded and looked set to walk out of RAW with another victory to her name in a non-title match. Nia Jax had other ideas however, tripping Bliss up and giving Natalya the chance she needed to apply her dreaded Sharpshooter.
Payback, thy name is Nia Jax.
The Riott Squad def. Sasha Banks, Bayley and Ember Moon
In a last-ditch effort to get Sasha Banks and Bayley on the same page, Kurt Angle's gambit did not pay off. Pinned at the end of the match by Ruby Riott, Sasha Banks soon found herself on the receiving end of a vicious beatdown by Bayley. Vicious in her assault, Bayley was given an ultimatum by Angle: Attend some counselling to ger her temper under control, or get the pink slip boot.
Mojo Rawley refused a rematch with No Way Jose
Mojo Rawley isn't keen to throw hands with No Way Jose again, simply because he doesn't consider the man to be worthy of his time in the ring. Rawley also had some beef with the conga line that Jose brought to the ring, especially with one chap dressed as a cheeseburger. Which kind of led to a sneaky ambush by Rawley, who sucker-punched Jose the second he rushed to defend his entourage.
Braun Strowman and Kevin Owens def. Finn Bálor and Baron Corbin via Count-out
Be careful what you wish for, is the lesson here. Kevin Owens wanted Braun Strowman for a friend? Well that's what he got, as he managed to carve out a win with the Monster Amongst Men and a chase through the backstage area as destruction was on the mind of the giant. Attempting a getaway, Owens was instead greeted by a giggling gift of destruction, who had flipped over Owens' car. Best friends, right?
Seth Rollins def. Intercontinental Champion Dolph Ziggler via Disqualification
There's a new Intercontinental champion in town, and he's a bit of a show-off. Wasting no time in activating his rematch clause, a fresher Seth Rollins attempted to win back the white championship belt. With Drew McIntyre ejected from the ring, it looked like the night would belong to a very aggressive Seth Rollins as the Architect's offense was unstoppable to say the least.
Last Updated: June 26, 2018