WWE Monday Night RAW took place from the BMO Harris Bradley Center in Milwuakee, Wisconsin. Here's all the action that went down last night.
Raw General Manager Kurt Angle announced Ronda Rousey's WrestleMania match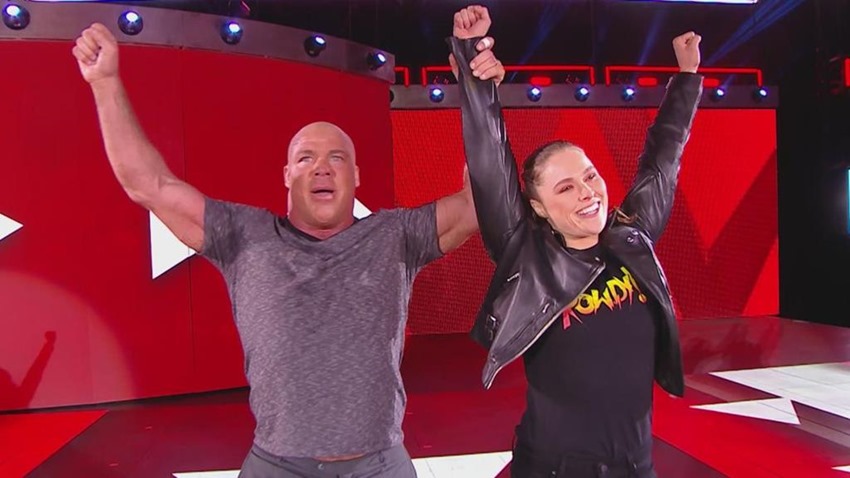 Ronda Rousey may be a WWE employee now, but that's an acquisition of talent that Triple H and STephanie McMahon may soon come to regret. Kicking off RAW, general Manager Kurt Angle called out Triple H for a showdown at Wrestlemania 34, but it was Stephanie McMahon who answered his call to remind the GM that he needed to pay his bills more than he needed revenge for a sucker punch.
Ronda Rousey had other ideas in mind. Hitting the ring, the MMA legend challenged Stephanie to a showown at the showcase of the immortals, an idea which Angle was only to happy to greenlight. Seeing as how both Triple H and Stephanie had dual contracts that also listed them as active superstars, Angle had the authority to make a mixed tag team match official.
None too happy, the King of Kings tried to eject Angle from the ring, but soon found himself in the Angle Lock, while Stephanie was on the receiving end of a Samoan Drop from Rousey.
Asuka def. Nia Jax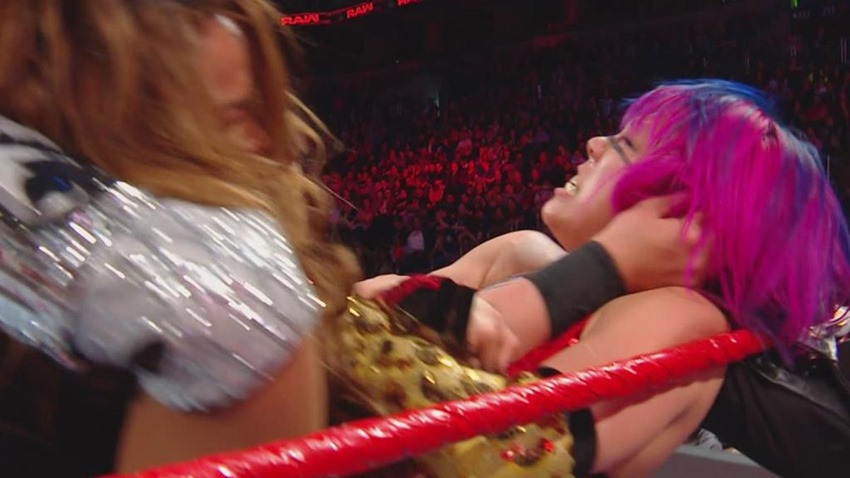 Asuka may have kept her winning streak intact against Nia Jax by the slimmest of margins, but round 2 between the fierce competitors proved that the Empress of Tomorrow was more than capable of besting the Irresistible force twice. Jax may have had the power and the ferocity to take on Asuka, but even she was no match for pure ruthless aggression as Asuka used her deadly submissions to wear the mighty challenger down.
With one final application of an armbar that seemed to last an eternity, Asuka finally succeeded in making Jax tap out, keeping the streak alive for another day.
Raw Tag Team Champions Cesaro and Sheamus def. The Revival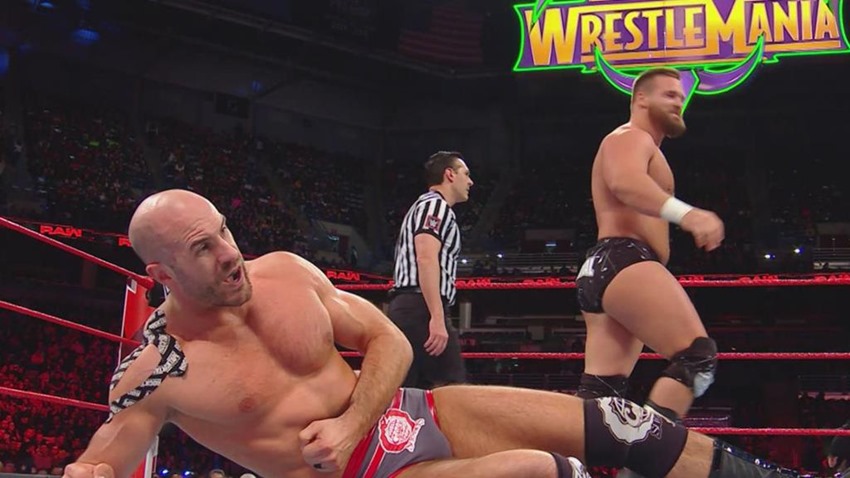 Are there any tag tams left on RAW to challenge the might of The Bar? Yup! Are any of them capable of beating them however? Well that's another question, as the team of Dash and Dawson found themselves unable to clinch victory in a heated match against Cesaro and Sheamus last night. With The Revival coming dangerously close to pinning Cesaro in the ring, it was the inteference of Sheamus that decided the bout, allowing the Swiss Superman to grab a moment to apply his Neutralizer to Dawson and grab the three-count.
Sheamus and Cesaro may be off to Wrestlemania, but it looks like there'll be no traffic on the road ahead as they've conquered their entire division.
John Cena def. Goldust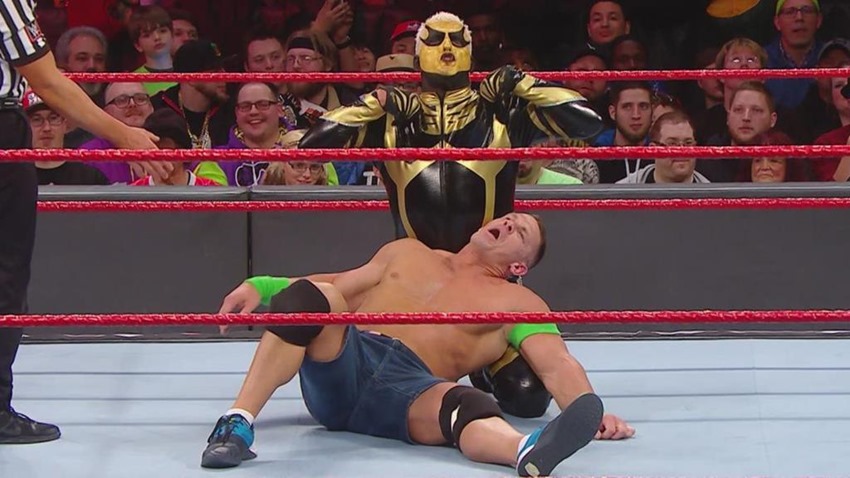 Speaking of Wrestlemania, John Cena has a plan of his own. With Smackdown LIVE's Fastlane main event now including the Cenation leader, Cena proposed to current champ that if Cena won the match that Styles should use his rematch clause to insert him into a WWE championship match between himself and Royal Rumble winner Shinsuke Nakamura.
A triple threat for the ages is on the cards, but the free agent had to first survive a showdown with someone more bizarre in the ring. Goldust was ready to fight dirty, but Cena survived a sneaky low blow and administered his favourite combo of pain: shoulderblocks, slams, a Five-Knuckle Shuffle and an Attitude Adjustment that sealed the deal on a win.
Bayley def. Mandy Rose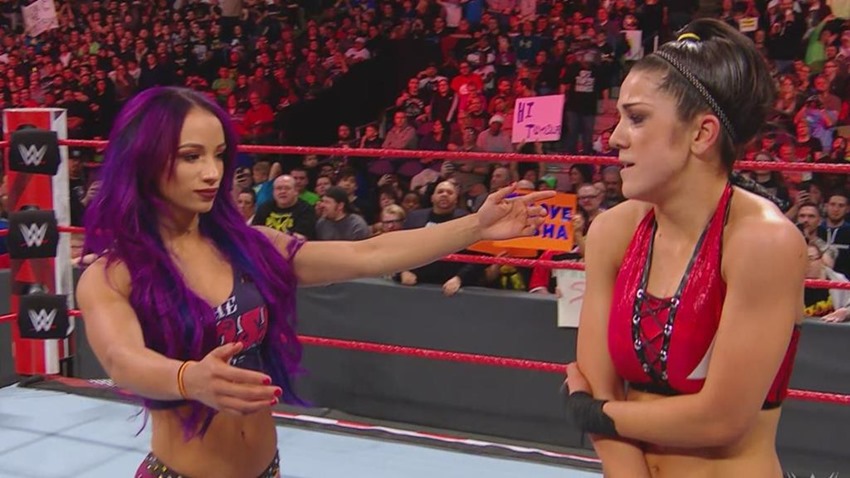 The Huggable one barely triumphed over Mandy Rose with a surprise roll-up pin, but soon suffered the effects of a post-match beatdown by a ringside Sonya DeVille. Sasha Banks may have arrived to save the day, but the air remains rather frosty between the two "friends" as Bayley refused to hand hugs to the Boss afterwards.
Braun Strowman def. Elias in a Symphony of Destruction Match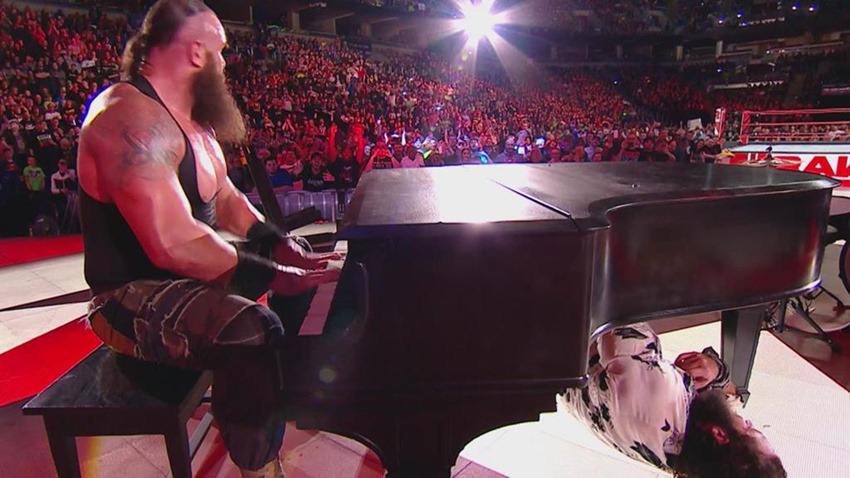 Look, if I were placed in a match against Braun Strowman, I'd run as well. But a match where it was perfectly legal to use an assortment of musical instruments to inflict all kinds of pain on your competition as well? Man, I'd be hightailing it. Which is exactly what Elias attempted to do when he found out that he was slotted into a Symphony of Destruction match.
Strowman caught up with the resident music man before he could drive away however, picking up Elias' getaway vehicle and forcing the challenger into the match. While Elias attempted to use some of the instruments on the stage to fight back, Strowman fought back by breaking a massive bass over the back of Elias, flattening him afterwards with a grand piano in this Falls Count Anywhere match.
Now that's music to my ears.
Bray Wyatt def. Rhyno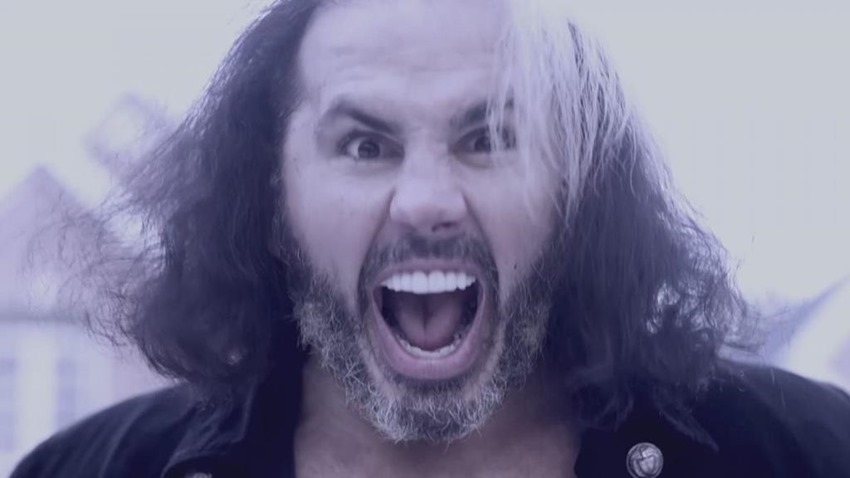 While Bray Wyatt may have sent Rhyno packing, it was the aftermath of the match that was truly interesting. Woken Matt Hardy appeared on the TitanTron, accepting Wyatt's challenge to face him one final time. But this would be no ordinary match in the final battle of the Great War. This would be, according to Hardy, the Ultimate Deletion.
The battleground? None other than Hardy's own compound, an arena that had once played host to a Final Deletion between brothers several years ago…
Finn Balor and Seth Rollins def. The Miz and The Miztourage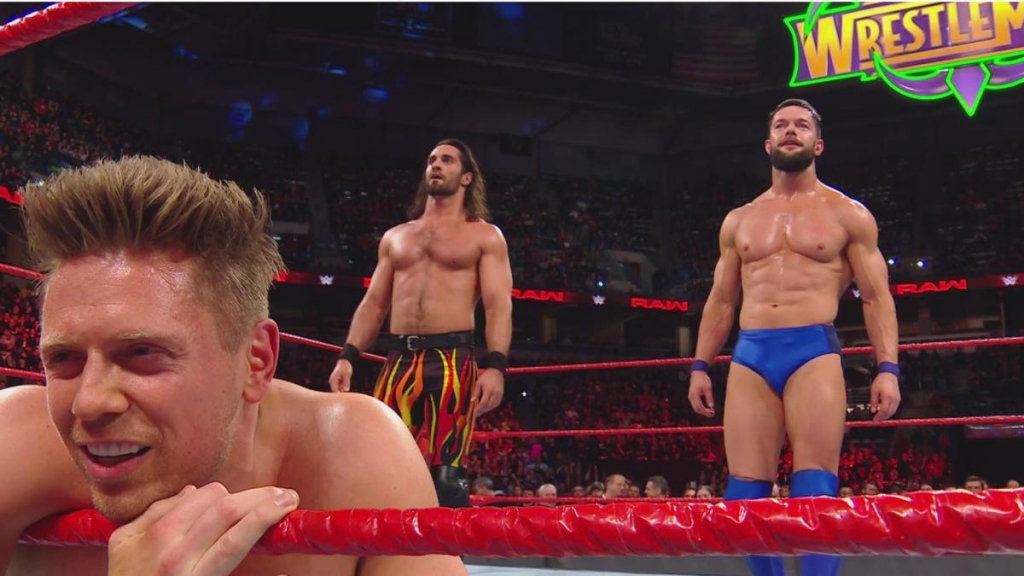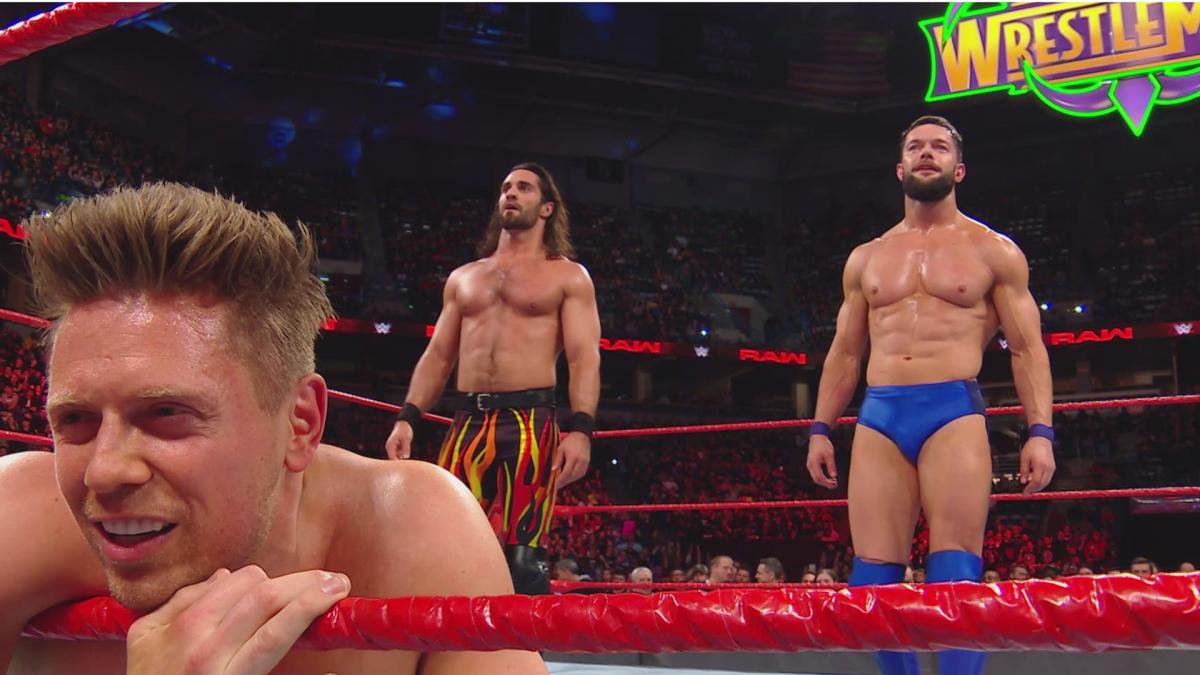 After interrupting The Mizzies, it was time for the unlikeliest of tag team partners to join forces and take down The Miz and his Miztourage team of Bo Dalls and Curtis Axel. Two former WWE Universal Champions formed an alliance, and what a team it was. Seth Rollins and Finn Balor may have found themselves outnumbered by their opponents, but the duo were able to triumph against the odds.
Barely mind you, as Rollins and Balor spent  as much time arguing as they did fighting. Balor may have cleared the ring, but it was a quick tag from Seth Rollins on his unsuspecting partner and a Curb Stomp on The Miz that saw the Architect claim the winning pin. So impressed was general manager Kurt Angle with the performance, that he decided to announce a new match for Wrestlemania: The Miz vs Finn Balor vs Seth Rollins in a triple threat bout for the Intercontinental title.
Roman Reigns confronted Paul Heyman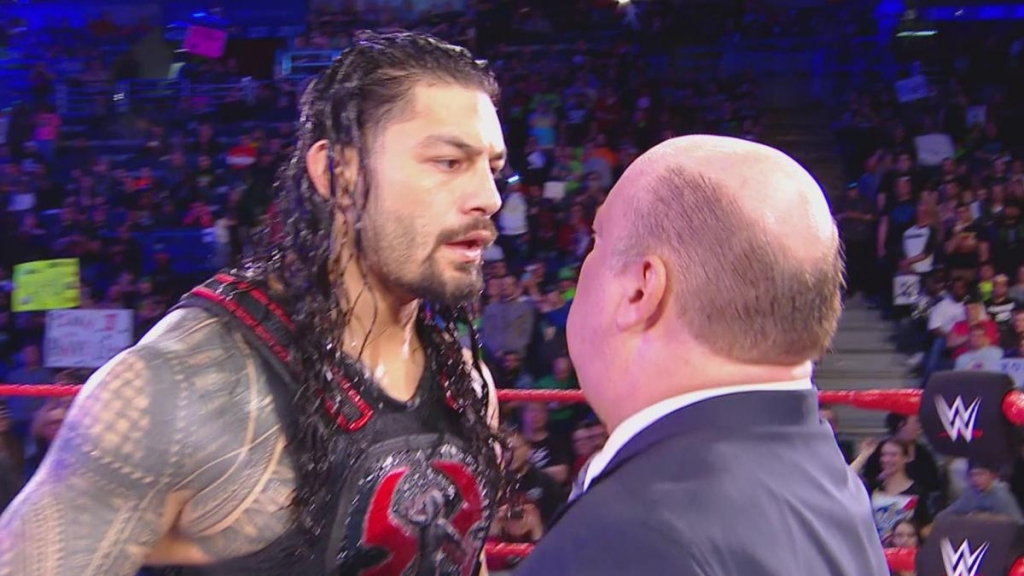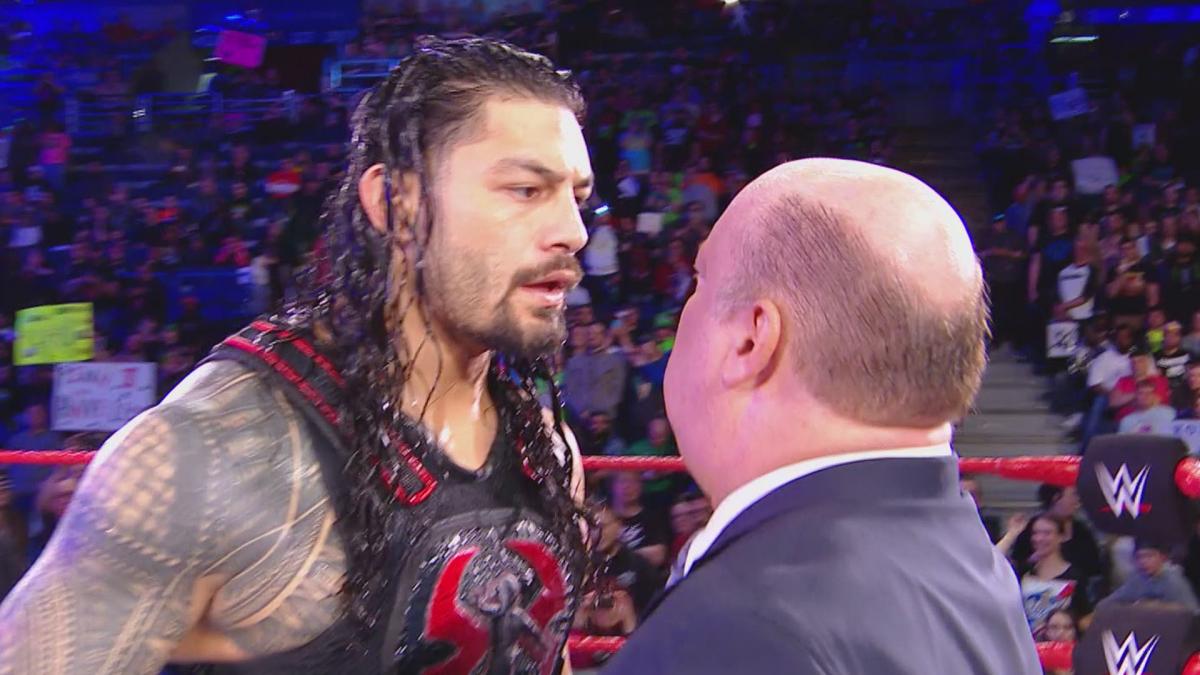 Roman Reigns had some choice words for WWE Universal Champion Brock Lesnar last week, and his advocate Paul Heyman had a rebuttal this week for the Wrestlemania challenger. In the ring, Heyman placed the title in the ring and countered the Big Dog's verbal attack on Lesnar's schedule, comparing his limited appearances to that of the Undertaker. In fact, it was Lesnar's dominating match record that spoke volumes of his power in the ring according to Heyman, a power that Reigns would never best as Lesnar was focused purely on protecting his belt.
Heyman did make a promise to Reigns however: That Lesnar would return to RAW next week, and the two would have words. Reigns' response? That Lesnar better come dressed to fight next week.
Last Updated: March 6, 2018