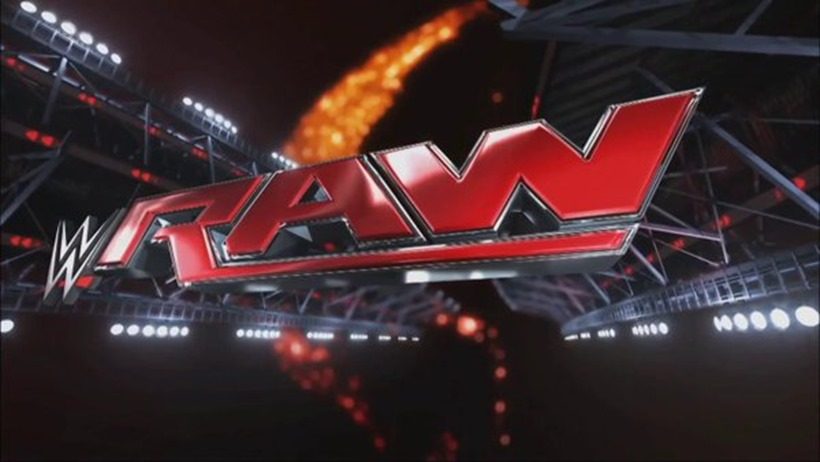 Welcome to Monday Night RAW! This week, the show took place at the Coliseum Complex in Greensboro. Here's all the action that went down.
Opening segment
AJ Styles is in the ring, saying how he's sick of Roman Reigns being a liar. Reigns of course comes out to interrupt, claiming that the only thing that matters is his WWE World Heavyweight title. AJ says that Reigns is "the guy" that he'll be beating this Sunday at Extreme Rules. The Usos then appear, Reigns knocks Styles down with a right and he scampers up the RAW runway where he's met by Luke Gallows and Karl Anderson.
Sami Zayn vs. Cesaro ends in a No Contest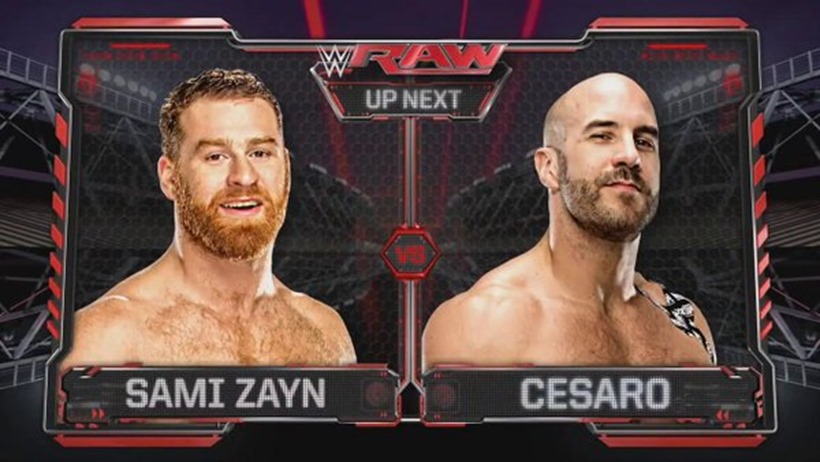 The Miz and Kevin Owens are running commentary for this match, which begins with a powerslam from Cesaro that very nearly gets the three count. Things predictably go haywire of course, as The Miz and Owens begin brawling and take their fight into the ring. And thus a No Contest was decided. Shane McMahon appears, and declares that all four men will instead compete later on in the night in a tag team event. Stephanie also appears, saying that the better teams for the night will be The Miz and Cesaro versus Owens and Zayn.
Kevin Owens and Sami Sayn defeated The Miz and Cesaro
Cesaro got early hits in again on Owens, while Zayn was relentlessly mocking the big guy. Zayn got tagged in, worked the shoulder area of Cesaro and then went on the attack when The Miz was the legal man. Everyone got some big shots in during the match, with Owens hitting an impressive second rope missile dropkick on The Miz and Cesaro landing the Skull Crushing Finale. Zayn would hit The Miz with a knee to the face, winning the RAW match and then getting knocked out by Owens afterwards.
Backstage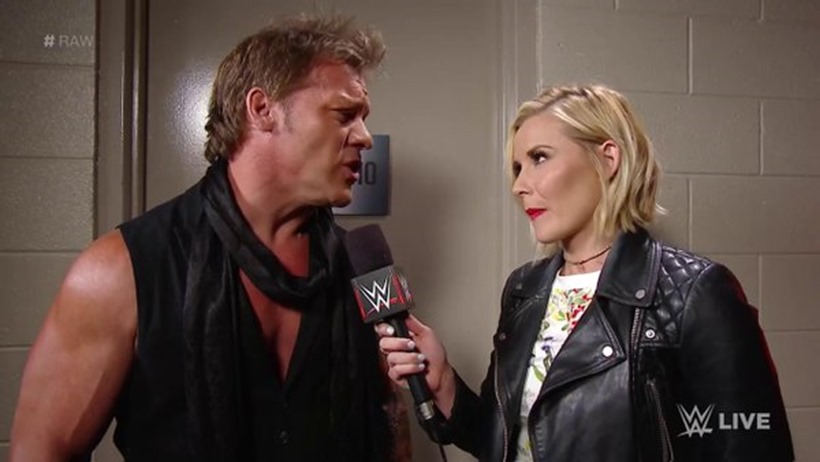 Chris Jericho claimed that Dean Ambrose would apologise for ripping his expensive jacket apart, saying that it was more iconic that even Andre the Giant.
Primo and Epico defeated Scott Jackson and Brian Kennedy
"The Shining Stars" had a very short squash match against some jobbers, cutting promos about how awesome Puerto Rico is afterwards.
Dean Ambrose is in the ring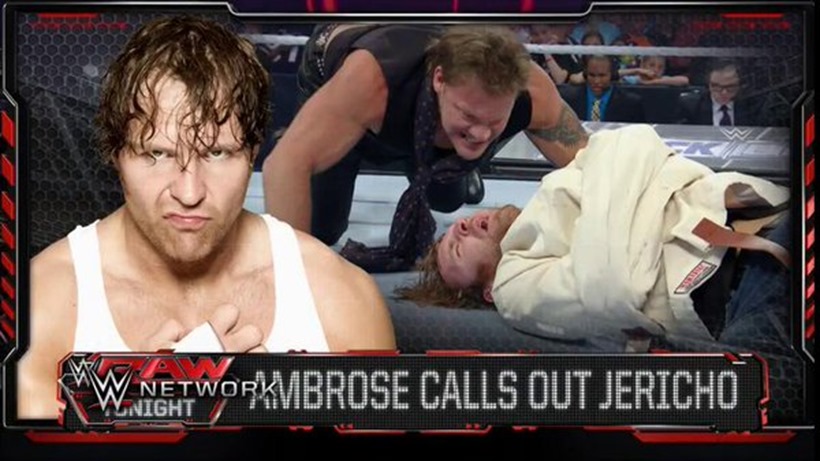 And he wants a piece of Chris Jericho. Y2J appears, demanding an apology, but Ambrose challenges him to a match at Extreme Rules instead. Jericho accepts, says that he's the real lunatic on RAW and that no one else on the roster can match his crazy. Ambrose says that he has a gift for Jericho before he leaves, which happens to be a steel cage filled with weapons descending from the top. Ambrose calls it the true Ambrose Asylum, a rusty metal cage filled with kendo sticks, mops, a 2×4 and a straight jacket.
Dana Brooke defeats Becky Lynch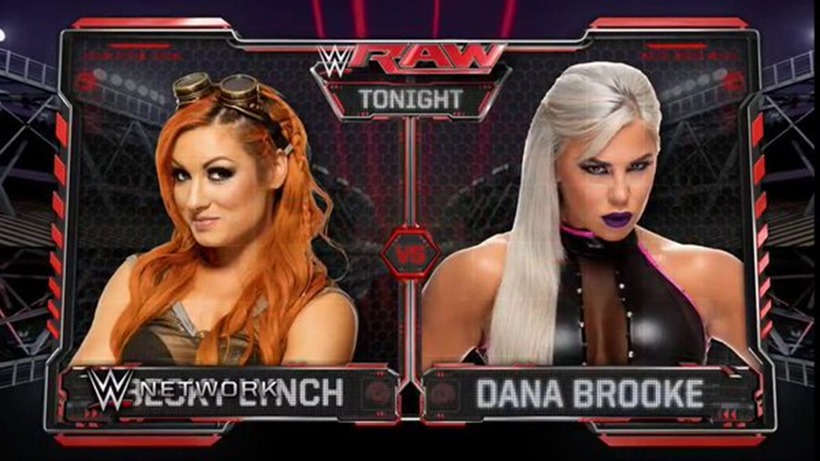 A back and forth match between the two superstars, until Dana reverses a Sunset Flip from Becky and gets the three-count on her latest RAW match.
Backstage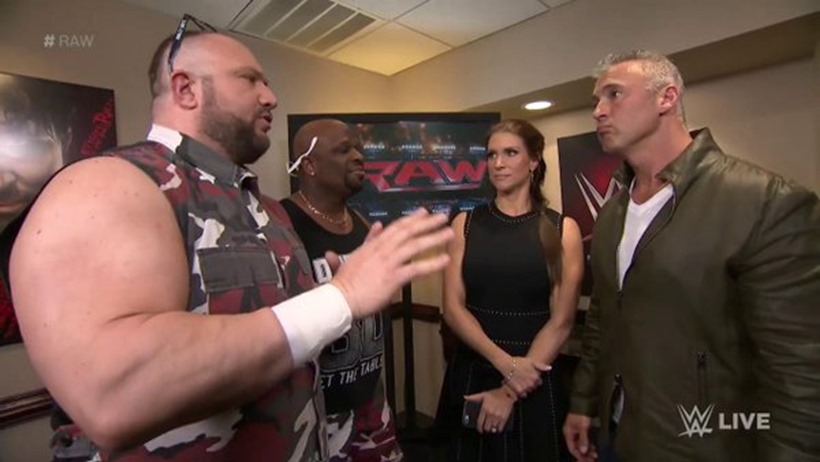 Shane and Stephanie are discussing their recent disagreements, but get interrupted by the Dudley Boyz who want some "local little guys" to squash on RAW. Shane decides on giving them some actual competition, as Bubba Ray Dudley will take on Big Cass.
Tyler Breeze and Fandango defeated R Truth and Goldust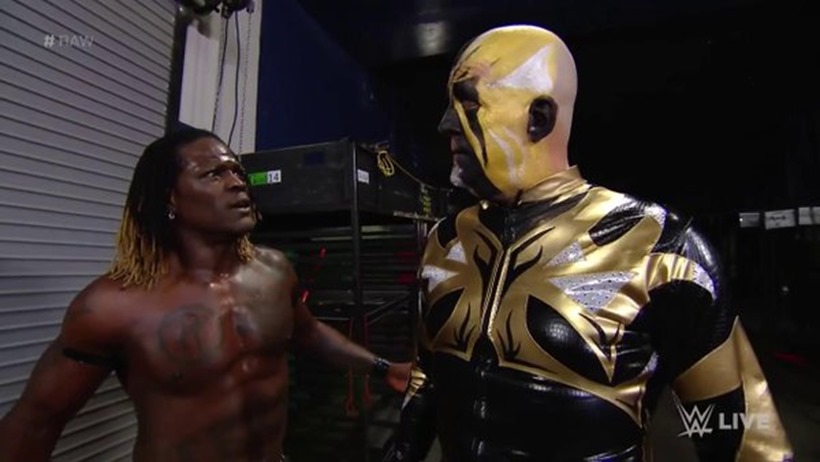 Oh it's on. The most bizarre angle in RAW history has come to a head, as the two teams go at it. Goldust and R-Truth are working in solid tags, until R-Truth misses a spinning heel kick on Tyler Breeze and knocks Goldust out instead. Breeze tosses R-Truth out of the ring, gets Goldust in and pins the bizarre one for the wing. Goldust is not happy.
The New Day is in the ring
And they say that they have a time machine. Which happens to be an old fridge box in the ring. The New Day time travel, and reappear with fake moustaches as they continue to mock the Vaudevillains. Who then appear and ambush the popular fellas.
The Usos defeat Karl Anderson and Luke Gallows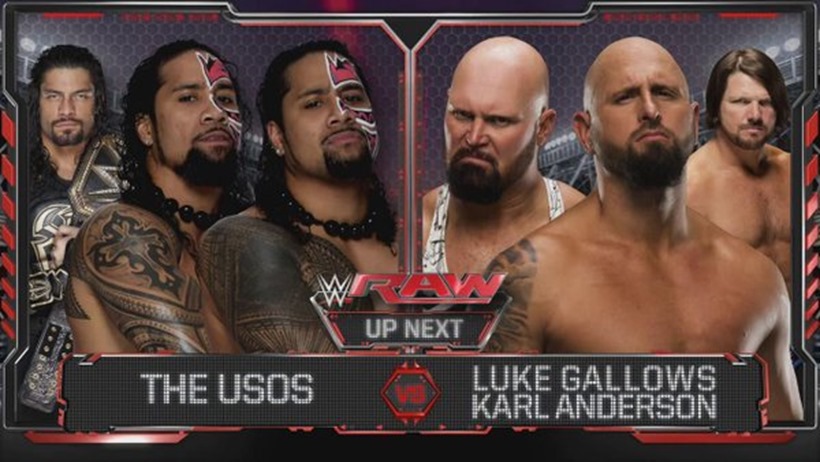 AJ Styles and Roman Reigns are both ringside, as Jimmy Uso and Karl Anderson square off. Jimmy gets in some big offense, tagging in Jey who gets splashed by Gallows. While the two teams get in some hot tags, Reigns and Styles start bickering, with Jey Uso hitting some big splashes outside and inside the ring. It's that final splash which proves to be his undoing, as Gallows catches him and reverses into a spinebuster. But The Usos bounce back, landing double superkicks and a splash on Anderson to pick up the win.
Reigns and Gallows are still in each other's faces, until Gallows clobbers the guy from behind. The Usos join in, leaving AJ alone in the ring with Reigns. AJ tries to hit Reigns with a steel chair, but Reigns counters with an uppercut, grabs the chair and demolishes AJ with it. Reigns then lands Superman punches on the Bullet Club, but then walks into steel chair shots from Styles and a Styles Clash to leave him broken for the night.
Big Cass defats D-Von Dudley
Bubba Ray tried to distract Big Cass with a table, but the bigger man came back and hit the one half of the Dudley Boyz with a spinning sit-out side slam finisher to win a very quick match on RAW.
Alberto Del Rio defeats Kalisto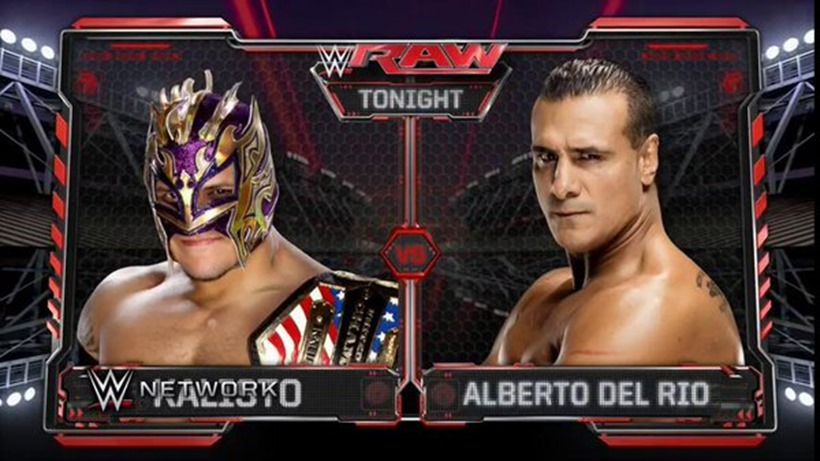 Alberto Del Rio and Kalisto pulled off some big offense during this match, with flying head-scissors, hurrincanranas and foot stomps galore. Kalisto would eventually get distracted by Rusev assaulting Sin Cara at ringside, allowing Del Rio to sneak in a Backstabber and get the three-count.
Women's Championship Submission Match contract signing for Extreme Rules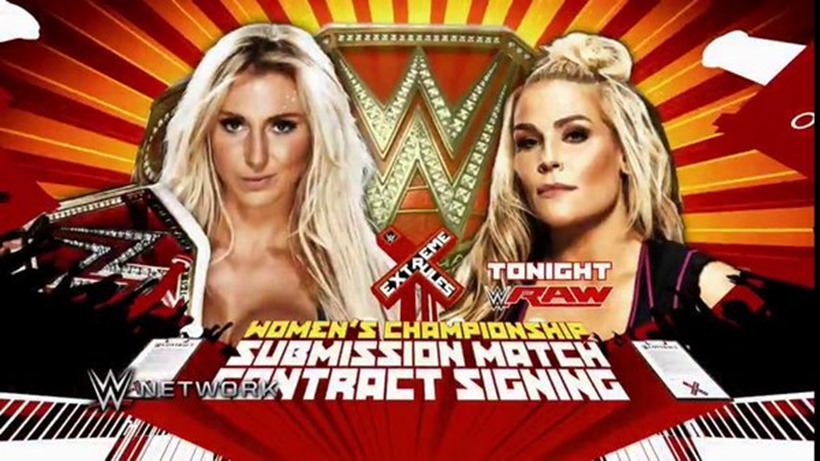 Shane and Stephanie are back in the ring to see the contract signed for the Women's Championship at Extreme Rules. Ric Flair woos his way in, introduces Charlotte and heads down to the ring. Natalya appears shortly afterwards. And if you guessed that the two ladies would talk smack, get in each other's faces and the night would end with Natalya putting Charlotte in the Sharpshooter yet again, you'd be 100% right.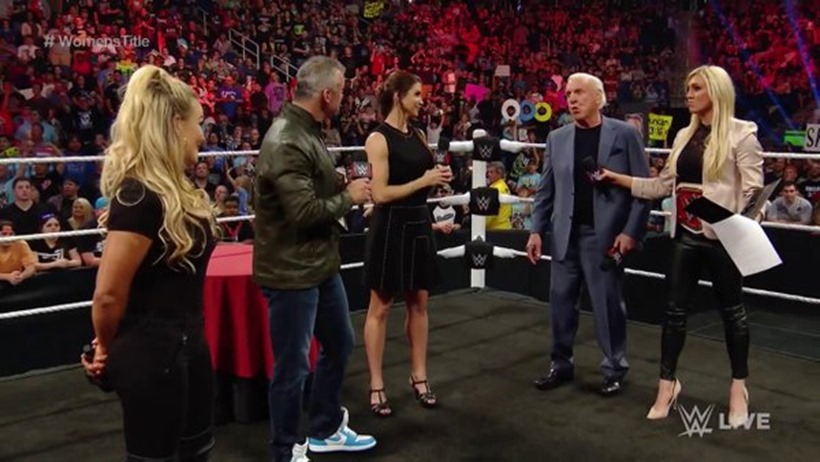 And that was Monday Night RAW!
Last Updated: May 17, 2016