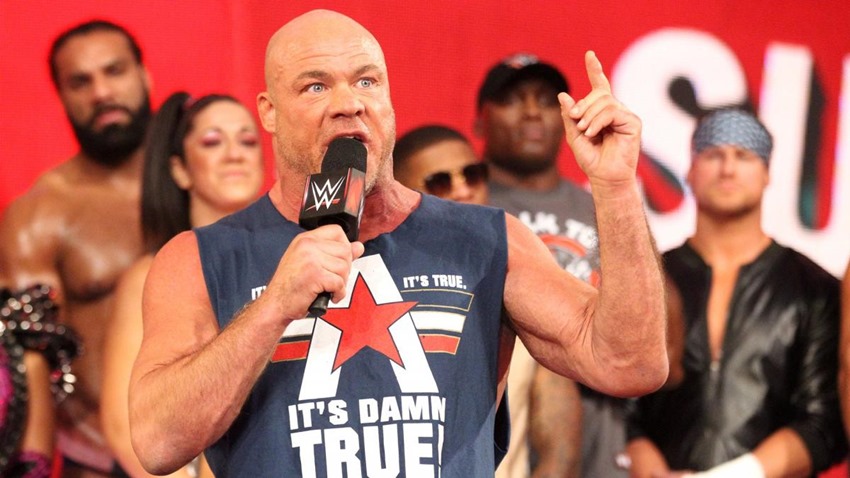 WWE Monday Night RAW took place from across the pond in Manchester, England this week. Here's all the action that went down on the road to Survivor Series.
Baron Corbin named Alexa Bliss as captain of Raw's Women's Survivor Series team; Braun Strowman attacked Corbin
The lone wolf sure does have some big ambition lately. After the acting general manager named himself team captain for the RAW Survivor Series team and Alexa Bliss captain of the women's team for the upcoming event, Corbin attempted to brush off his attack on Braun Strowman at WWE Crown Jewel as nothing more than a learning experience. The RAW Roster was none too pleased with the decision however, as Kurt Angle challenged Corbin for the position of team captain.
Strowman certainly did learn something that night: A newfound hatred for Corbin, as the monster amongst men appeared and was hungry for revenge after Corbin cost him the WWE Universal title, chasing the GM and starting a huge brawl in the ring.
Sasha Banks, Bayley and Natalya vs. The Riott Squad ended in a No Contest
With the authority to choose her own team for Survivor Series, Alexa Bliss pitted the Riott Squad against Bayley, Sasha Banks and Natalya. Deciding to strike at the heart of the team that had been assembled before them, the Riott Squad got their hands on Natalya's good luck charm: A pair of sunglasses that her late father Jim "The Anvil" Neidhart would often wear to the ring.
With Ruby Riott breaking the sunglasses right in front of Natalya as she had Sarah Logan in the Sharpshooter, the match ended with a brawl and a no contest ruling.
Apollo Crews def. Jinder Mahal
In a rematch with former WWE Champion Jinder Mahal, Apollo Crews had to dig deep to survive the modern day maharaja's ruthless offense, as well as interference from Sunil Singh at ringside. One a press-moonsault later, and Crews added some more footage to his reputation as a human highlight reel.
AOP def. Seth Rollins to become the new Raw Tag Team Champions
It ain't easy being a tag team champion, but holding the belts in a team of one? The gold was never going to stay with Seth Rollins for long after Dean Ambrose's betrayal, and last night the Kingslayer found himself having to defend a title that he was more than ready to forfeit moments earlier. Forced into a match against AOP by RAW acting general manager Baron Corbin before he could officially relinquish the gold, Rollins was dismantled by the team and fed a powerbomb-neckbreaker combo that saw the NXT legends crowned as the new tag team champions.
The night wasn't over yet for Rollins however, as Dean Ambrose finally appeared and offered to tell Rollins why he betrayed him. Only instead of a revelation, Rollins got a Dirty Deeds from his former brother in arms instead.
Elias def. Dolph Ziggler
Dolph Ziggler's night at Crown Jewel was one that the show-off would prefer to not remember, as his ascent to the finals of the WWE World Cup saw Shane McMahon snatch victory away from him at the eleventh hour. Last night was no different, as Ziggler's talented offense saw him get too cocky, allowing Elias to land the Drift Away and clinch the match victory.
Nia Jax confronted Raw Women's Champion Ronda Rousey
While Ronda Rousey may be focused on her match against Smackdown LIVE Women's champion Becky Lynch at Survivor Series, Nia Jax was more than happy to remind her that even the self-proclaimed baddest woman on the planet, had never faced an irresistible force such as her before.
Nia Jax def. Ember Moon
Moving on from trash talk, Nia Jax hit the ring to face off against the war goddess Ember Moon. Moon may have had plenty of fire in her tank, but a Samoan Slam from outta nowhere put her down for the count, while her enforcer Tamina joined in on a post-match beatdown on her opponent. Looks like Ronda Rousey is going to need plenty of eyes in the back of her head for when she faces Jax for the RAW Women's championship.
Bobby Lashley def. Finn Balor
Drew McIntyre def. Kurt Angle
Kurt Angle versus Baron Corbin? Nope! While the acting GM had fled the arena to avoid the wrath of Braun Strowman, he appointed Drew McIntyre in his place to battle angle. Angle may have had the Olympic talent on his side, but McIntyre managed to slip through his offense and beat Angle with his own Ankle Lock. Deciding to send a message to the roster, McIntyre and Dolph Ziggler engaged in a classic post-match beatdown that was broken up at the last second by the rampaging monster amongst men, as Braun Strowman was hellbent on giving his hands to somebody.
Last Updated: November 6, 2018