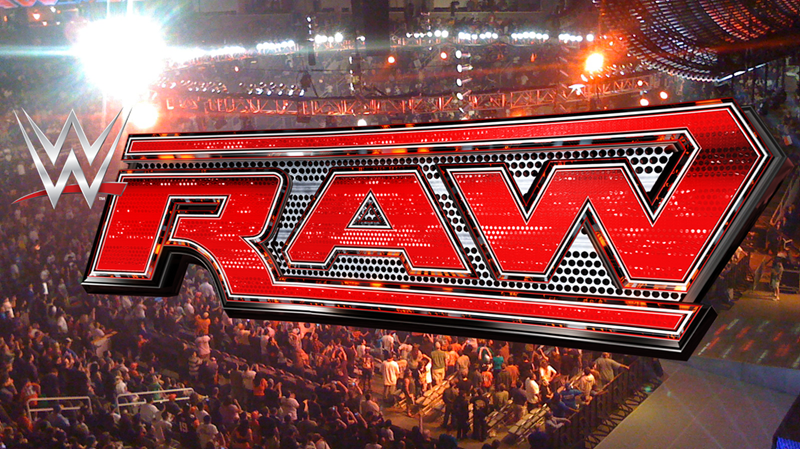 WWE Monday Night RAW featured a ton of matches this week, as just about every superstar on the roster was in action. Here's who won and lost last night.
Opening segment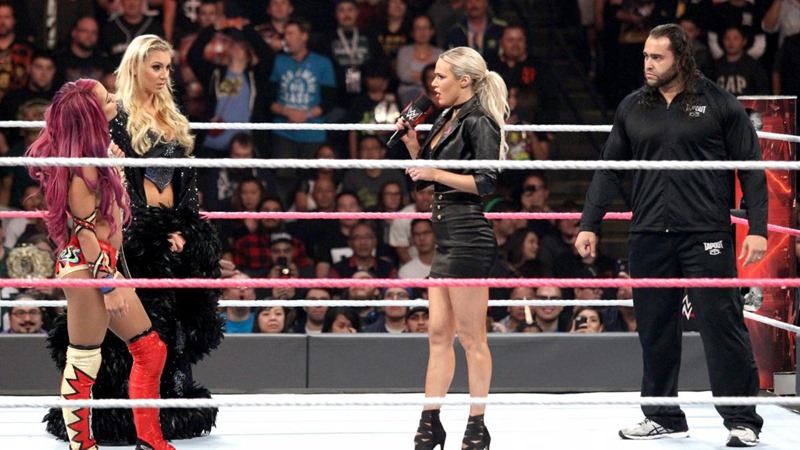 Sasha Banks and Charlotte kicked off RAW this week, with an announcement that the RAW Women's Championship would be defended in a cage match at Hell In A Cell. Rusev and Lana made their way down to the ring, with Lana talking trash and starting a feud for the microphone as every superstar in the ring wanted time to talk.
US Champ Roman Reigns then made his way down to the ring, an appearance which resulted in Rusev ducking backstage instead as Reigns showed off his championship belt. The audience was then informed that Paul Heyman would make an announcement later, regarding certain comments made by Bill Goldberg about the WWE from early last week.
The New Day had some words for Cesaro and Sheamus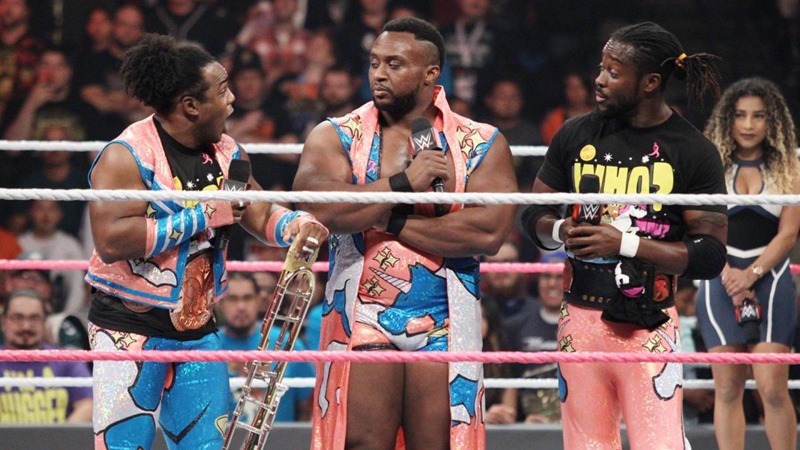 Big E, Kofi Kingston and Xavier Woods were in the RAW ring next to do some of their usual banter, promising Cesaro and Sheamus that their Tag Team title match will show the world why The New Day was the best team of all time. And with that being said, it was time for a match! Next up, Cesaro would be taking on Kofi Kingston.
Kofi Kingston defeated Cesaro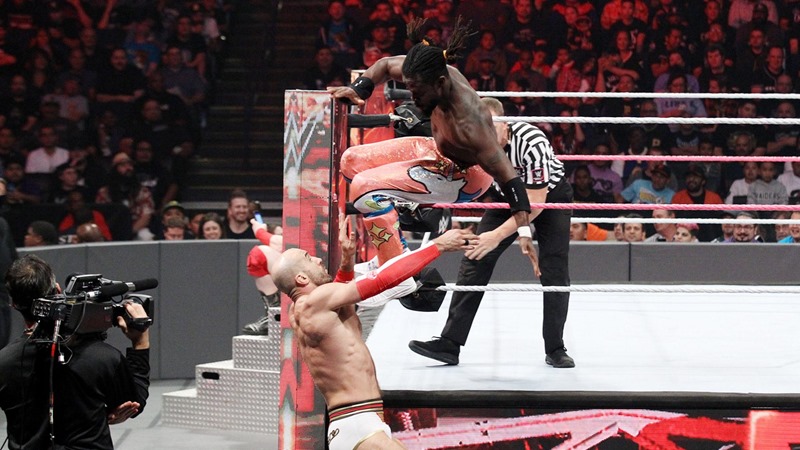 Sheamus may have been present for this RAW match, but he was far too occupied with a livestream on FaceBook to give his tag partner Cesaro any support. Lots of offense went down in this match, with Cesaro eventually taking a lead with a elbow off the top rope and a running uppercut as he countered Trouble in Paradise from Kingston.
The uppercuts were being dished out aplenty from Cesaro, while Sheamus and Xavier Woods started getting aggro at ringside. With Big E also getting involved, Cesaro was distracted just long enough for Kingston to sneak in a roll-up pin and get the first win of the night.
Bayley defeated Cami Fields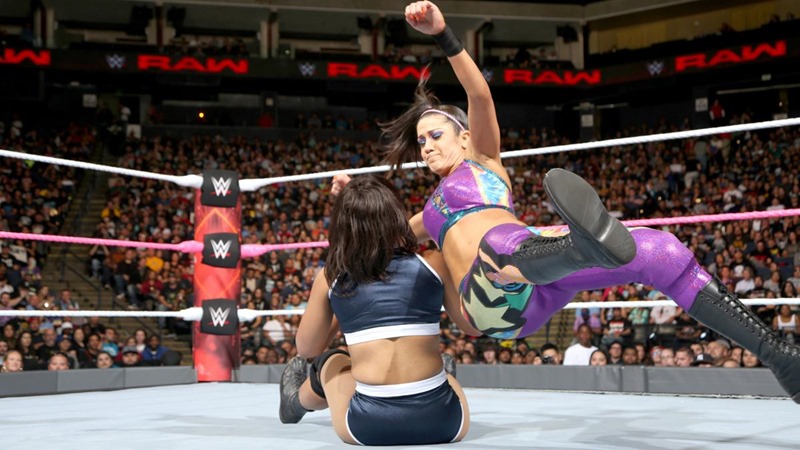 NXT darling Bayley is up next, as she locked horns with local talent Cami Fields. She may have started strong, but Cami Fields took the advantage soon enough to dish out some damage. Recovering from that assault, Bayley decided to end the match with her signature Bayly-to-Belly Suplex, with a three-count quickly following. Are you happy now Jim?
Victory was short-lived however, as Dana Brooke appeared for a beatdown around the entrance area of the RAW stage, leaving the fan favourite wrestler out for the night.
Backstage
Chris Jericho was on the phone with somebody, and he wasn't too happy as he waxed lyrical about just how good a wrestler he was. Telling whoever who was on the line to "do their job and get him that big payday," that triggered R-Truth to make an appearance and hand Jericho a Payday bar of candy. Which Jericho didn;t find funny, much like anyone else who was watching the bit. That's another name for the list then.
Sin Cara and Lince Dorado defeated Drew Gulak and Tony Nese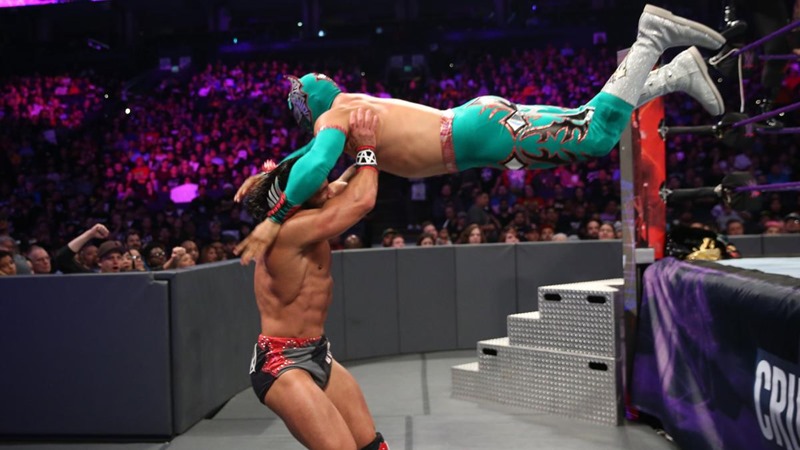 Next up on RAW, cruiserweight tag team action! Gulak and Dorado were in the ring first as this bout kicked off, but Gulak was happy to quickly tag in Nese instead. Nese entered the ring and got a face full of Dorado's boot, as Sin Cara tagged in and continued the assault. Sin Cara and Dorado were in fine form as a cohesive team, while Gulak and Nese finally got on the same page and also used some teamwork to deal damage.
The finish line was drawing nearer however, as both teams racked up momentum and damage. With Lince Dorado on the top rop, he landed a Shooting Star Press on top of Gulak for the full three-count, ending another great cruiserweight match.
Mick Foley was in the ring to talk about Hell In A Cell
RAW General Manager Mick Foley bumped into his boss Stephanie McMahon, who told the GM that she'd like to be present for his speech on the first ever Hell In A Cell match for the Women's Championship. In the RAW ring, Foley and Stephanie hyped the upcoming October 30 pay per view, telling the audience that Sasha Banks and Charlotte weren't getting what they wanted but what they actually deserved.
A statement which of course triggered Chris Jericho and Kevin Owens to rock up for a new session of the complaints department, as the two were none too pleased that the WWE Universal championship would also be contested inside of Hell in a Cell. Jericho was in full heel mode, trash-talking Foley and adding his name to the list but Stephanie had a plan for Y2J.
He'd be facing Seth Rollins himself tonight, but with an added wrinkle: If Jericho won, he'd be added to the HIAC main event, turning the championship bout into a triple-threat encounter. An idea that pleased Jericho greatly, maaaaaaaaaan.
Sami Zayn and Neville defeated Curtis Axel and Bo Dallas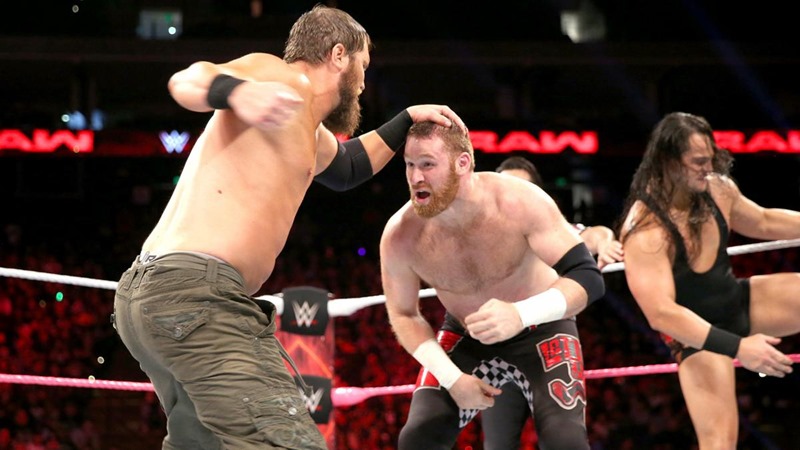 Another tag team match was on the card for RAW, as Bo Dallas reunited with Curtis Axel for some un-Bo-lievable action against Enzo Amore and Big Cass. With a new custom microphone for his massively loud mouth, Enzo popped up to do his usual schtick of trash-talking and catch-phrase dropping. Just in time for The Club to rock up and ambush the team, keeping them out of action for the night.
Clearly too damaged for a RAW match, Axel and Dallas fought the replacement team of Sami Zayn and Neville in a match that dodn't exactly last long. The power of bo-lieving was no match for the high-flying antics of Zayn and Neville, as both former NXT champions landed their signature moves on their competition and earned a quick victory.
Backstage
With a mixed teag team match scheduled for the night between Roman Reigns, Sasha Banks, Rusev and Charlotte later on tonight, Lana warned Charlotte to keep her hands away from her big Bulgarian partner.
R-Truth defeated Titus O'Neil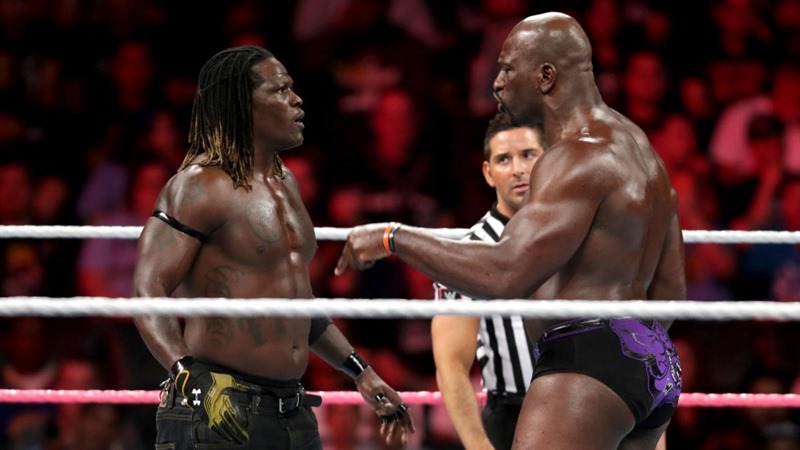 Some singles action next on RAW, as Titus O'Neil used his size and strength advantage to keep R-Truth grounded in a match that became a contest of speed vs power. O'Neil was in control for most of the match, but the distraction of Goldust at ringside gave R-Truth all the time he needed to sneak in a pin for the 1-2-3.
Braun Strowman defeated the Splash Bros.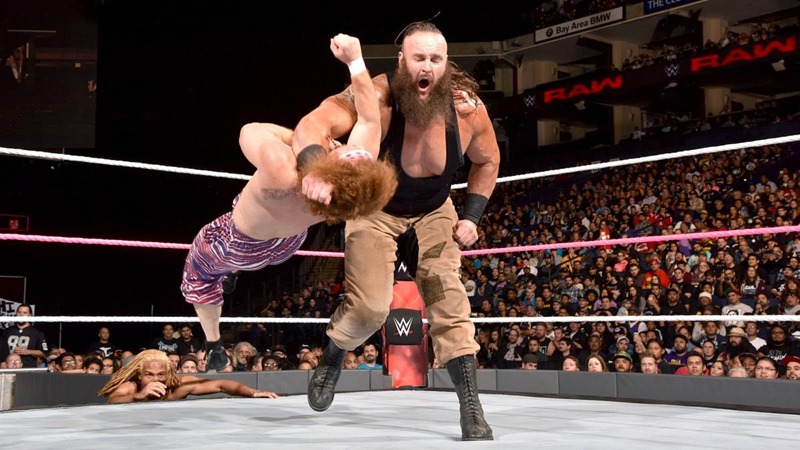 Tired of squashing local challengers on RAW, Braun Strowman finally got some proper competition. Sort of. Facing some local talent in a handicap match, Strowman once again easily squashed both jobbers for yet another quick win on RAW.
Raw Women's Champion Sasha Banks and U.S. Champion Roman Reigns def. Charlotte and Rusev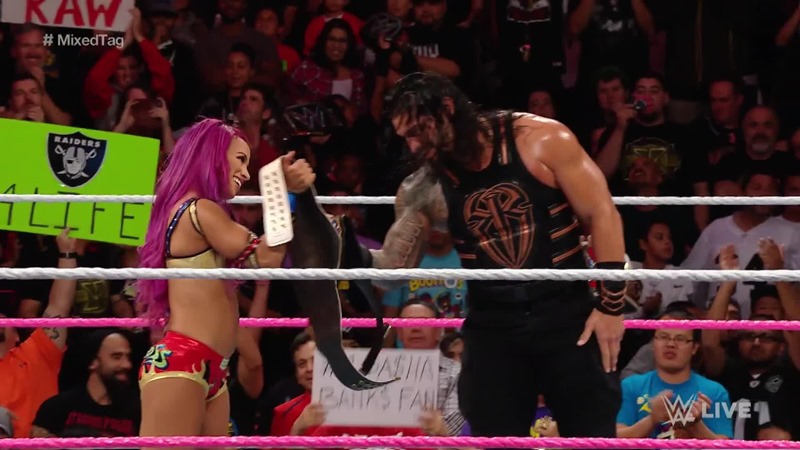 You don't often see a mixed tag-team match in action, but RAW had one! Reigns and Rusev kicked this RAW match off, but Charlotte and Sasha Banks quickly tagged in as they prepared to dish out some pain. Until Rusev quickly tagged himself back in, with Reigns quickly returning as well. Weird. Anyway, typical Reigns vs Rusev action, as heavy blows were spiced up with Superman punches and it looked like Reigns would get the three-count.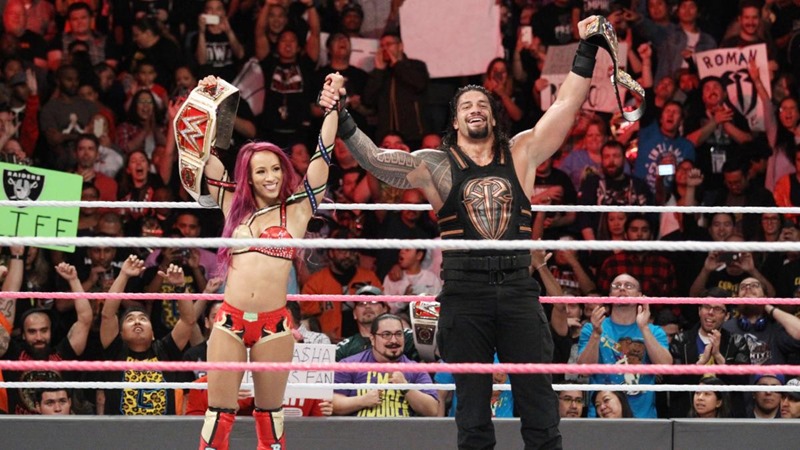 A sneaky Charlotte managed to pull Reigns off of Rusev in time however, which resulted in Banks popping up to deal with her. Rusev maintained control afterwards however, long enough for Charlotte and Banks to tag in once again and finally collide. Rolling Banks up in a hard pin, Charlotte instead fell victim to a Banks Statement finisher, while Reigns kept Rusev at bay with a spear. Unable to cope, Charlotte quickly tapped out as Reigns and Banks were declared the winners.
Paul Heyman challenged Goldberg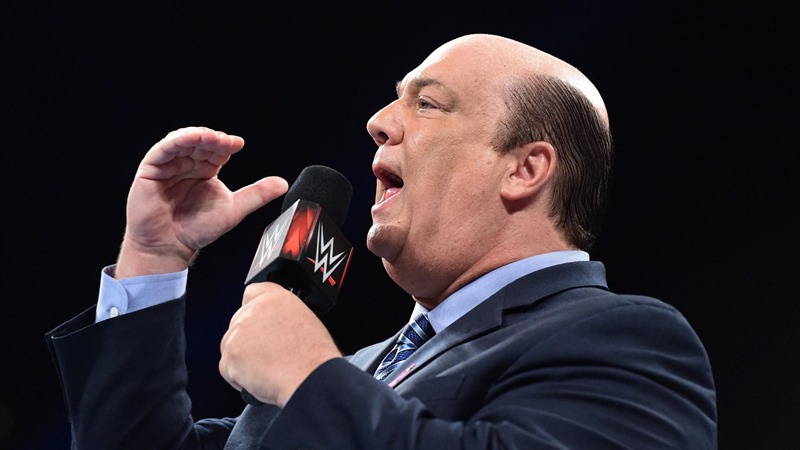 Paul Heyman was in the ring next, and he had some words for Bill Goldberg. Issuing a formal challenge, Heyman said that his client BUUUUUUUURRRROCK LEEEEEESNAR would be ready and waiting for him in a "One-on-one, icon vs. icon" match. Shortly afterwards, Goldberg took to Twitter to announce that he'd be at RAW next week to have a chat with Heyman…
WWE Cruiserweight Champion TJ Perkins defeated Ariya Daivari
The penultimate RAW match of the night featured TJ Perkins feuding with Ariya Daivari in another cruiserweight match, with Perkins taking the opening momentum. High action, higher top-rope moves as the two went at it but it was Perkins who would emerge as the winner thanks to a neckbreaker that was followed up with a kneebar that made Daivari tap out.
Seth Rollins defeated Chris Jericho to keep him out of the WWE Universal Championship Match at Hell in a Cell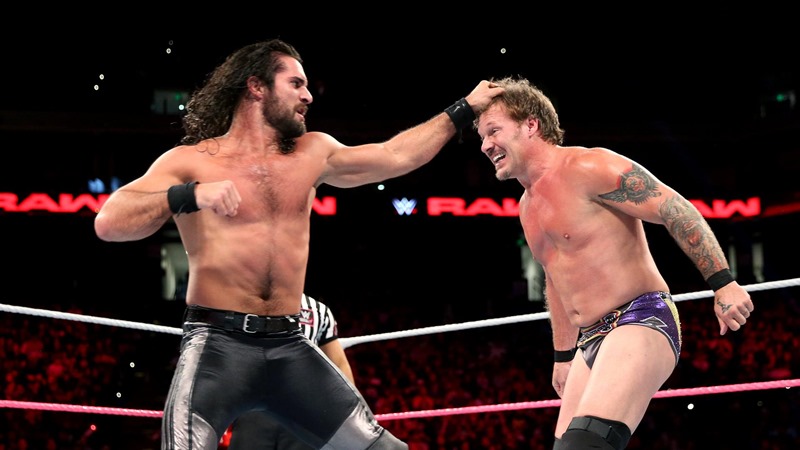 With a slot in the Hell In A Cell main event on the line, Jericho was hungry for victory. And apparently pain, as the Architect began dismantling Jericho from the moment the bell was rung. It wasn't long before Kevin Owens made an appearance however, as the action inside of the ring raged on. Taking the match towards the finishing line, Jericho reversed a Pedigree attempt into his signature submission move, which Rollins then reversed into a roll-up as he pinned Jericho and successfully prevented him from joining the Hell In A Cell championship bout as RAW ended for the night.
Last Updated: October 11, 2016