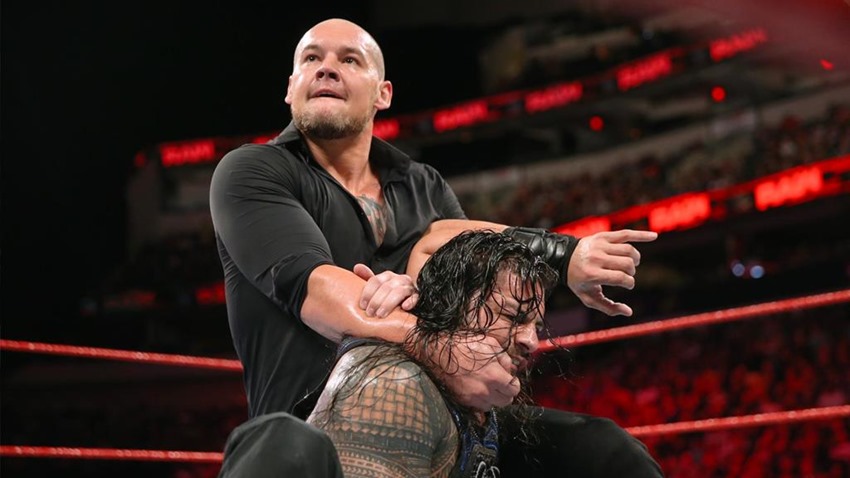 WWE Monday Night RAW took place from the American Airlines Center in Dallas, Texas. Here's all the action that went down the night after Hell In A Cell.
Acting General Manager Baron Corbin granted Brock Lesnar a Universal Title rematch
It should have been a clash of the titans at Hell In A Cell between WWE Universal champion Roman Reigns and Braun Strowman, but that main event was the victim of an unprecedented no contest ruling after Brock Lesnar busted his way into the cage and brutalised the men inside. Naturally, everyone wanted some measure of satisfaction and acting general manager Baron Corbin had the perfect solution: A triple threat match at WWE Crown Jewel in November, with the belt up for grabs at the Saudi Arabia return.
Only problem? Corbin thought that Reigns might be too injured to make it to Crown Jewel, and a new champion might be needed to step into the ring. So who better to win the belt off of Reigns, than Corbin himself later on in the main event of the night?
Raw Tag Team Champion Drew McIntyre def. Dean Ambrose
The bad blood between Drew McIntyre and Dean Ambrose boiled over last night in the first of a series of singles matches, as Ambrose finally got a chance to lay his hands on the mighty Scotsman. With both men still battered after Hell In A Cell, the finish came down to the superstars barely avoiding a countout loss, albeit Ambrose managed to climb back into the ring at the last second and run straight into a Claymore.
Chad Gable def. Viktor
Proving that he still has plenty of fuel in the singles tank, Chad Gable dominated Viktor of the Ascension last night, much to the delight of his tag team partner Bobby Roode and the audience in attendance.
The Undertaker revealed Kane would be in his corner against Triple H at WWE Super Show-Down
Bayley def. Dana Brooke
Despite having a commanding lead over Bayley in her singles match, Dana Brooke's overconfidence got the better of her as she soon fell into the iron grip of a Bayley to Belly suplex, taking a loss and a blow to her ego.
AOP def. Gregory James and Barrett Brown
Another week, another match where the Authors of Pain utterly trounced some local talent that might have well formed a tag team and called themselves Cannon Fodder.
Intercontinental Champion Seth Rollins def. Raw Tag Team Champion Dolph Ziggler
Much like the Dean Ambrose and Drew McIntyre match of earlier, neither man was at 100% in this bout. Seth Rollins may have been worse off for wear however, after taking a staggering tumble at Hell In A Cell when he fell off the cage last night, with Acting GM Baron Corbin even going so far as to suggest stripping Rollins of his Intercontinental title and hand the forfeited belt to Dolph Ziggler.
Rollins was having none of that however, and in a tight match the Kingslayer fought through his damage and eventually connected with a Stomp to the head of Ziggler.
The Riott Squad attacked Raw Women's Champion Ronda Rousey
RAW Women's champion Ronda Rousey may soon regret her decision to hold an open challenge for her title now that Alexa Bliss is out of the picture, as her throwdown last night with Ruby Riott and the rest of the Riott Squad saw her pounced on. The Bella Twins may have arrived to even the odds, but some damage was clearly done last night.
Elias def. Bobby Lashley via Disqualification
Bobby Lashley may have gotten a DQ loss thanks to the antics of Kevin Owens, but with the assistance of Lio Rush the former hardcore champion sent the prizefighter and Elias scrambling up the entrance ramp after he used Rush as a human bomb against the dastardly duo.
Nia Jax and Ember Moon vs. def. Mickie James and Alicia Fox
With Nia Jax back in the ring, Mickie James and Alicia Fox were hellbent on keeping the Irresistible Force out of action as they focused all of their effort on Ember Moon. Nia would eventually enter the mix however, tilting the match towards her and scoring a win with an almighty Samoan Drop on Fox.
Universal Champion Roman Reigns def. Acting General Manager Baron Corbin
Baron Corbin may have thought that he'd be ending the night with the WWE Universal championship around his waist, but Roman Reigns proved that even a wounded big dog is still a dangerous big dog. Using all of the managerial powers that he had in his pocket, Corbin still couldn't put Reigns down, restarting the match and adding new stipulations.
Corbin's efforts were all for naught, as Dolph Ziggler, Drew McIntyre and Braun Strowman all got involved, with The Shield also making an appearance. Falling to a Spear from Reigns, Corbin's grab at the WWE Universal championship failed like so many others before him.
Last Updated: September 18, 2018