WWE Smackdown LIVE took place from the Legacy Arena in Birmingham, Alabama. Here's all the action that went down ahead of the Battleground event this Sunday.
Jinder Mahal brought the Punjabi Prison to SmackDown LIVE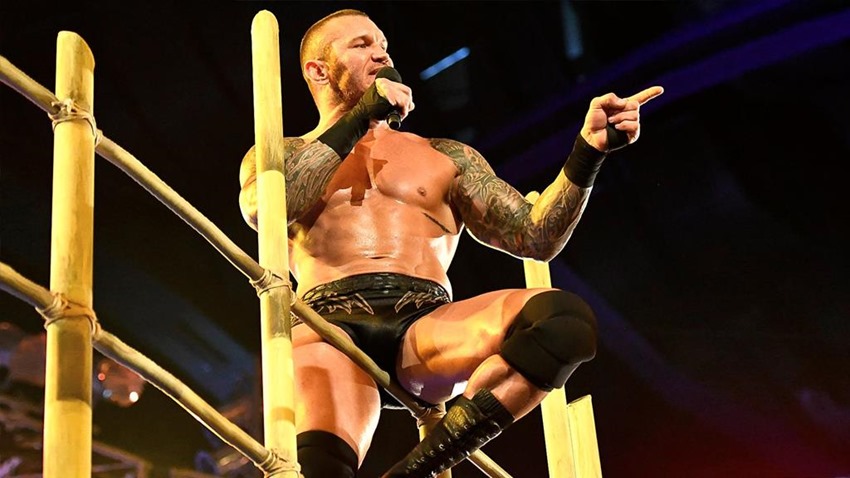 That's…that's a lot of bamboo. WWE Champion Jinder Mahal promised a Punjabi Prison for Smackdown, and he didn't disappoint as the massive structure was unveiled on the show. Joined by his usual partners in crime Samir and Sunil of the Singh Brothers, Mahal was feeling pretty confident about his chances of annihilating Randy Orton inside the demonic structure at Battleground.
His ears burning, Orton arrived on the scene and climbed the jail cell, offering a rebuttal to Mahal: That his days were numbered, as Orton had nothing to lose and everything to gain.
Jimmy Uso def. Kofi Kingston
Smackdown LIVE can only have tag team at the top, as the war between the Usos and the New Day heated up with another singles match. Jimmy Uso took on Kofi Kingston, with his brother Jey Uso attempting to lend an illegal hand at ringside. Big E and Xavier Woods were wise to those those shenanigans however, keeping Jey out of the picture long enough for Kofi to attempt a thunderous crossbody on Jimmy.
Jimmy saw the move coming though, caught it in midair and used that momentum to lock Kofi into a pin that he just couldn't kick out of.
Mike Kanellis def. Sami Zayn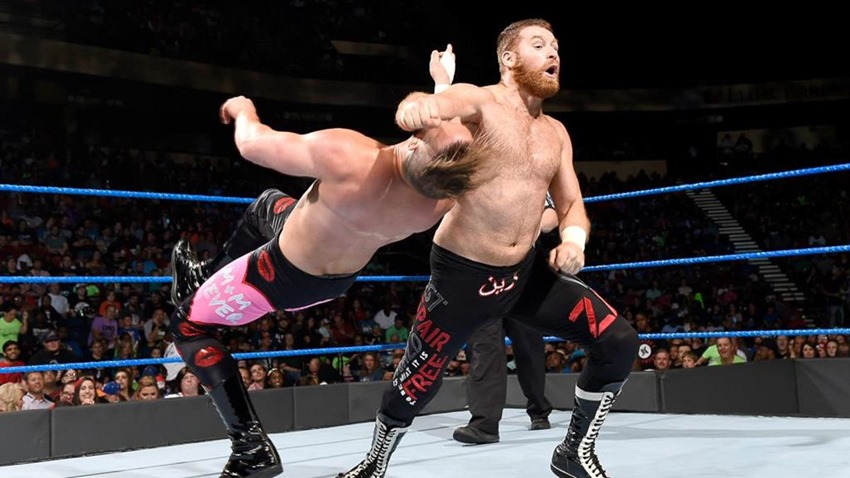 Nobody cares about this stupid power of love segment. Mike Kanellis picked up a win in his debut match on Smackdown LIVE, thanks to his wife Maria running interference.
Rusev blindsided John Cena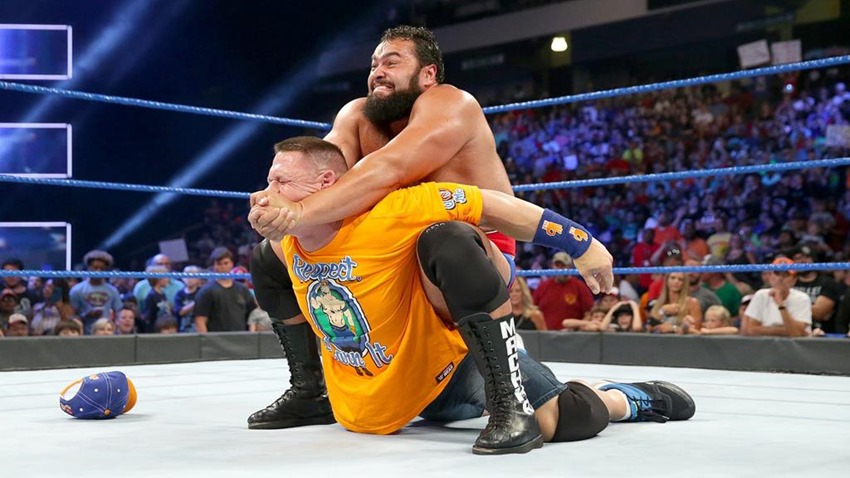 John Cena is back in the WWE, and he's already made a new enemy for life. With Rusev looking to demolish the former WWE champ in an upcoming Flag Match at Battleground, Cena hit the ring to talk about just how personal this match is for him. Patriotism and all that. Cena's national pride was cut short by Rusev, as the Bulgarian Brute pounced on Cena and planted his own flag in the ring for his beloved homeland.
Becky Lynch def. Charlotte Flair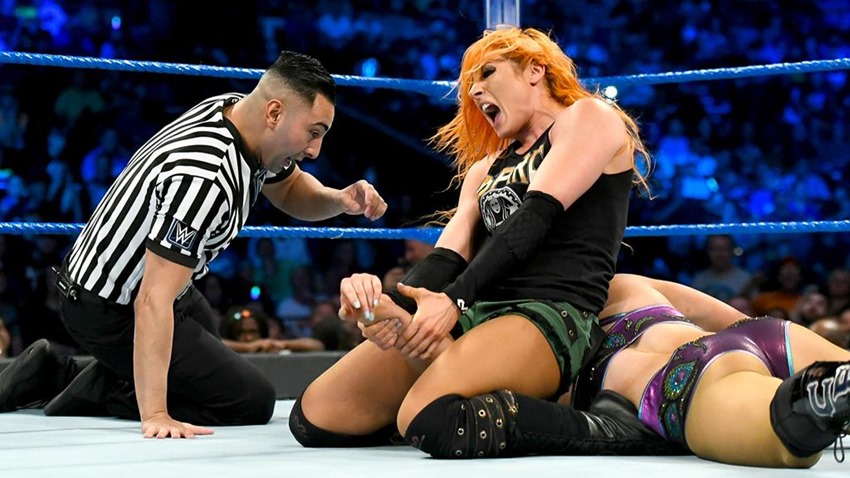 Deciding that this Sunday's upcoming Fatal Five-Way in the women's division needed to give the audience a teaser of things to come, Smackdown Live Commissioner Shane McMahon chucked Becky Lynch and Charlotte Flair into a match against one another. The Lass-kicker proved to be the dominant force last night, locking Charlotte into the Dis-Arm-Her to pick up a submission win.
And then Tamina and Natalya decided to attack, with betrayals aplenty.
Kevin Owens and Baron Corbin def. AJ Styles and Shinsuke Nakamura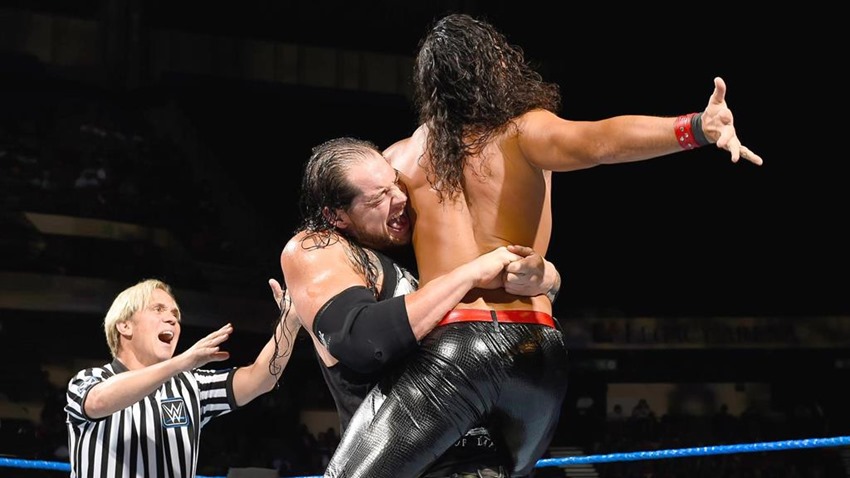 Deciding to settle for a tag team match ahead of their singles face-offs at Battleground, Shinsuke Nakamura joined forces with AJ Styles to finally get his hands on Baron Corbin and Kevin Owens. The main event belonged to the heels, as despite an amazing display of in-ring skill from Styles and Nakamura, the crafty nature of the Prizefighter saw him blind tag into the match and KO Styles with a Superkick and Pop-Power-Bomb combo.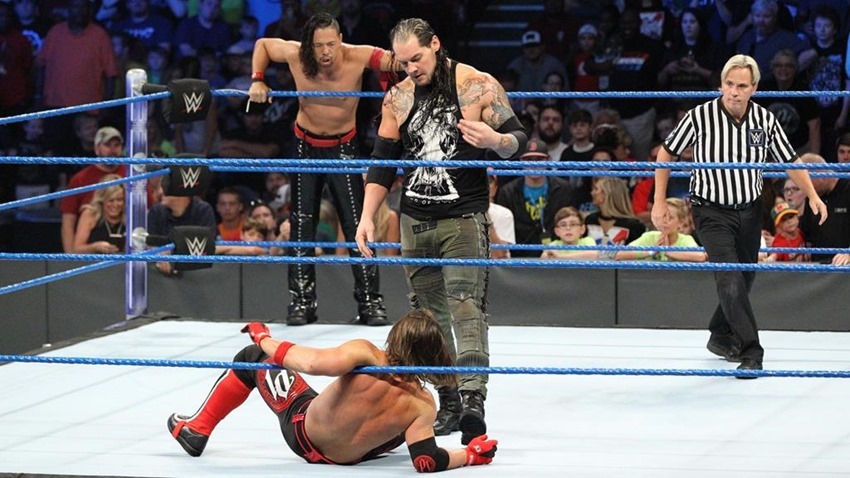 Last Updated: July 19, 2017