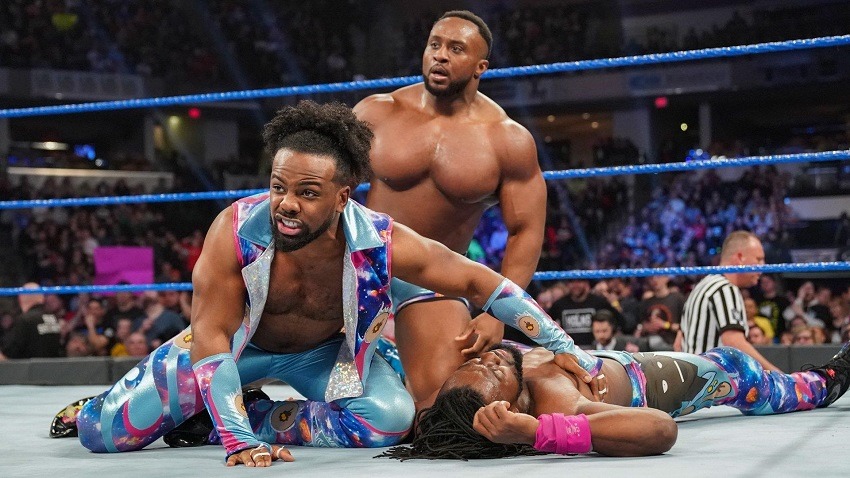 WWE Smackdown LIVE took place from the Bankers Life Fieldhouse in Indianapolis, Indiana. Here's all the action that went down on the road to Wrestlemania.
The Miz addressed Shane McMahon's savage assault
With the scars of Shane McMahon's betrayal still fresh, The Miz kicked off Smackdown LIVE with a session of honesty as he claimed that he did indeed plan to use his boss as another stepping stone to the top of the WWE. The catch here? Working with Shane resulted in The Miz having a change of heart, as the A-Lister began to value their friendship.
After being stabbed in the back, that friendship was over. The Miz was clear in his intentions. While he had used plenty of devious methods in the past to find success, he'd never been lazy in his approach. As for Shane, who'd been handed everything to him by his family and status? He'd just worked himself up for a beatdown at Wrestlemania.
The IIconics def. Sasha Banks and Bayley
Normally the old saying is that you need to be careful what you wish for, but after weeks of challenging the Boss 'n Hug connection to face them on Smackdown LIVE? The Iiconics managed to pull off a huge upset victory over the tag team champs, thanks to some of their usual shenanigans at ringside.
Becky Lynch and Charlotte Flair got into a wild brawl on "The Kevin Owens Show"
Urgh, wrestler talk shows. Only Roddy Piper could do them right. And Chris Jericho but anyway you know the schpiel. Chat, insults and flying fists.
Kofi Kingston was blindsided when Mr. McMahon added Daniel Bryan to the Gauntlet Match
Kofi Kingston had a hell of a mountain to climb if he wanted a shot at Daniel Bryan's WWE Championship, as The New Day's high-flyer found himself locked in a gauntlet match against five of Smackdown LIVE's toughest bruisers. Kingston started out strong, bringing pressure to Seamus and knocking out the Celtic Warrior with Trouble in Paradise.
Cesaro would be next, but his onslaught would also be halted and Kingston would triumph again. By the time Rowan appeared, Kingston was clearly running on an empty tank and found himself in a one-sided brawl that ended in a disqualification for the intellectual giant after he introduced a steel chair to the ring.
Broken and battered after being subjected to an Iron Claw Slam, it was Samoa Joe who marched out next to pick at Kingston's carcass. Surprise! The Samoan Submission Machine found himself caught in a surprise roll-up, and vented his anger on Kingston with a Coquina Clutch before he left the ring. Only one man was left to face the dreadlock Dynamo, and that man was the Apex Predator himself, Randy Orton.
Somehow, Kingston managed to survive Orton's attacks, dodged an RKO and even managed to catch the Viper in a pin, winning the gauntlet. What should have been a night of celebration, ended in tragedy however when Mr McMahon revealed that Kingston had one more opponent to face before he could go to Wrestlemania: Daniel Bryan.
Bryan's attack was ruthless and simple, as a running knee connected with a depleted superstar who had nothing left to give. Kingston's Wrestlemania dreams, are well and truly over.
Last Updated: March 20, 2019