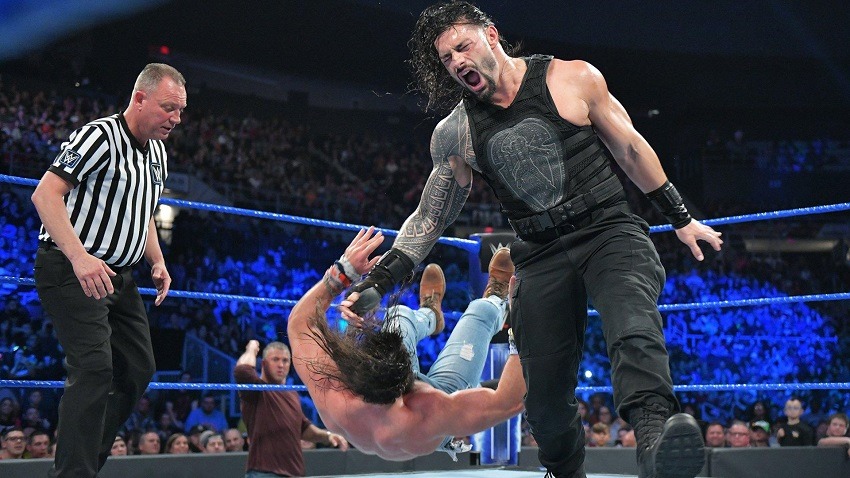 WWE Smackdown LIVE took place from the Dunkin Donuts Center in Providence, Rhode Island. Here's all the action that went down last night in the aftermath of Money In The Bank.
Kevin Owens and Sami Zayn crashed Big E's welcome-back party
The New Day is back to full strength! Well, almost. While Big E may not be ready to compete just yet as he recovers from injury, his return to Smackdown LIVE was the perfect excuse to throw a party. One that Kevin Owens and Sami Zayn looked to crash as their mouths run wild and they lobbed all manner of insults at the trio. Long story short: Sami Zayn would have plenty to prove later in the night, when he faced off against WWE champion Kofi Kingston.
Ali def. Andrade
Carmella vs. Mandy Rose ended with a 24/7 Championship chase of R-Truth
Sure, Carmella may have emerged triumphant last night but her victory was derailed by a bevy of Smackdown LIVE superstars looking to take advantage of the unique clause attached to R-Truth's title as the 24/7 champion. A chase ensued, R-Truth got the heck out of dodge and is still 24/7 Champion…for now.
Kofi Kingston def. Sami Zayn; Dolph Ziggler returned and brutally attacked Kofi
Well that was a topsy turvy match. With the action being interrupted by the appearance of Paul Heyman, Kofi Kingston was convinced that Brock Lesnar would be cashing in his Money In The Bank contract that night. Turns out, that it was Dolph Ziggler who would make an appearance instead, bringing a steel chair with him and laying out the champ.
Becky Lynch and Bayley def. Charlotte Flair and Lacey Evans
Dolph Ziggler explained his shocking attack of WWE Champion Kofi Kingston
In summation: IT SHOULD HAVE BEEN MEEEEEEEEEEEEEEEE!
Roman Reigns def. Elias
Last Updated: May 22, 2019