WWE Smackdown LIVE took place from the the Toyota Center in Houston, Texas. Here's all the action that went down last night.
Daniel Bryan intervened before Shane McMahon can fire Kevin Owens and Sami Zayn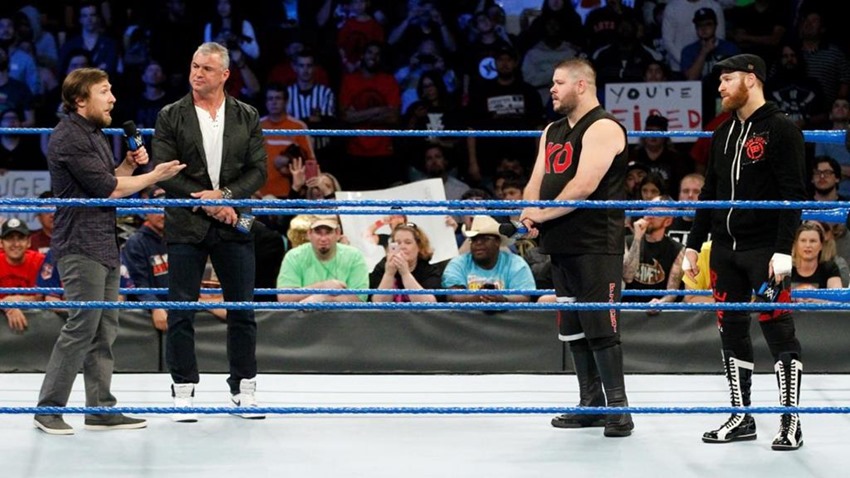 Smackdown LIVE Commissioner Shane McMahon has had a pair of thorns in his side recently, and the big boss has had enough. Having played a part in Smackdown LIVE losing the Survivor Series main event against RAW, Shane called the dastardly duo to answer for their actions. Showing no sign of remorse whatsoever, Zayn and Owens were on the verge of being fired until general manager Daniel Bryan offeredn an alternative idea.
With the entire roster upset over the actions of the duo, maybe now was the perfect time for Zayn and Owens to face The New Day…in a lumberjack match. Hoo boy.
Shelton Benjamin def. Jey Uso
The Usos may be the Smackdown LIVE tag team champions, but their titles might be in jeopardy as Shelton Benjamin and Chad Gable close in on the brothers. Hammering another nail into that coffin, Shelton Benjamin picked up a win in singles competition against Jey Uso, locking in Paydirt to pick up the pin while Gable and Jimmy Uso brawled around ringside.
The Bludgeon Brothers def. The Hype Bros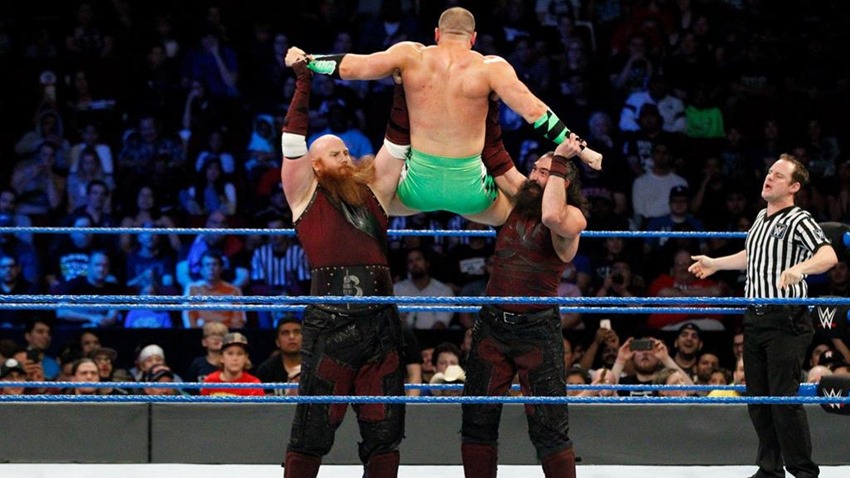 They may no longer be associated with the Wyatt Family, but Luke Harper and Erick Rowan are back and ready to make a name for themselvs as the Bludgeon Brothers. Facing off against the Hype Bros. from another mother, Harper and Rowan made quick work of Mojo Rawley and Zack Ryder, finishing off Rawley with an impressive new double-team bludgeoning move.
Jinder Mahal tried to get the leg up on AJ Styles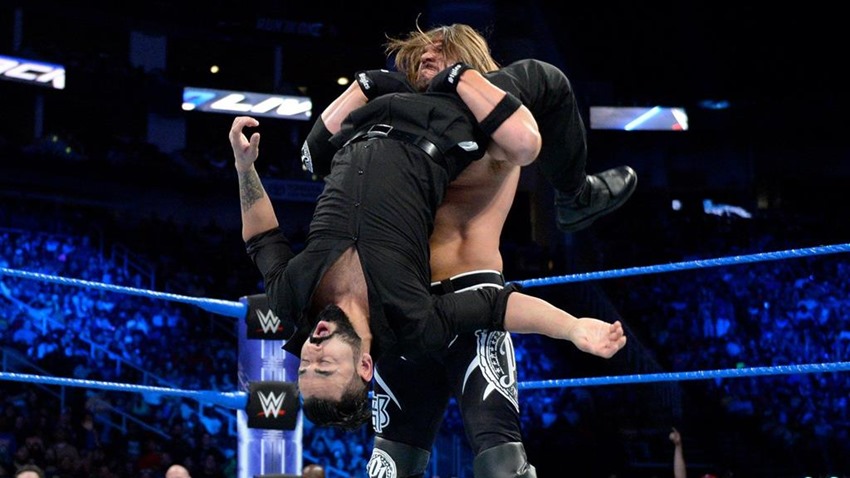 While WWE Champion AJ Styles may have failed to defeat Brock Lesnar at Survivor Series, the phenomenal one wasn't going to sit around waiting for his next challenge to come to him. Hitting the ring, Styles demanded that former champion Jinder Mahal exercise his rematch clause right then and there. Instead, Styles got Mahal on the Titantron, as the modern day Maharaja revealed that he would return to face Styles at Night of Champions and win back his title.
Styles was then ambushed by the Singh Brothers, but the minions were no match for the champ as he made short work of them with his signature Styles Clash.
Ruby Riot, Liv Morgan and Sarah Logan caused chaos during the SmackDown Women's Championship Match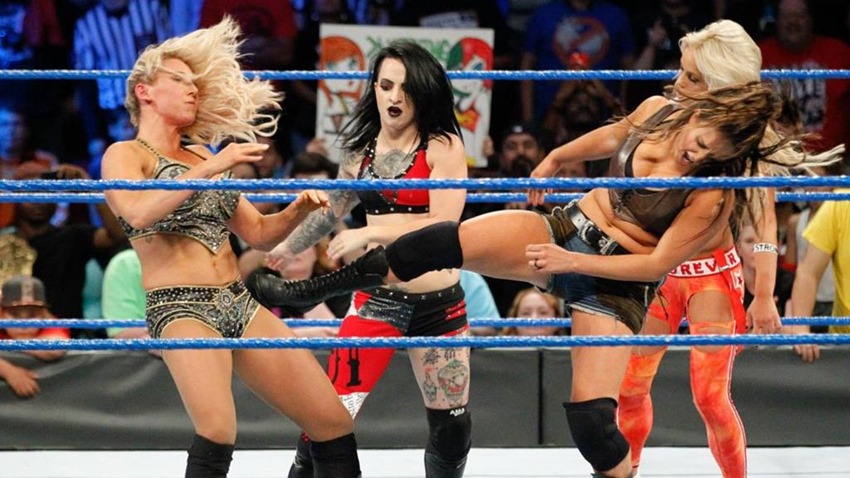 In a rematch for the SmackDown Women's Championship that Charlotte Flair had recently won, Natalya battled tooth and nail to win back the title that she had held. While their match was intense, it was also short as chaos erupted when Smackdown LIVE's newest members rushed the ring. Having assaulted Naomi and Becky Lynch backstage, Ruby Riot, Liv Morgan and Sarah Logan turned their attentions to Flair and Natalya as they sent a message to the entire women's division.
Kevin Owens and Sami Zayn def. The New Day in a Lumberjack Match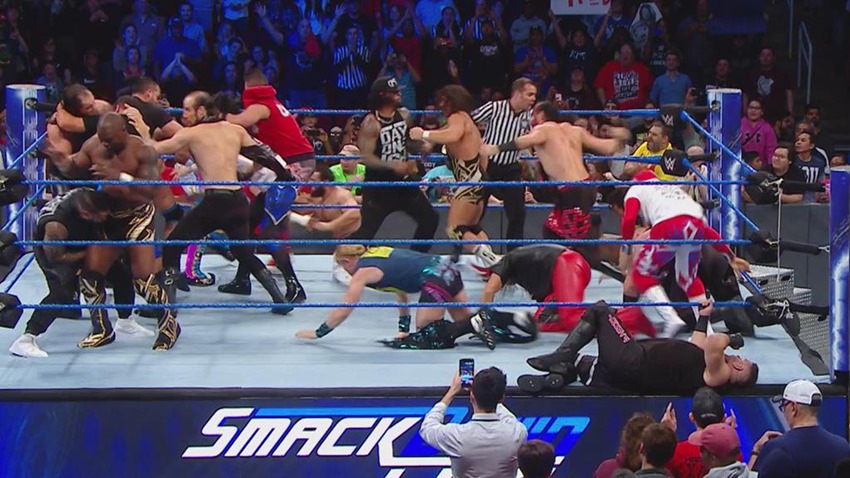 To say that the odds were stacked against Kevin Owens and Sami Zayn, would be an understatement. In danger inside and outside of the ring as the entire Smackdown LIVE roster surrounded the ring, Owens and Zayn barely survived the night when a ring ejection resulted in them being pounced on by angry superstars.
With so many superstars at ringside however, something was bound to go wrong. Owens and Zayn got a lucky break when a punch from Baron Corbin connected with Bobby Roode instead of Zayn, resulting in a massive brawl erupting. With that distraction, Zayn was able to catch Kofi Kingston in a sneaky pin to win the match, while Rusev and Aiden English attacked the rest of the New Day.
Zayn and Owens escaped, but it wasn't long before Trouble in Paradise and the Midnight Hour found its mark on Zayn when the New Day recovered. As for Owens? When he made it backstage, he was informed by General Manager that a returning superstar would have words with him in the ring next week when they faced off: The Viper, Randy Orton.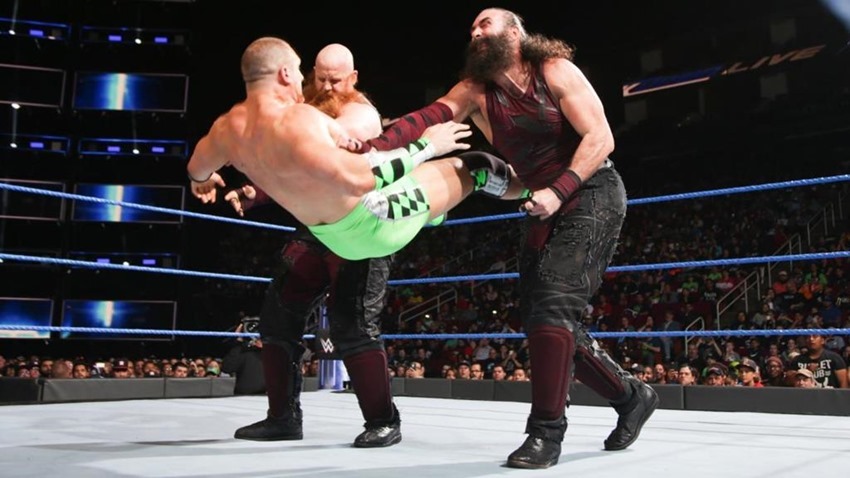 Last Updated: November 22, 2017