WWE Smackdown LIVE took place from the Huntington Center in Toledo, Ohio. Here's all the action that went down.
Shane McMahon announced the participants in this year's Money in the Bank Ladder Match
There may not be such a thing as a free lunch in life, but there is something almost as good: Money In The Bank. The WWE's annual event guarantees one winner a shot at any title of their choosing thanks to a contract within a magical briefcase, and Smackdown Commissioner Shane McMahon kicked off the show by announcing the six men who will be competing for the contract in the ladder match this year: AJ Styles, Baron Corbin, Sami Zayn, Dolph Ziggler, Shinsuke Nakamura and Kevin Owens.
All six men were in the ring. All six men were also ready to throw down right then and there, resulting in Shane McMahon making some matches on the spot for later in the night.
Charlotte Flair and Becky Lynch def. Carmella and Natalya
After the Smackdown welcoming committee taught Becky Lynch and Charlotte Flair a lesson or two at Backlash, the lass-kicker and the queen were out for some revenge. Thanks to some solid teamwork, Becky redeemed her tap-out loss at Backlash by Natalya, capturing Carmella in the Dis-Arm-Her to win the match and send a message to the Queen of Harts.
Sami Zayn def. Baron Corbin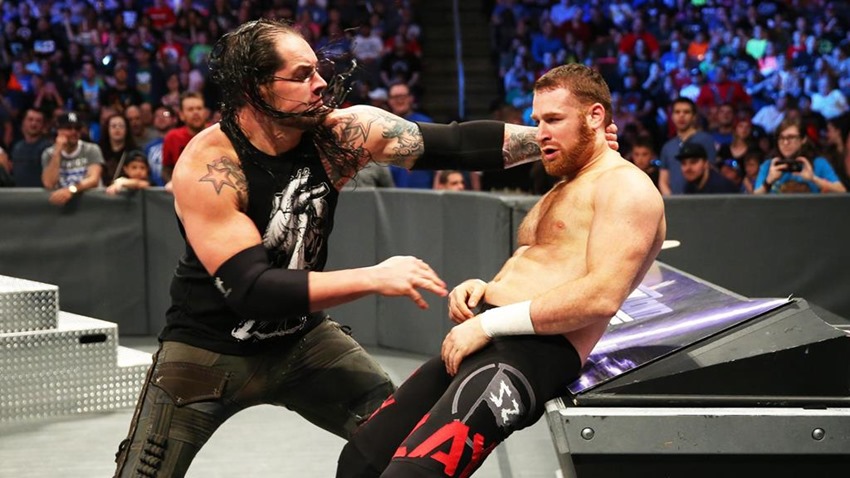 Sami Zayn happens to be earning a reputation as a giant-slayer lately, a title that he lived up to when he clashed with Baron Corbin on Smackdown and scored another win over the Lone Wolf with a quick roll-up pin. Furious, Corbin grabbed a steel chair and began introducing it to Zayn's back as he left the Underdog from Underground a broken mess for the night.
WWE Champion Jinder Mahal held a Punjabi Celebration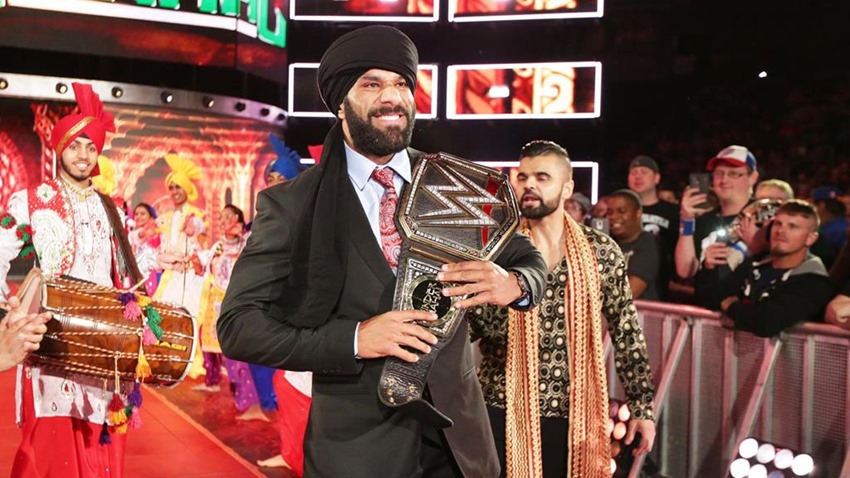 A new age has begun for Smackdown, as Jinder Mahal has become the latest WWE Champion. A new age that kicked off last night with a colourful celebration as Mahal hit the ring alongside the Singh Brothers, bringing with him an entire entourage fit for a Maharaja.
Tyler Breeze def. Jey Uso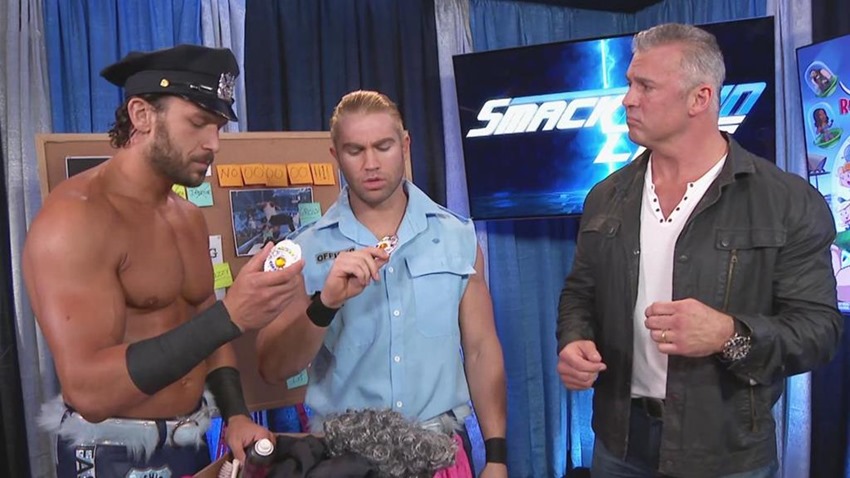 In the first of two Smackdown single matches starring the Fashion Police in action, Tyler Breeze scored a win over Jey Uso thanks to Fandango distracting his competition with a water pistol. Wrasslin' yo.
Fandango def. Jimmy Uso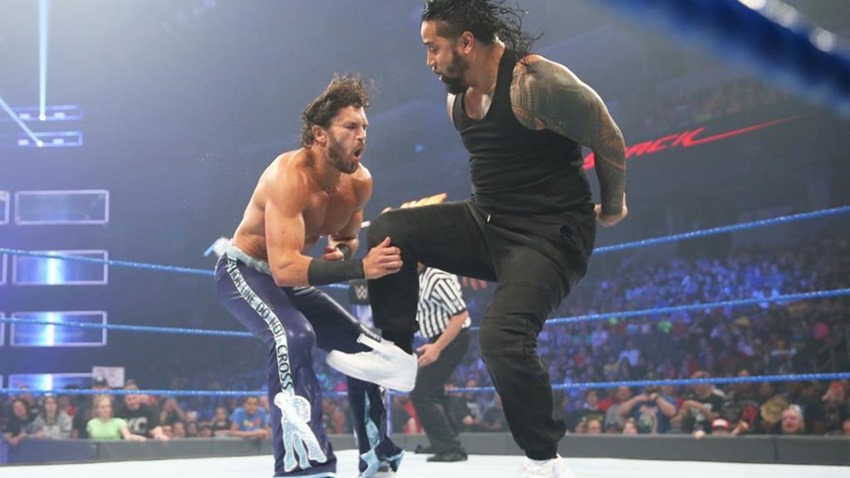 Going two for two against the Usos, Fandango would also score a win after Tyler Breeze also caused a few ringside distractions that resulted in Jimmy Uso being rolled up for the pin. Pouring salt on the wound after the matches, The Fashion Police challenged the Usos to a tag team match right then and there. A match that the Usos were more than happy to accept as they sought some manner of revenge.
SmackDown Tag Team Champions The Usos def. Breezango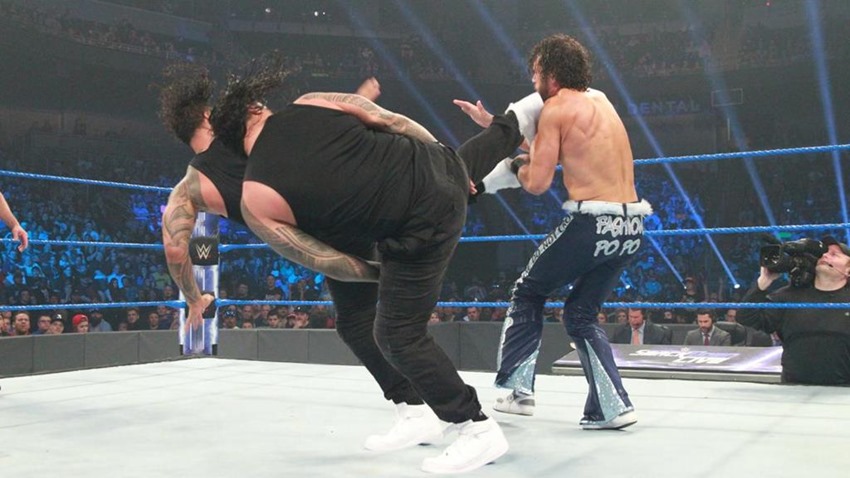 Which they got plenty of. The Smackdown tag team champs fought back against a fired up Breeze and Fandango, using their cunning to catch Fandango off guard and pin him. Not a bad night for Jimmy and Jey at all.
AJ Styles and Shinsuke Nakamura def. Kevin Owens and Dolph Ziggler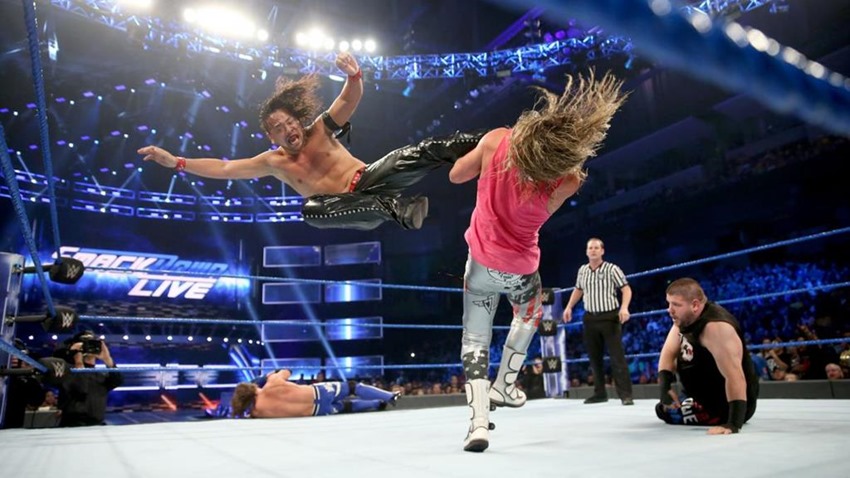 With four of the six Money In The Bank superstars teaming up for the Smackdown main event, everybody was looking to make a statement that night. AJ Styles and Shinsuke Nakamura managed to stave off the assault of Kevin Owens and Dolph Ziggler, in a brutal contest of slams and heavy hits that ended with Nakamura landing the Kinshasa on the Prizefighter for the win.
Last Updated: May 24, 2017