WWE SmackDown LIVE took place from the Talking Stick Resort Arena in Phoenix, Arizona this week. Here's all the action that went down ahead of February's Elimination Chamber event.
Becky Lynch and Charlotte Flair got into a chaotic brawl to kick off SmackDown LIVE
In a night that had its ups and downs, Becky Lynch emerged triumphant at the Royal Rumble. She may have lost her shot at the Smackdown LIVE Woman's championship when Asuka defeated her, but a last minute entry into the Royal Rumble saw The Man emerge victorious and hellbent on challenging Ronda Rousey at Wrestlemania.
Promising to break Rousey's arm at the grandest stage of them all, Lynch's address was quickly interrupted by Charlotte Flair, with both ladies launching into a brouhaha that spilled out of the ring.
R-Truth def. Shinsuke Nakamura to win the United States Championship
Nia Jax may have stolen his slot at the Royal Rumble, but R-Truth got something else in return: A chance to win the United States Championship. Facing off against the new holder of that title, R-Truth quickly found himself under siege from Shinsuke Nakamura's strong style. And then out of nowhere, R-Truth managed to capture Nakamura in a quick roll-up, cleanly pinning the champ and winning the gold.
It was a move that was so sudden, that even R-Truth was left speechless. The night wasn't over yet however, as Rusev demanded that the championship deserved a better frontman, and after a scuffle with Carmella and Lana broke out, the ensuing chaos saw R-Truth put his new title up for grabs right then and there against the Bulgarian brute.
United States Champion R-Truth def. Rusev
In a repeat of the first match, R-Truth took a mountain of abuse from Rusev, but it was the sneaky roll-up pin that he launched the very second that the super-athlete lost his focus, that saw R-Truth emerge victorious again. Fuming, both Rusev and Nakamura decided to vent their frustrations on the champ, leaving him broken and damaged in the middle of the ring.
Andrade attacked Rey Mysterio before his match with Samoa Joe
Is Zelina Vega so much of a distraction that her mere presence was the reason why she was banned from ringside, under Rey Mysterio's demands? We'll never know, but will we will know is that she was distracting enough last night to allow Andrade to slip in and demolish Mysterio. Adding extra insult to injury, Andrade decided to finish the legend off with a signature move from the past: The late Eddie Guerrero's Three Amigo's suplexes.
Shane McMahon & The Miz threw The Best Championship Celebration in the World
I mean, it was a perfectly okay celebration. I wouldn't call it the best in the world. Anyway, that segment ended with Shane McMahon announcing a new competition to find their challengers for the belts, which would take place right then and there in a Four Corners Elimination Tag Team Match.
The Usos def. The Bar, Heavy Machinery and The New Day to earn a SmackDown Tag Team Titles opportunity at WWE Elimination Chamber
After being in the wilderness for far too long, The Usos are back in the running for tag team gold. With Heavy Machinery and the New Day out of action, it was up to the Usos to land some mighty splashes on Seamus and pin the Celtic Warrior as they won a championship opportunity for Elimination Chamber.
Triple H makes WWE Championship Elimination Chamber Match after chaos erupts during Bryan's new WWE Title unveiling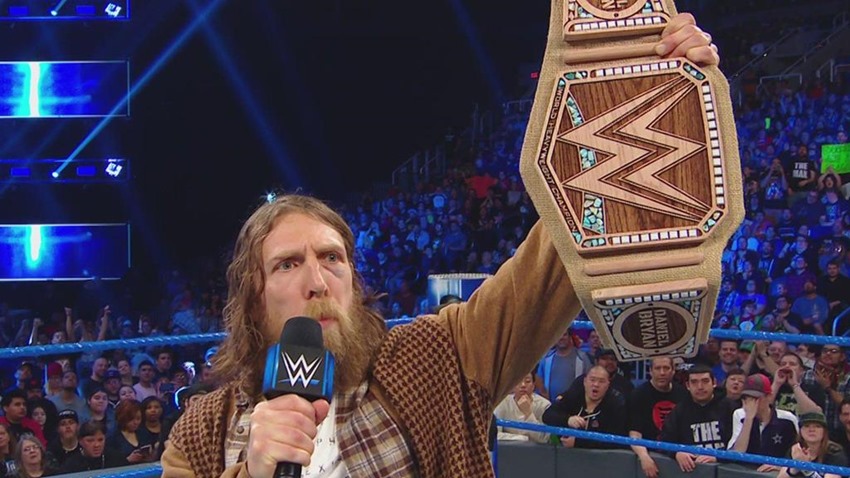 WWE Champion Daniel Bryan was fed up with the eco-unfriendly belt that he was forced to carry around, and decided to unveil a much greener alternative, one made of wood and hemp as he buried the old belt in the trash last night. Bryan also reintroduced his spiritual eco-warrior Rowan to the audience, but chaos would erupt as the likes of AJ Styles, Randy Orton, Jeff Hardy, Mustafa Ali and Samoa Joe all hit the ring in an effort to get their hands on the champ.
Bryan and Rowan hightailed it out of the ring as the ruckus ensued, grabbed a mic and claimed that he would not defend his title against any single man in the ring. That's when Triple H popped up on the Titantron to give Bryan some bad news: He'd be defending the WWE Championship against all of them, in February's Elimination Chamber event.
Last Updated: January 30, 2019