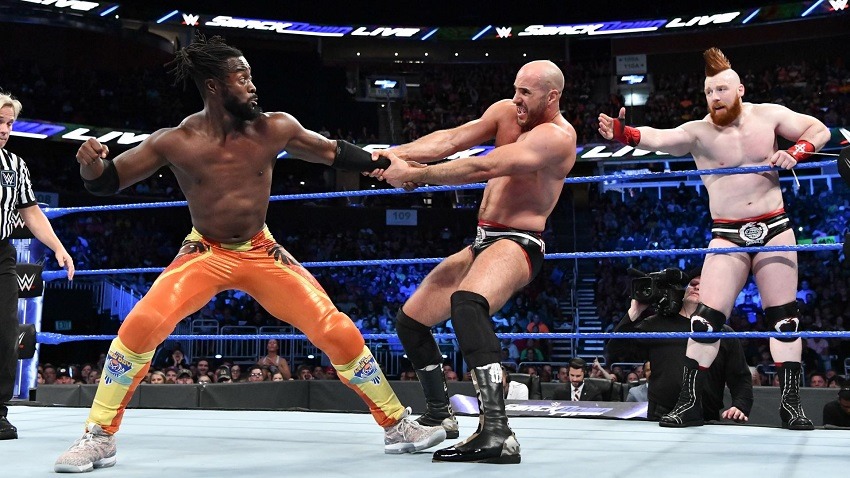 WWE Smackdown LIVE took place from the Amway Center in Orlando, Florida. Here's all the action that went down last night.
Randy Orton addressed his continued targeting of Jeff Hardy
Jeff Hardy isn't just a victim thanks to Randy Orton's repeated attacks over the last few weeks: He's merely the first superstar who'll be receiving RKOs in the weeks to come, as Orton explained to the WWE Universe that his new mission in life was to taken down any superstar that was put on a pedestal. Incensed at how Jeff Hardy had been welcomed back with rapturous applause after his ten year absence from the WWE, Orton promised that his rampage against the charismatic enigma was merely beginning.
Charlotte Flair and Becky Lynch def. The IIconics
While their Summerslam championship match will have them trading blows when they step into the ring next week, Charlotte Flair and Becky Lynch had more than enough teamwork in their blood to see them romp home to victory. With the Figure-Eight Leglock applied to Peyton Royce, a submission victory was mere moments away while Smackdown LIVE champion Carmella fumed from behind the commentary desk that she had been sitting at.
AJ Styles fired back after Samoa Joe's salacious address from last week
Zelina Vega def. Lana
New match, same result! Even with Rusev in her corner and acting as a deterrent against Andrade "Cien" Almas, Lana's spirited offense still fell short when ringside shenanigans cost her dearly. One set of knees to the torso later, and Zelina Vega had another win under her belt.
Daniel Bryan ambushed an unsuspecting Miz
It's official! The Miz will face Daniel Bryan at Summerslam, although the Yes man couldn't wait that long to get his hands on the A-Lister. Ambushing The Miz during an interview and fighting his way through a security detachment, Bryan clobbered the awesome one and then some, but a combination of security and a vase to the spine put Bryan down long enough for Miz to escape.
Shinsuke Nakamura def. R-Truth
In a match that even Little Jimmy could have predicted the outcome of, R-Truth's bout with the king of strong style saw a match-ending Kinshasa find its mark, as Shinsuke Nakamura put some fuel in his tank for his Summerslam match against Jeff Hardy for the United States championship.
The Bludgeon Brothers def. 3SK
Who are 3SK? Well they're aaaaaaaaaand they've already been defeated by the Bludgeon Bros. Never mind, next match!
The New Day def. The Bar to face The Bludgeon Brothers for the SmackDown Tag Team Titles at SummerSlam
The Smackdown LIVE tag team division has been battling for weeks to find the right contenders for the Bludgeon Bros. at Summerslam, and last night saw two teams remain after a gruelling tournament: The New Day and The Bar. Throwing everything that they had at one another, the finish came when Cesaro managed to trap Big E in a Crossface submission hold.
Instead of tapping out however, Big E managed to stand up, lock in the Midnight hour with Kofi Kingston and pick up a huge win. The New Day are going to Summerslam!
Last Updated: August 8, 2018