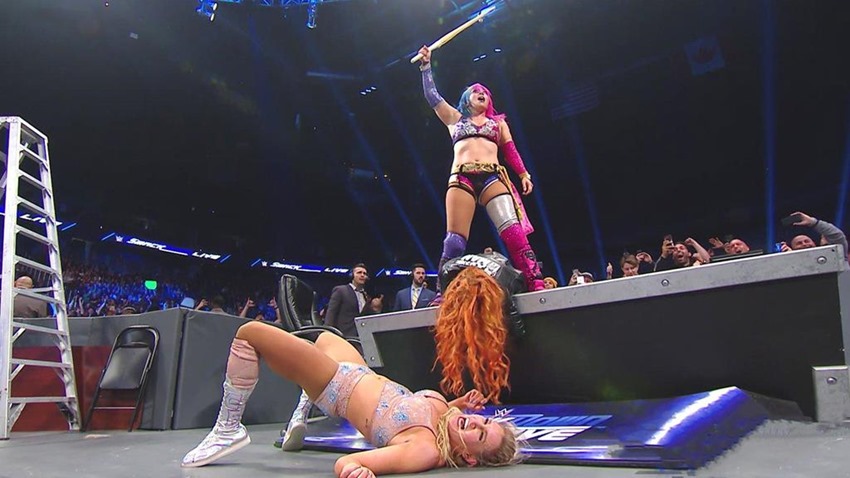 WWE Smackdown LIVE took place from the T-Mobile Arena in Las Vegas, Nevada. Here's all the action that went down ahead of this Sunday's TLC event.
WWE Champion Daniel Bryan def. Mustafa Ali
WWE Champion Daniel Bryan may not have been in a mood to get into a match with one of the sheeple of the WWE Universe, but after Mustafa Alie decided to reply to a slap to the face with a few choice fists of his own, the bout was on. The cruiserweight may have had Bryan on the ropes several times, but the Beard chopped away at Ali and eventually forced him to tap out after applying a painful Heel Hook submission.
The rap battle between The Bar and The Usos descended into chaos
Cesaro and Sheamus may be the Smackdown LIVE tag team champions, but rapping superstars they certainly ain't, as The Usos waxed lyrical with the sickest of rhymes around the duo. With The New Day present as well, chaos was but one verse away as all bedlam broke loose and The Bar was left standing tall over their WWE TLC opponents.
Shane McMahon and The Miz def. The Vegas Boys
The Miz is hellbent on forming a tag team with co-best in the world winner Shane McMahon, as the A-Lister decided to pay off local talent Chip and Chad to jump McMahon from behind in a match that he had set up. Which kind of worked, as McMahon wiped the floor with the Vegas Boys. Shane O Mac may not have been happy with The Miz, but a plan is clearly afoot to win the Smackdown LIVE commissioner over to his side.
Rey Mysterio attacked Randy Orton with a steel chair
Yes, yes he did. Whack.
Rusev and Jeff Hardy def. U.S. Champion Shinsuke Nakamura and Samoa Joe
Old rivalries collided last night, as Samoa Joe's mind games saw the Charismatic Enigma employ some high risk offense with which to take down his hated foe, while Rusev wrapped up the match with a Machka Kick that downed the US Champion for the all-important three-count.
Asuka def. Charlotte Flair via Disqualification
Charlotte Flair may have stolen Asuka's winning streak at Wrestlemania this year, but last night saw a more vicious Empress of Tomorrow on the attack, throwing multiple submissions at Flair an wearing down the queen in excruciating fashion. Desperate to get out of Asuka's many holds, Flair decided to go for the DQ loss and weaken one of her opponents before WWE TLC, grabbing a Kendo stick and striking Asuka.
Attempting to do the same to Becky Lynch who was at the commentary desk, Flair's efforts fell short. In the end, it was Asuka who had the final word, as she grabbed the Kendo stick and went to town on both of her opponents, savagely stealing the show and sending a message ahead of the WWE TLC showdown.
Last Updated: December 12, 2018