WWE Smackdown LIVE took place from the Talking Stick Resort Arena in Phoenix, Arizona. Here's all the action that went down last night.
Tensions continued to rise ahead of the WWE Championship Fatal 5-Way Match at WWE Fastlane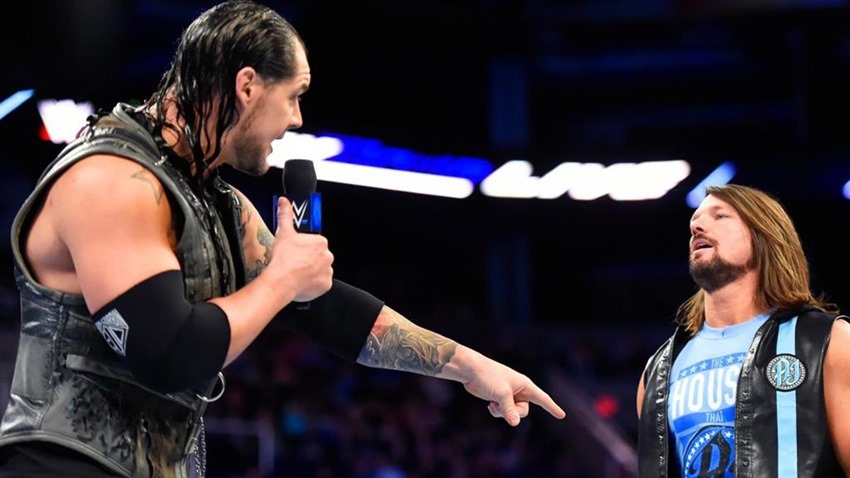 When your chances of victory are one in five, it's safe to say that the odds are stacked against you. Those are the numbers that WWE Champion AJ Styles will have to face at WWE Payback, as the champ squares off against Kevin Owens, Sami Zayn, Baron Corbin and Dolph Ziggler in the main event. Still, Styles wasn't too fussed as he reminded the WWE Universe that he he held victories over most of his opponents.
Well, except for Baron Corbin that is as the Lone Wolf hit the ring to remind Styles that their previous two encounters had ended with the champ losing to him. Annoyed, Kevin Owens also hit the scene to whinge about last week's match that saw him lose to Corbin, claiming that he would have won if he'd had time to prepare.
SmackDown LIVE Commissioner Shane McMahon had an idea: A Styles vs. Corbin main event for the night, while Owens would face Dolph Ziggler right away.
Kevin Owens def. Dolph Ziggler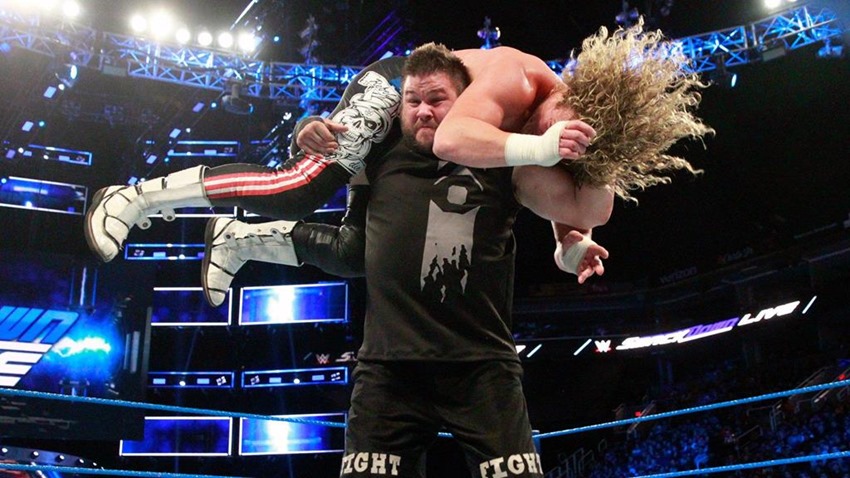 Back on Smackdown LIVE after a hiatus, Dolph Ziggler ran circles around Kevin Owens, easily countering any offense that the Prizefighter had to offer in a way that only the legendary showoff could. Things seemed to be going well for Ziggler, who was about to rack up another victory until Owens' buddy Sami Zayn decided to intefere, resulting in Ziggler feeling the full brunt of an almighty Superkick.
Jinder Mahal delivers a "Roode Awakening"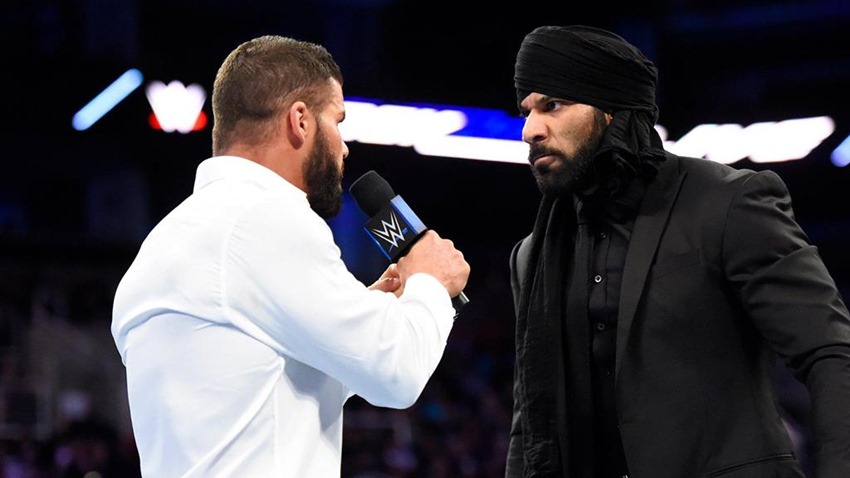 Enh, I've got to be honest here: I can't really find the enthusiasm to care about a feud that has the Glorious One at the mercy of Randy Orton and Jinder Mahal. Roode deserves better. Anyway, Roode got the upper hand over Orton with a Glorious DDT, while Mahal snuck in a Khallas and stood triumphant in the ring over his obstacles to the United States Championship.
The Riott Squad def. Charlotte Flair, Becky Lynch and Naomi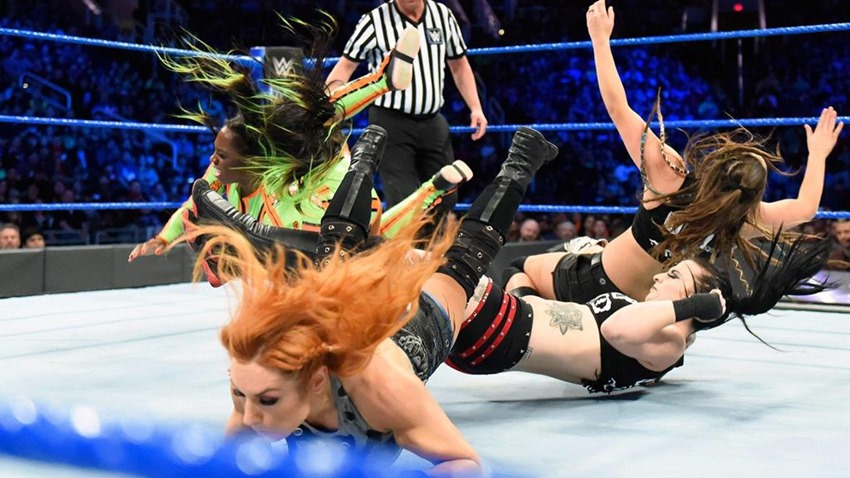 While Absolution may have been thwarted over on RAW, the Smackdown LIVE women's division wasn't so fortunate in dealing with their own runaway faction, as the Riott Squad engaged in a six-woman tag team match that saw them grab victory by the horns. While Becky Lynch and Naomi unleashed plenty of damage, it was Ruby Riott who found the perfect time to strike as she zeroed in on Becky Lynch with a vicious Riott Kick.
The New Day def. Shelton Benjamin and Chad Gable to challenge SmackDown Tag Team Champions The Usos at WWE Fastlane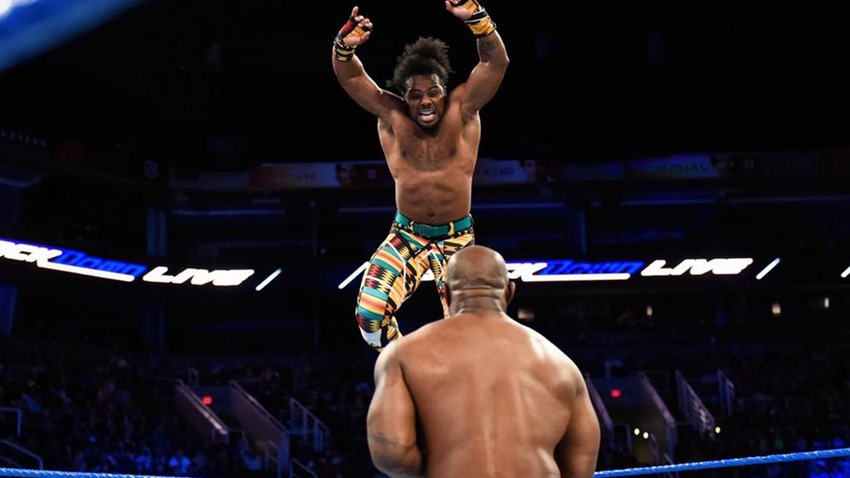 Looks like the Uso penitentiary will have some new inmates attempting to bust out, as Smackdown LIVE has found its number one contenders to face the tag team champions at Payback: The New Day. With the power of positivity on their side, Xavier Woods and Big E clashed with Shelton Benjamin and Chad Gable in a bout that saw the momentum constantly shift.
On the verge of victory over the New Day, Kofi Kingston's timely distraction allowed Big E to avoid being counted for a full pin and giving Woods the chance to lock a vicious knee to Benjamin's face for the win.
The Bludgeon Brothers def. local competitors
Another week, another quick victory for the Bludgeon Bros. as some local competition was fed to them and thoroughly squashed.
AJ Styles def. Baron Corbin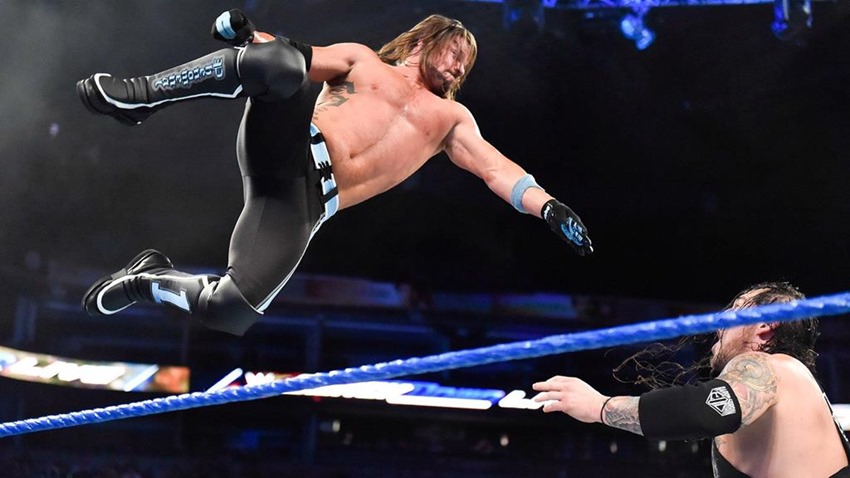 In the main event of the night, it was time for AJ Styles to prove why he was the current WWE Champion. In a battle of speed and power, Corbin used his size advantage to wear down the Phenomenal One, while Styles relied on his agility to fight back. Vicious and fast-paced, it was Styles who got the match-deciding final word in as he took to the skies and delivered a Phenomenal Forearm.
One, two and three. Corbin was down. And if you thought this match ended right then and there, then man do I have news for you. As was the Smackdown LIVE custom, Kevin Owens and Sami Zayn attacked Styles after the bout in an effort to weaken the champ before their showdown at Fastlane. Corbin had other ideas however, as he stood up to deliver an End of Days finisher to Zayn. Trying to even the odds, Owens quickly fell to the Lone Wolf as well, who was left standing in the ring as Smackdown LIVE went off the air.
Last Updated: February 21, 2018